Autism Parenting Magazine Review
Welcome back to Best Case Parenting, and welcome to another article around the subject of autism. I have seen many parents over the years that have struggled with getting to grips with the idea of having (and dealing with) an autistic child. It is not easy!
Although we have tried to write some articles to help with this, it really is a drop in the ocean of what parents of Autistic children need. This is why we also highlight key resources and courses available. In this day and age, the internet is a great way for parents of autistic children to get the advice and support they need.
A while back, I covered the Parent Power course over at Mild Autism. This is a great course made by a very passionate creator (Pete Cole). It would be a great start for any parent of an autistic child (although, as the name suggests, it is not really for severe cases of autism).
What I have been looking for though, is a more complete resource, along the lines of what you would get from my favourite general parenting course Positive Parenting Solutions. This would be a one stop shop of all the advice that parents of autistic children would need (OK, maybe not ALL the advice, but you get the idea!!).
I think I may have found such a thing when I stumbled across Autism Parenting Magazine, and am excited to do a review on this very product today.
Before we get on with the actual review, I want to state that this is a real and honest review! I actually subscribed to the magazine with my own money to do this review, and am reporting on my own and true experience. Any reviews you see on this website will always be true and unbiased.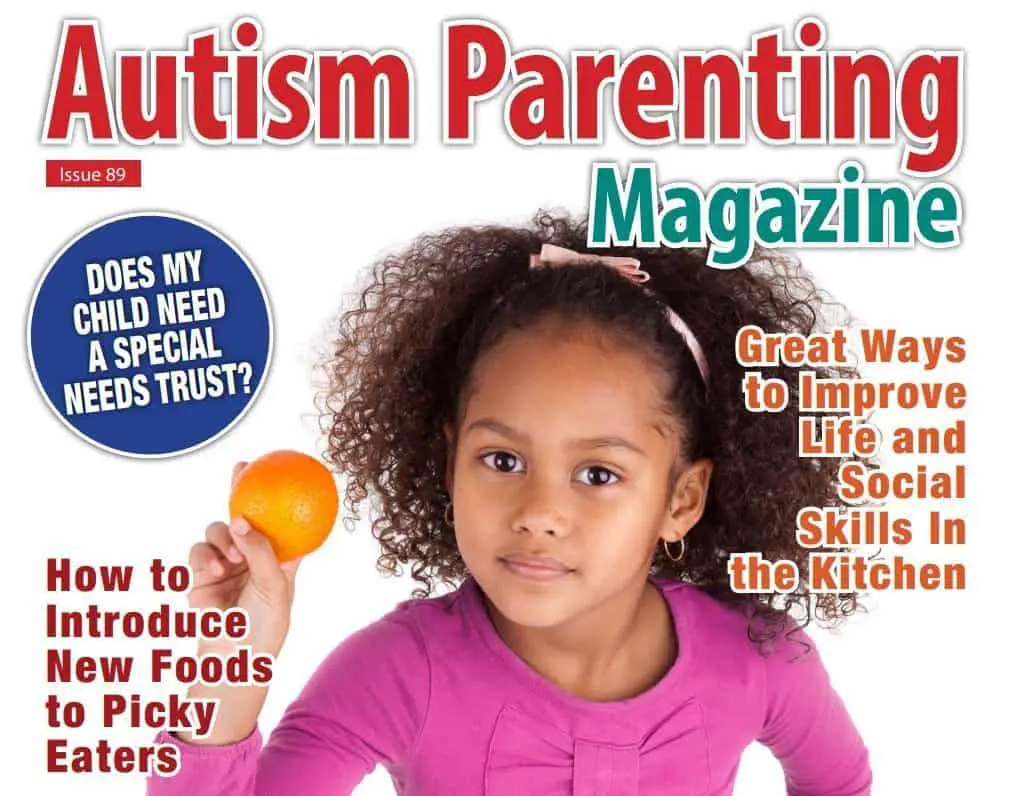 What is Autism Parenting Magazine?
Autism Parenting Magazine is exactly what it sounds like, a magazine produced exclusively for the benefit of parents with autistic children. However, this is a digital only magazine, so don't expect that you will be getting a paper version of the magazine in the mail! The magazines come in PDF when you subscribe, so can be easily downloaded and used on any of your favourite devices. Autism Parenting Magazine even have an Android and Apple Iphone app available if you purchase the annual subscription option.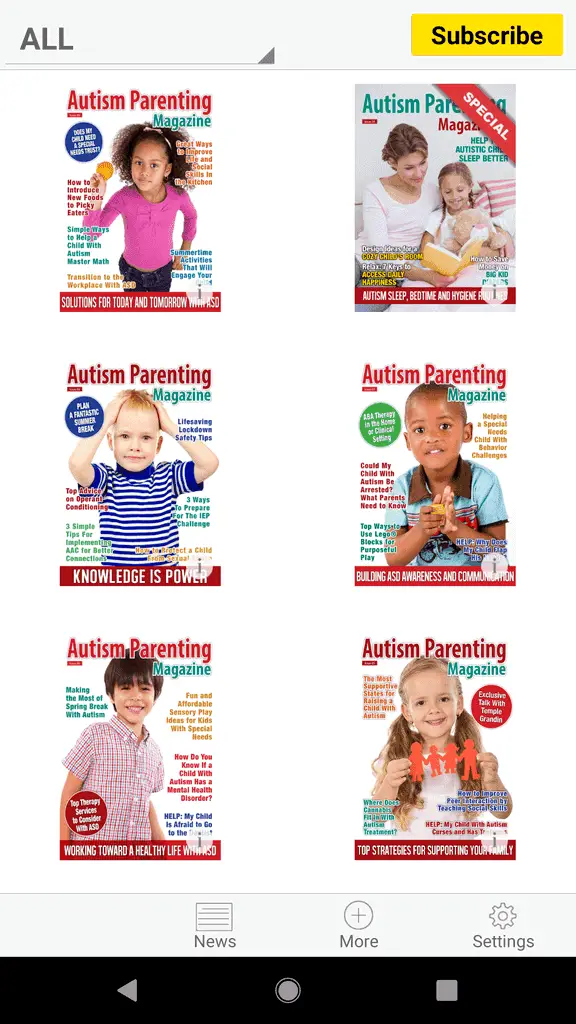 OK, it isn't the most user friendly app I have ever used, but with a little playing around you should work it out!
These options mean that Autism Parenting Magazine is easily viewable in a variety of ways digitally, which is great.
They also have some great offers on buying packages of back issues of the magazine. This would really help you build up a wealth of information and advice on autism related parenting issues.
The magazine has been around since 2012, which gives us confidence that they are a long term player in the autism educational space! They are also a champion sponsor of the American Autism Association, so they certainly have credibility in this space.
Who runs Autism Parenting Magazine?
Good question, right! It is always important to get a feeling for who is behind any project!
The founder of Autism Parenting Magazine is Mark Blakey. As well as founding this magazine, he has also been involved in publishing a couple of pretty successful books on the subject of Asperger's Syndrome. You can get more info on these books by clicking the images below, upon which you will be taken over to Amazon!
Naturally, it is good to know that the founder of Autism Parenting Magazine has some kind of pedigree when it comes to content publishing! In fact he started out by moving away from his IT career, to start a website called Asperger's Test site. All I can say about this is Mark has obviously come a long way with his content publishing, as this first website is of much lower quality! I am not talking about content, just the look and feel of the platform.
The current Editor of the magazine is Amy Tobik. All I can say is wow, this magazine is in good hands. Amy has a long and extensive level of experience writing and working for magazines. Starting back in 1990, when she was the assistant to the editor at BD Publishing, and lead writer on East Cooper Magazine, Southern Woman and Low Country Real Estate Magazine! Other highlights include being a feature writer on Moms Like Me Magazine.
This is a pretty impressive CV for an editor of any magazine, and shows the intent Autism Parenting Magazine has to be a high quality publication.
What can Autism Parenting Magazine offer me?
Now, getting down to the nitty gritty, what can this magazine actually offer? As I hinted at above, it aims to be an ultimate resource for any parent of an autistic child, and is even intended for professionals that work in this field.
Amy (the excellent editor above) is co-ordinating with some excellent experts that can offer a wide range of advice for parents of autistic children. Just taking a brief look at an issue of the magazine will show this. Just look at this small section of the contents page for this magazine below, and you will get the idea!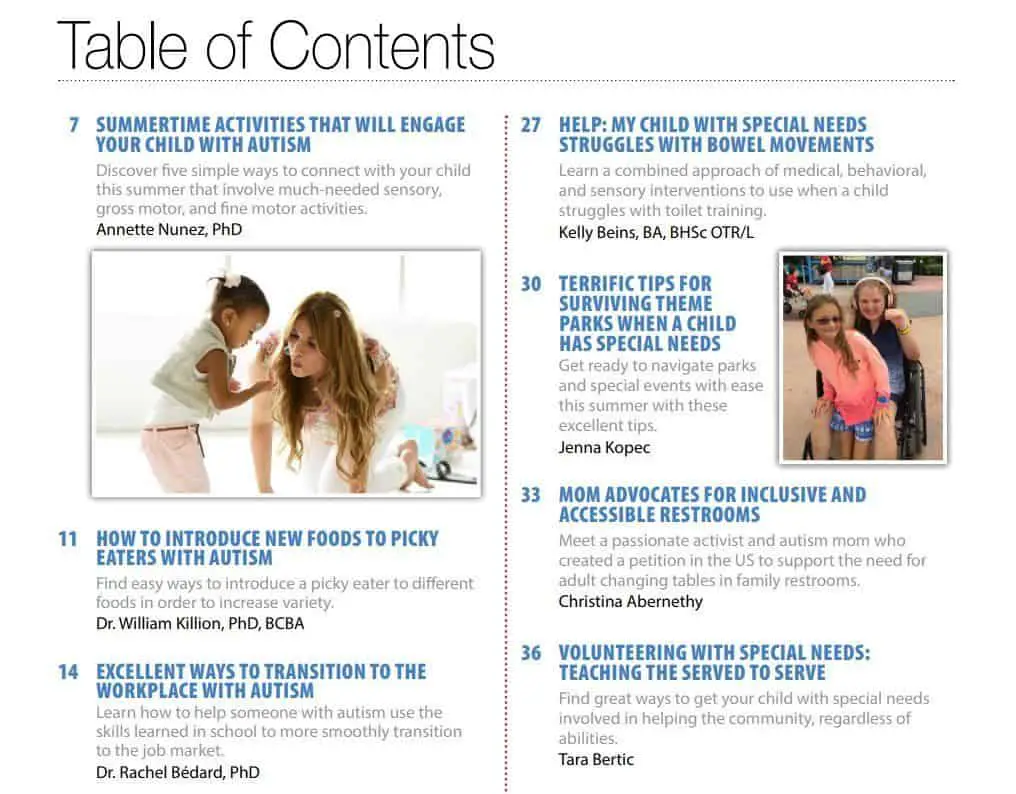 And here are a few of the article titles you can expect in this magazine…..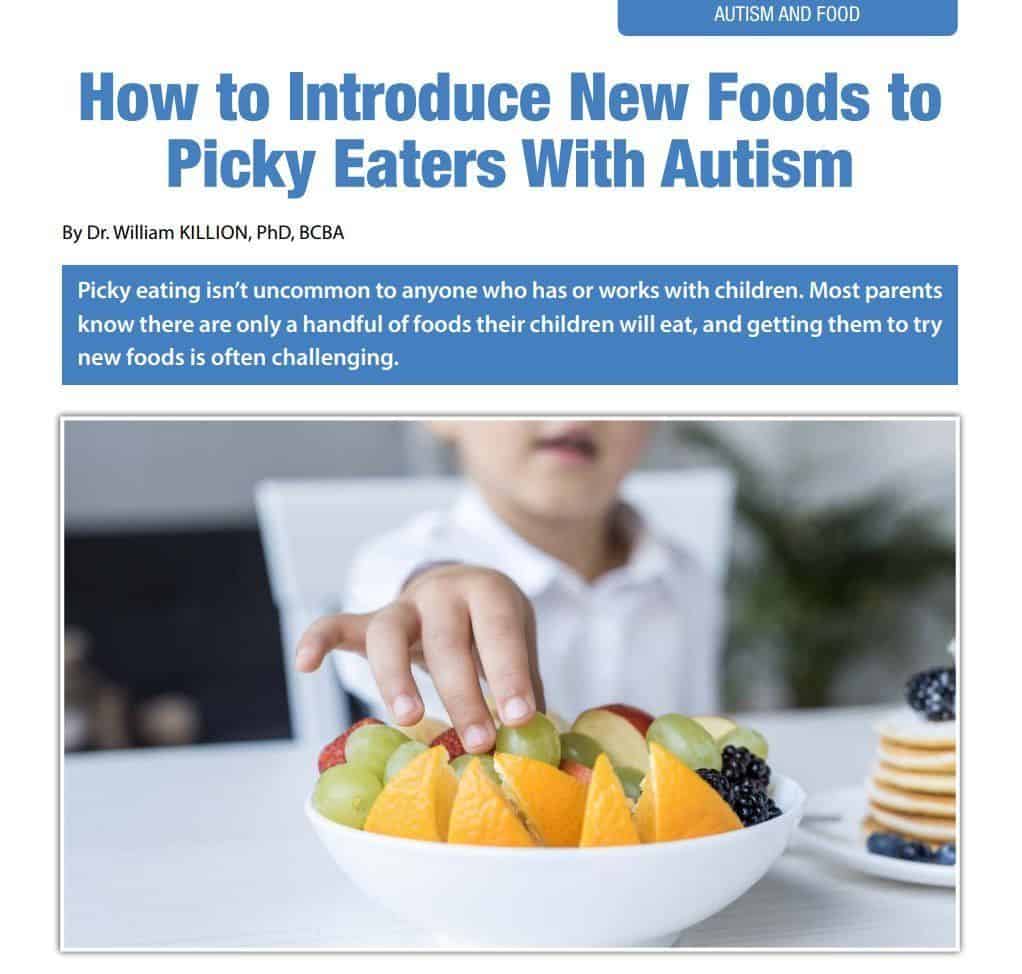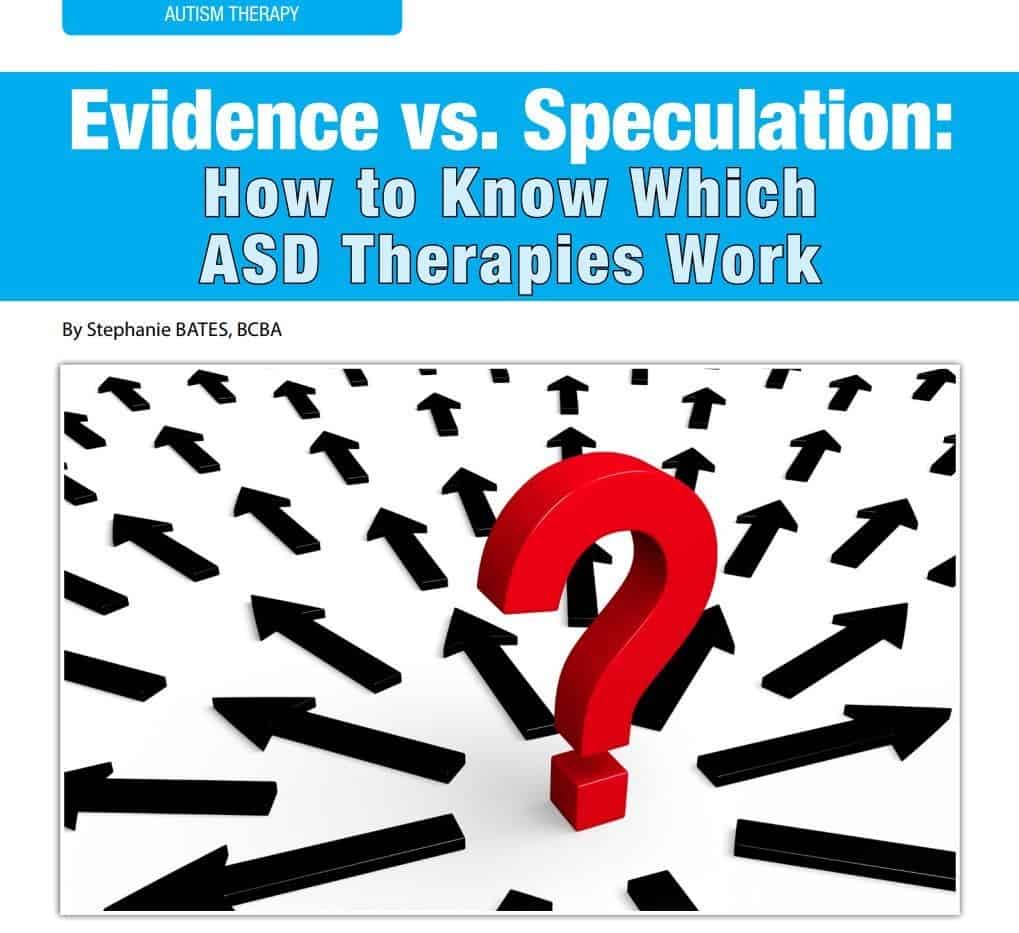 As well as offering the actual magazine, you will also get some other benefits from subscribing.
You will also get access to the Autism Parenting Magazine's Facebook group, which currently has over 5500 members. This alone would be a great opportunity to network with other parents in a similar situation.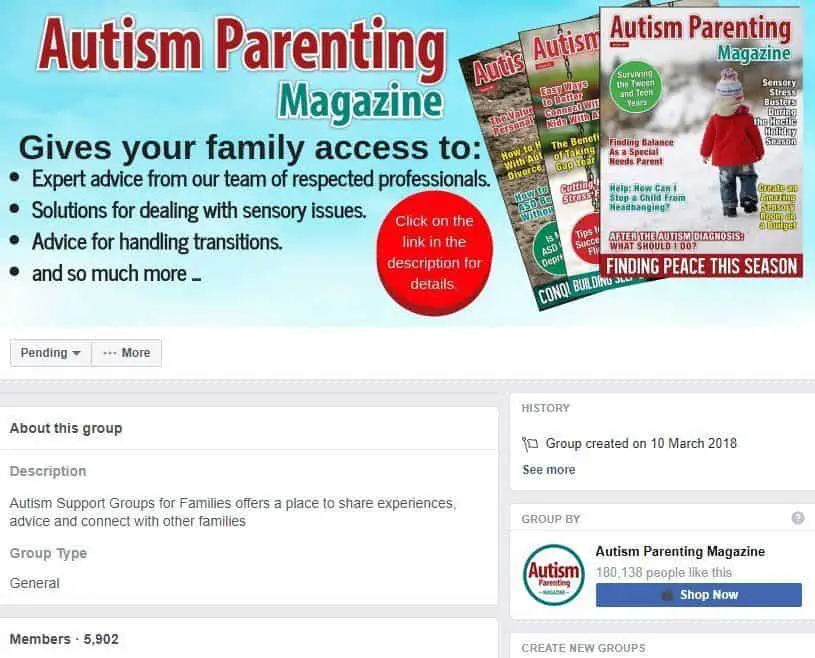 As a subscriber to the magazine, you will also get access to their bonus product, 'The Gluten Free Blueprint'. This PDF can be downloaded and will guide you on the ideas and practice behind using a gluten free diet to help support your autistic child.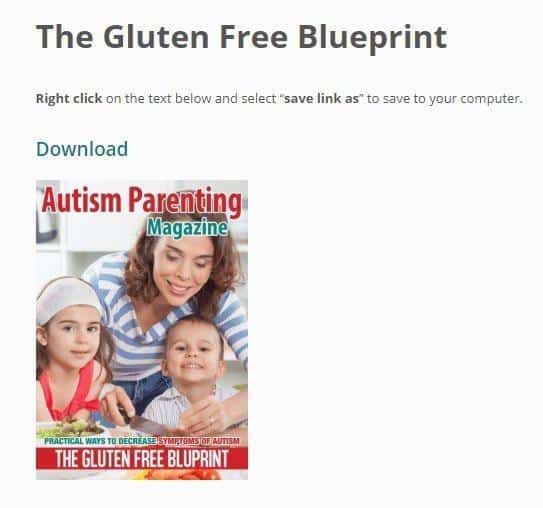 Although you usually have to pay for back issues of their magazine, as a subscriber you will get access to a handful of bonus issues for free. Below you can see an example of this.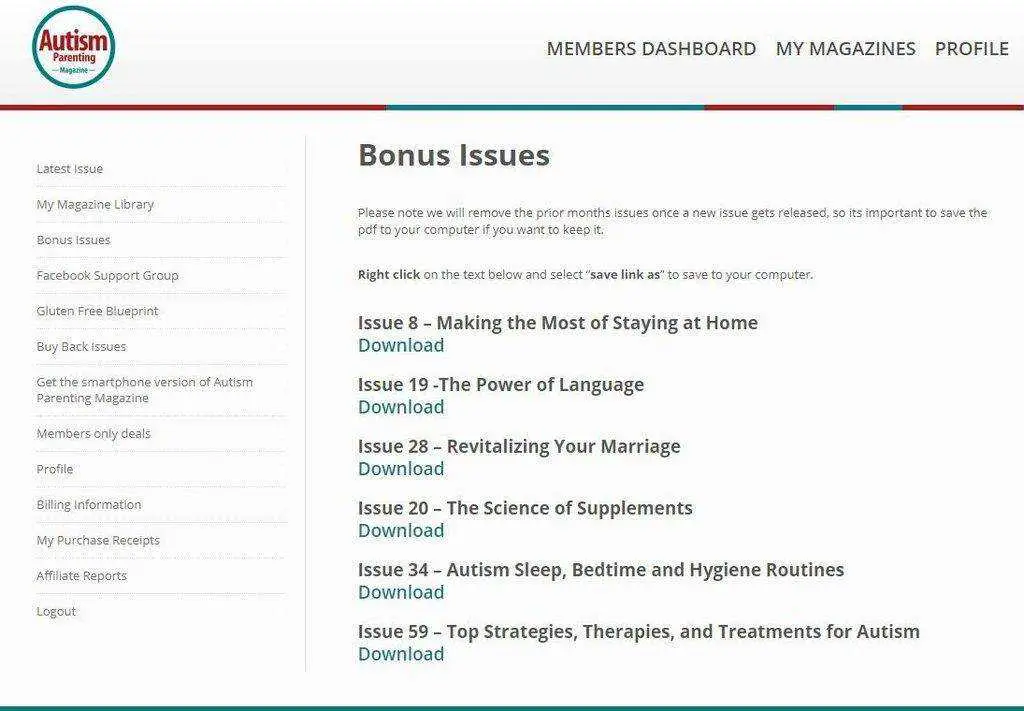 But is it any good?
I have to say I have been impressed by what I have seen with the Autism Parenting Magazine. Not only are you getting access to a top notch resource for Autism, you are also getting access to an excellent community. This could be a life saver for many parents of autistic children, who often feel isolated and not sure what to do next!
If you want to see for yourself, simply browse through one issue of this magazine. You will scroll through article after article of invaluable advice and information. This is a professional grade publication, with top notch experts behind each and every article.
Some people might not like the digital only method of delivery for this magazine, but in this day and age physical printed magazines are often not even economically viable for the big boys of print media. Of course, such a niche magazine such as this one has to go online only to survive.
The only thing I would say, is make sure to download your issue of the magazine every month, as when a new issue comes out the old one will become a back issue and you will need to pay extra for it.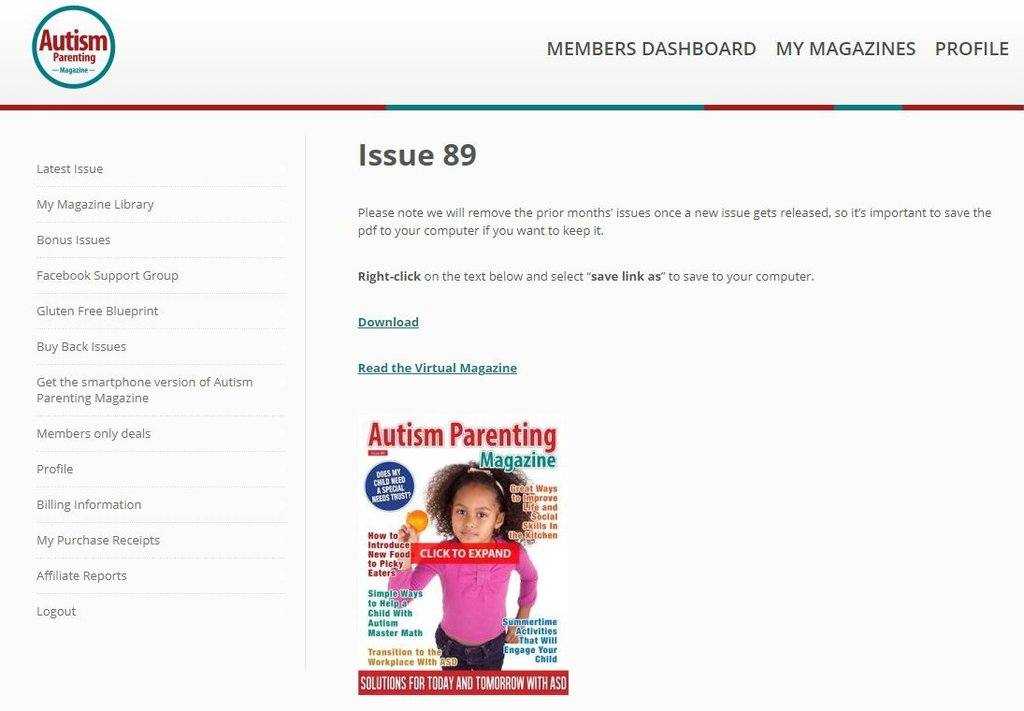 I also feel that Autism Parenting Magazine do a great job welcoming new subscribers and making sure they know what to do next. As soon as you subscribe, you will get access to a welcome video from the Editor Amy Tobik. This will guide you through what you should expect from the magazine's online portal.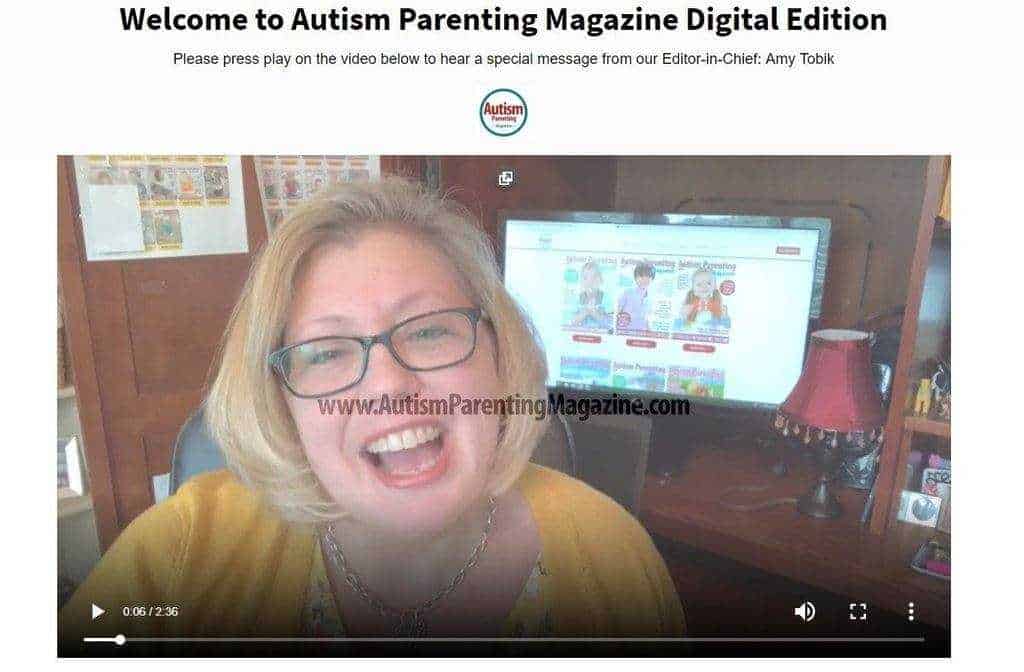 The online portal itself is not exactly the slickest thing you will ever see! But it is simple and clear to use, and will allow you to quickly access all the features talked about in this review.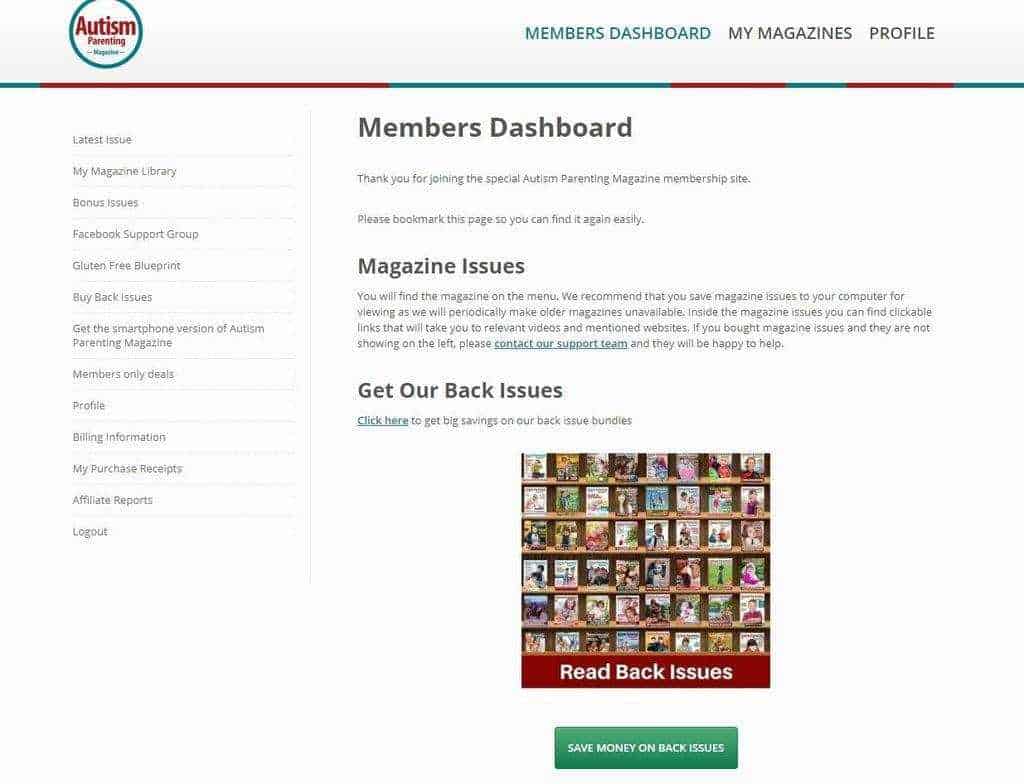 How much does it cost?
The pricing structure for Autism Parenting Magazine is actually pretty simple. You can either pay $3.99 monthly to get access, or pay yearly for a slight discount (a monthly equivalent of $2.49). By subscribing yearly, you also get access to the Android and Iphone smart phone apps to access the magazine. In fact, this is literally my only gripe with the magazine. I don't know why they have locked the app behind this annual subscription pay wall. My argument would be, that by allowing every subscriber to have access to these apps you are increasing the likelihood they will interact with the magazine and thus continue subscribing!
Surely, the monetary discount is enough to warrant people opting for the annual plan. Or maybe they can offer another exclusive bonus for the annual subscribers, but not the app access in my humble opinion! What do you think?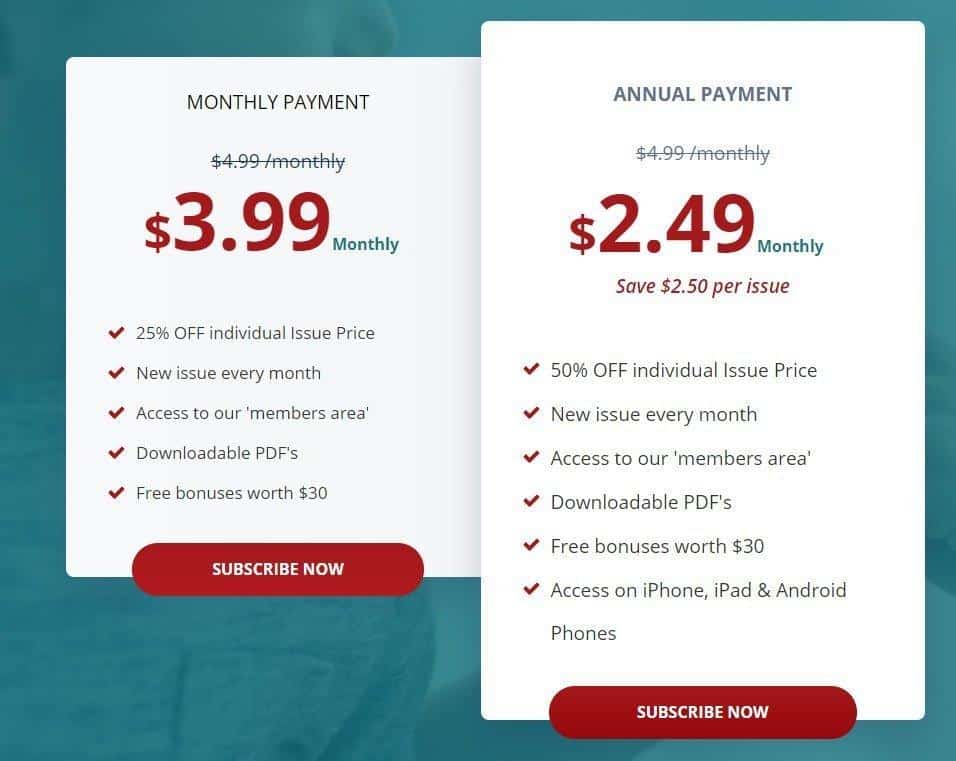 And like with any quality product, they will offer a full refund if you are not satisfied with your purchase. So, you can be confident your hard earned money won't be going to waste.

Final Conclusion
This is not just a slap dash project to make money, but a professional grade magazine for anyone interested in learning more about autism. The quality of the contributors to this magazine are outstanding, and you would struggle to find anything else that can compete.
It actually puts my own content on Autism to shame! And makes me want to point people over to this magazine rather than attempting to cover these subjects on my own website!!
The marketing tag line the magazine has is all about the fact that subscribing to this publication would cost about the same a month as one or two cups of store bought coffee! And, I can't disagree with this assessment. If you are a parent of an autistic child, it is simply amazing that you can get access to such a wide variety of quality information in one place, and for such a low price.
The magazine on its own is easily worth the price of admission, so it is a great bonus to get access to the Gluten Free blueprint and things such as the Facebook group.
I highly recommend this magazine, and would love to hear from anyone that has had their own experiences with it.
If you want to hop over to the Autism Parenting Magazine website to find out more, simply click HERE.
I also did an issue review of this magazine, which you can read HERE.
---
Autism Parenting Magazine Review
The Best Case Parenting Verdict!
Pros
Get access to a wide variety of quality articles related to Autism.
Access to their Facebook group.
Low cost for the quality of information on offer.
Cons
Digital only.
Only annual subscribers can get the smartphone app.
Conclusion:
This is a great starting point for any parent of an autistic child. It will help you educate yourself on the subject of Autism, as well as connecting with other like minded people in the community.