✪ 7 Best Bassinet For Breastfeeding: Reviews & Rankings [2022]
A newborn baby is never ready to embrace its surroundings immediately.
After living in a cozy and warm environment for the last nine months, sleeping in a crib can be difficult.
That is why many families prefer to buy a bassinet for their newborns.
Baby bassinets are small than traditional cribs. They have great features such as white noise and motion to soothe a baby.
Bassinets ensure your baby is comfortable when taking a nap. Some bassinets are convertible into co-sleepers to ensure your baby is safe and close to you.
The best bassinet for you will depend on your particular needs. This article will provide you with well-detailed information on seven bassinets for breastfeeding.
Let's dive in!
Top Pick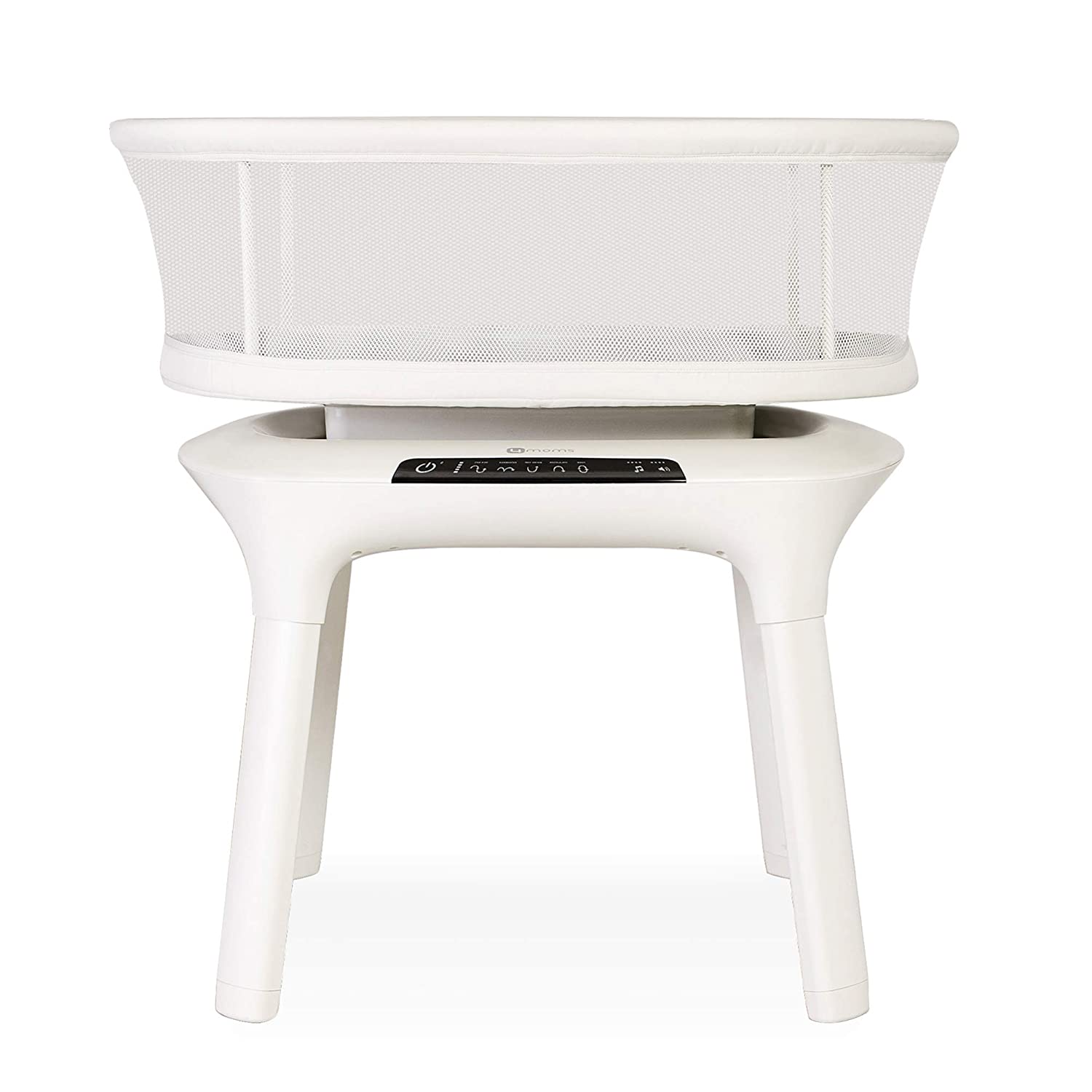 Main Features:
5 unique wave motions to help your baby sleep.
The height is adjustable.
Requires no tools to assemble it.
You can control sounds and motion from your smartphone.
The 4moms mamaRoo bassinet has excellent features and functionality.
For specifications, it has dimensions of 24 by 29 by 39 inches and supports a weight of up to 25 pounds.
It has a firm, supportive mattress with breathable side mesh. It also has adjustable height legs.
You can also buy a storage basket. This bassinet can sync with your phone over Bluetooth, giving you access to cool features.
It has five unique motions (wave, rock-a-bye, tree swing, kangaroo, and car ride). It also has four white noise options, an auto-off timer, and five speeds.
You will control these features using buttons found on the bassinet or your phone.
The five motions tend to copy the movements used to soothe and comfort a baby. These movements are relaxing, gentle and quiet.
#2 Pick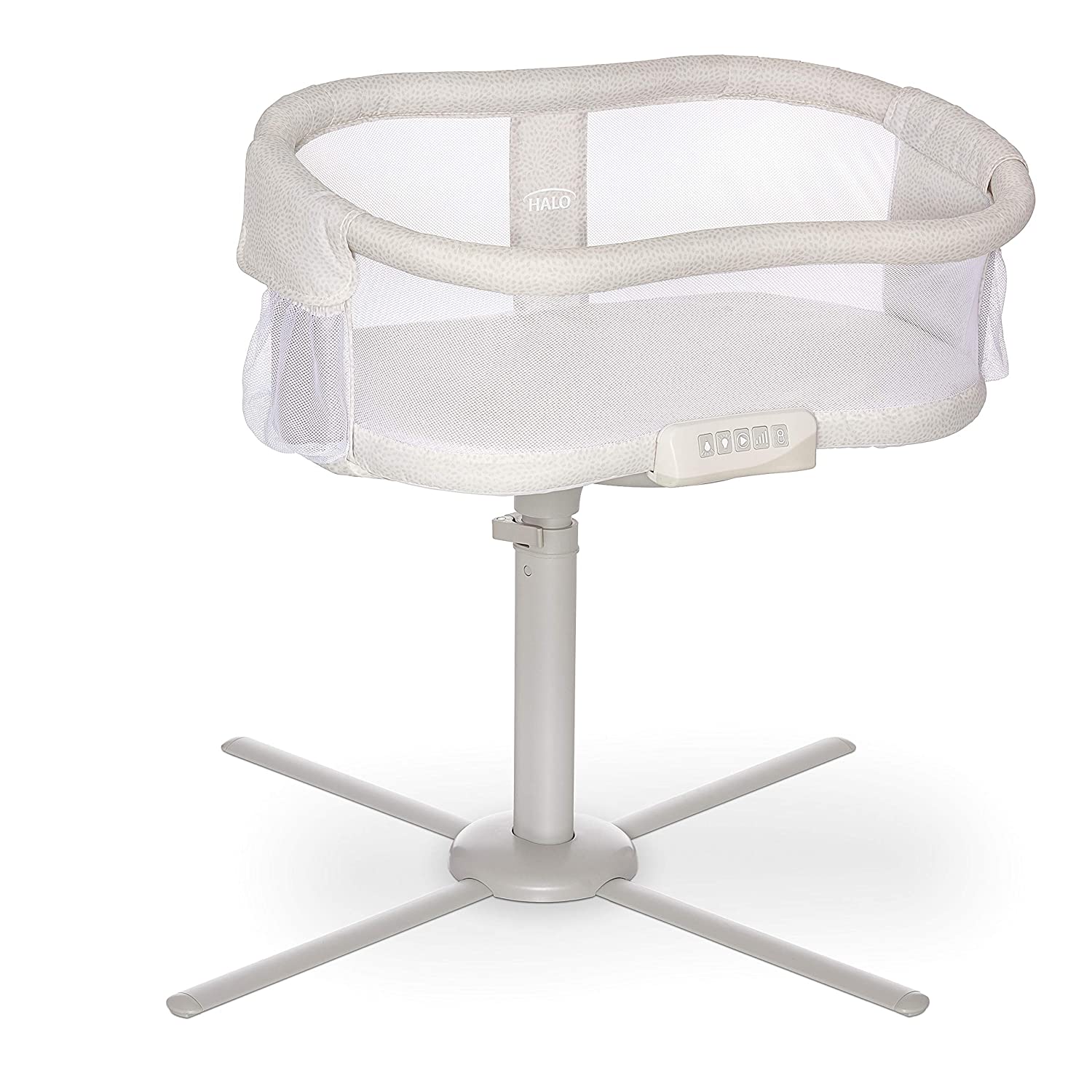 Main Features:
It has great stability with a four-point base.
It is convenient for mothers that had C-sections or breastfeeding mothers.
It has a 360-degree swivel.
Nurses and parents love the HALO BassiNest for its convenience, comfort, and safety. The design has mothers' needs in mind.
The side of this bassinet lowers with a small push making it easy to care for your baby from bed.
This feature benefits breastfeeding mothers and those that have had a C-section.
You can also lock the side in one place if you prefer. The stand tucks under the bed for you to pull your baby close anytime.
It is more of a co-sleeper; this feature is excellent for taller beds. Moreover, it has dimensions of 36 by 45by 45 inches.
The bedside HALO BassiNest has an adjustable base to fit the different types of bed heights.
It has an excellent mesh ventilating side, gentle vibrations, and soothing sounds. It also has amber floor light, amber nightlight, and sleeping sounds.
Examples include heartbeat, rainforest, babbling brook, and white noise)
The bassinet rotates at 360 degrees to enable you to access your baby. It also has storage pockets for keeping any necessities.
It also has a fitted sheet to provide comfort to the baby. The bassinet has dimensions of 36 by 45 by 45 and has a weight limit of 20 pounds.
Moreover, it is bulky and does not have wheels making it difficult to maneuver through the house.
#3 Pick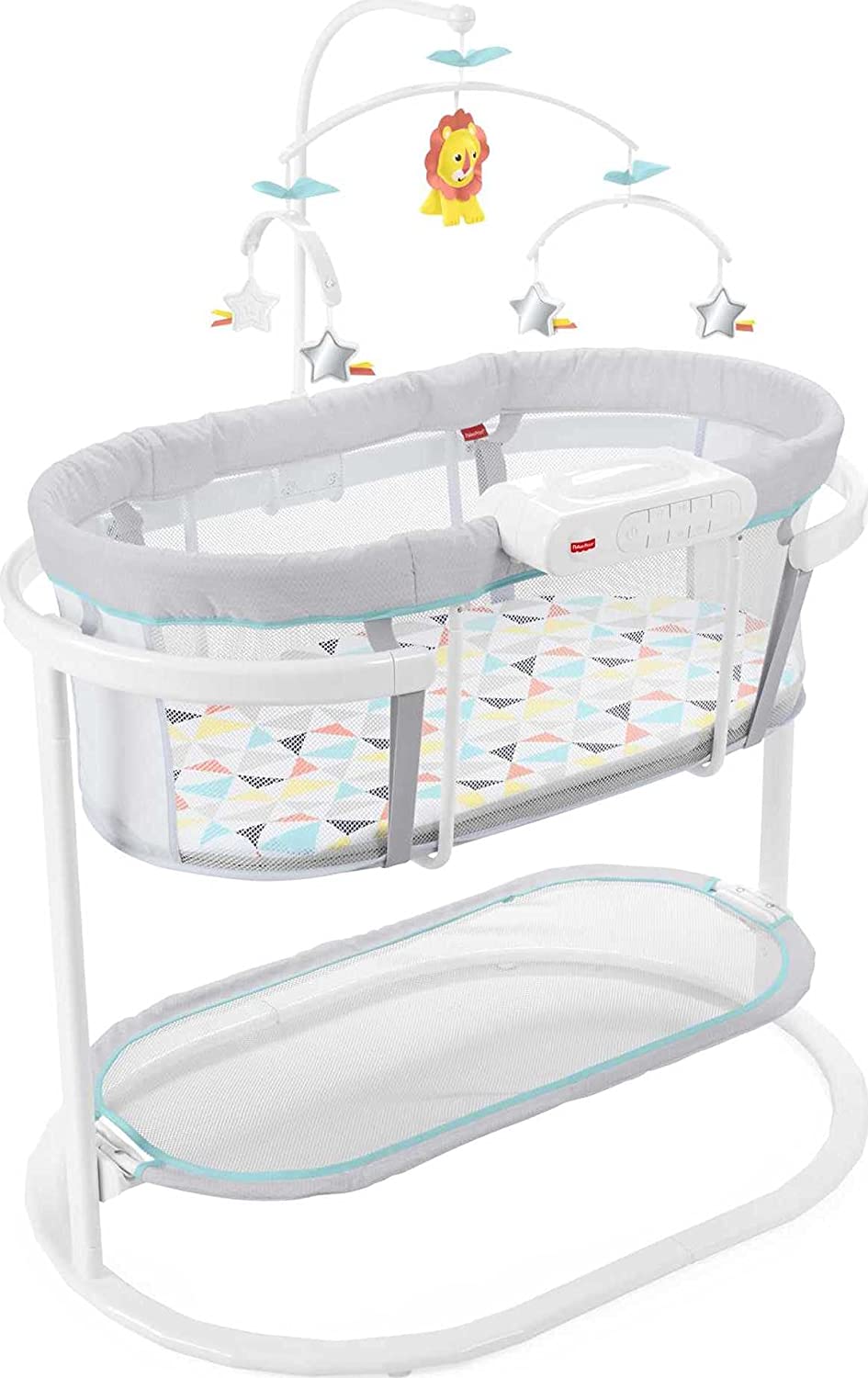 Main Features:
It has a lightweight frame.
Folds super slim.
You can rock or lock it in a place.
Includes machine-washable sheets.
Affordable price.
The soothing motions bassinet is simple and well-made. It supports a weight limit of 20 pounds and has dimensions of 27.01 by 37.01 by 48.03 inches.
It has mesh sides for airflow and visibility. It also has a waterproof pad that is easy to clean.
It is a washable removable sheet, and it is machine friendly. It is easy to open and fold this bassinet and you can carry it when traveling.
Moreover, you can fold it into a compact for a picnic or storage. It also has two types of modes stationary and rocking.
The Fisher-Price has calming vibrations, hanging stars, soothing sounds, and lights. It also has a light projector for projecting stars on your ceiling and walls to soothe the baby to sleep.
Moreover, it has a nightlight and swaying motions triggered by the baby's movement.
When the bassinet rocks, it does not tilt the sleeping region. Thus the baby will not drift towards one region during the night.
This bassinet is not too large, which makes it easy to move it around in the house. Moreover, the oval base makes it firm and steady on carpet floors and hardwood.
It is not possible to adjust the height of this bassinet. The bedside bassinet walls are higher than your mattress for safety purposes.
By doing this blanket or pillow will not fall into the bassinet. Thus the Fisher Price is not a good bedside sleeper depending on your needs.
#4 Pick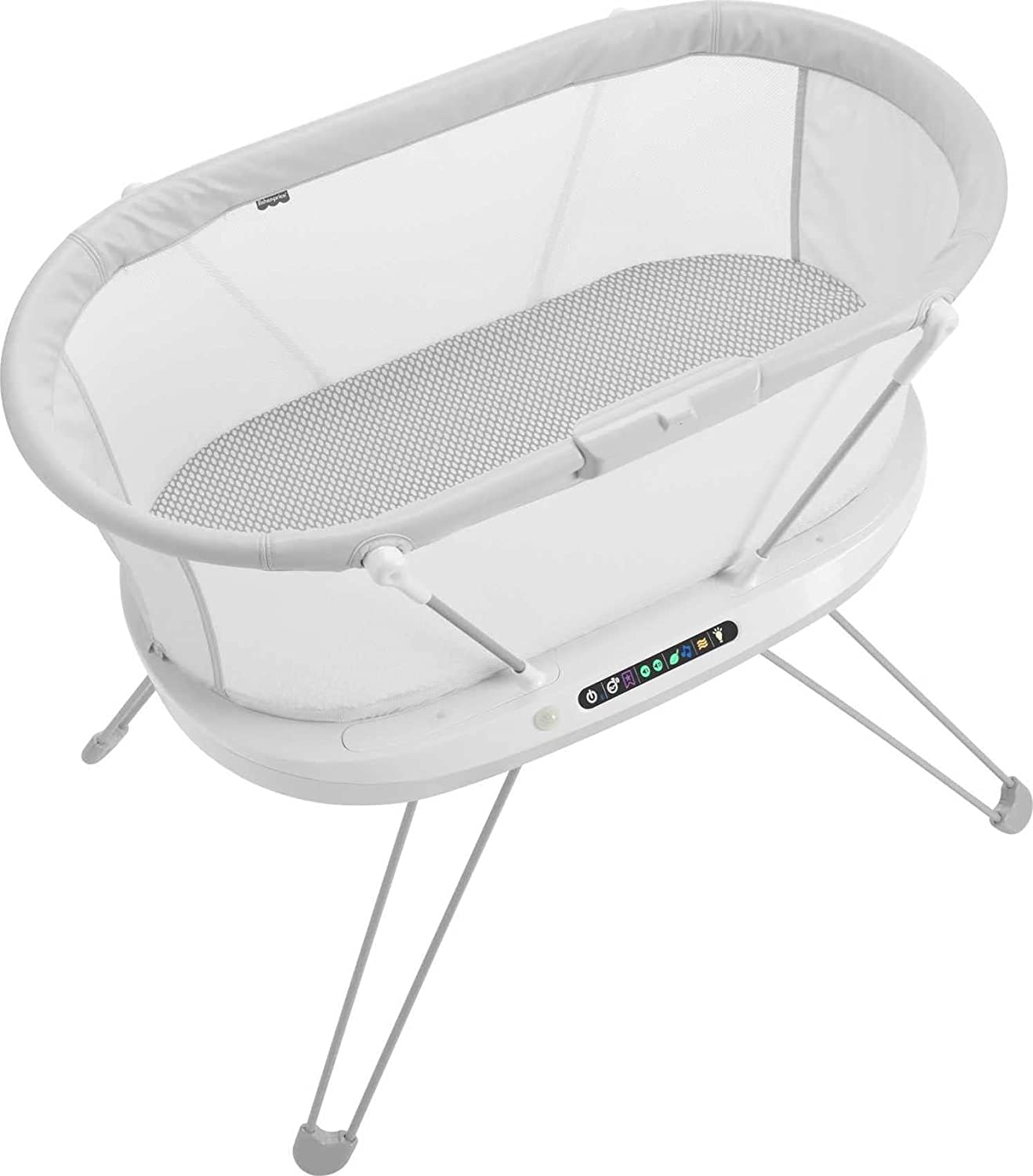 Main Features:
It has a smart connect app.
It has customizable lights, music, and white noise.
Vibrations are controllable.
It has an automatic floor light.
It has a machine washable sheet.
It has an auto-shut-off timer.
It has an AC adapter.
It has a unique design and comes in many colors. The legs are thin but sturdy and strong; they will not budge when kicked.
The Fisher-Price Luminate legs contain a wire giving it a cleaner look. It also has soft amber lighting.
The Fisher-Price Luminate dimensions are 8.66 by 14.37 by 12.8 inches and support a weight limit of up to 20 pounds.
The bedside bassinet has customizable lights, white noise, vibrations, and music. You can control these features using your smartphone.
It has a sensing system that detects when your baby cries. It also provides three responses to help soothe the baby.
The three responses include; Sense and response. It soothes the baby with sounds and vibrations.
Sense and soothe: the bassinet will soothe the baby with a ready, settle, and sleep playlist. This response delays helping the baby to learn self-soothing.
The last response is ready, settle and sleep. In this response, the vibrations and the detection of the baby's cry are off to help the baby wean from soothing features.
It has a gentle floor light that turns on as you approach to light up your path. It also has a soft crib light to help you check your baby during the night and feedings.
Moreover, it has an AC adapter and a washable sheet mattress. The wipeable mattress has dimensions of 31.63 by 15.75 inches.
#5 Pick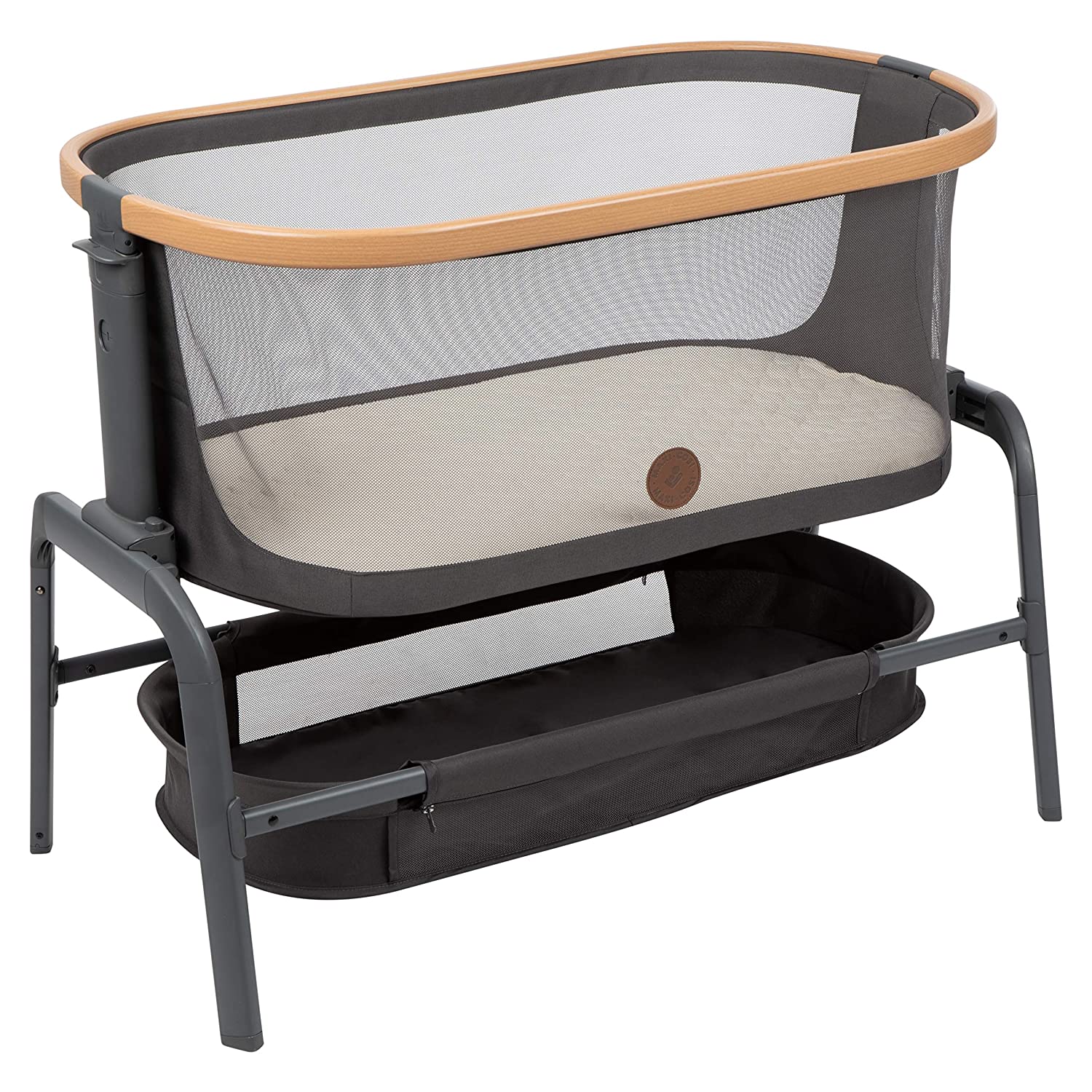 Main Features:
It is easy to store.
It is portable.
It is easy to assemble and disassemble.
The Lora bassinet has dimensions of 40.55 by 22.44 by 7.28 inches and support's a weight of up to 20 pounds.
It has breathable mesh sides for continuous airflow and makes it easy to watch your baby.
It has three color options blue, grey, and graphite, and wood accents to give it trendy Scandi vibes.
The Lora combines function and fashion, giving it an appealing or attractive look.
This bassinet's natural wood and neutral grey tones make it fit well in your bedroom. It blends with the bedroom environment.
The Lora design considers different bed heights. It has a five-height setting that makes it easier to adjust the height to a comfortable position.
It can move side to side and up and down depending on the size of your bed. This feature allows you to glide your baby close to you when required, especially at night.
The unique feature of this bassinet is that it helps to tackle gassy problems. If your sweet nugget has gas pains, you will set the bassinet so that one end is higher than the rest.
This setting creates a soothing and pain-relieving position for the baby.
The Lora has a storage basket to store everything your baby needs throughout the night. It can hold blankets, a diaper caddy, a water bottle, and clothes.
It ensures you do not have to stumble in the night looking where you kept wipes and diapers. The Lora bassinet is easy to store because you only need to fold it.
It is an excellent choice for a home or an apartment with minimal space.
#6 Pick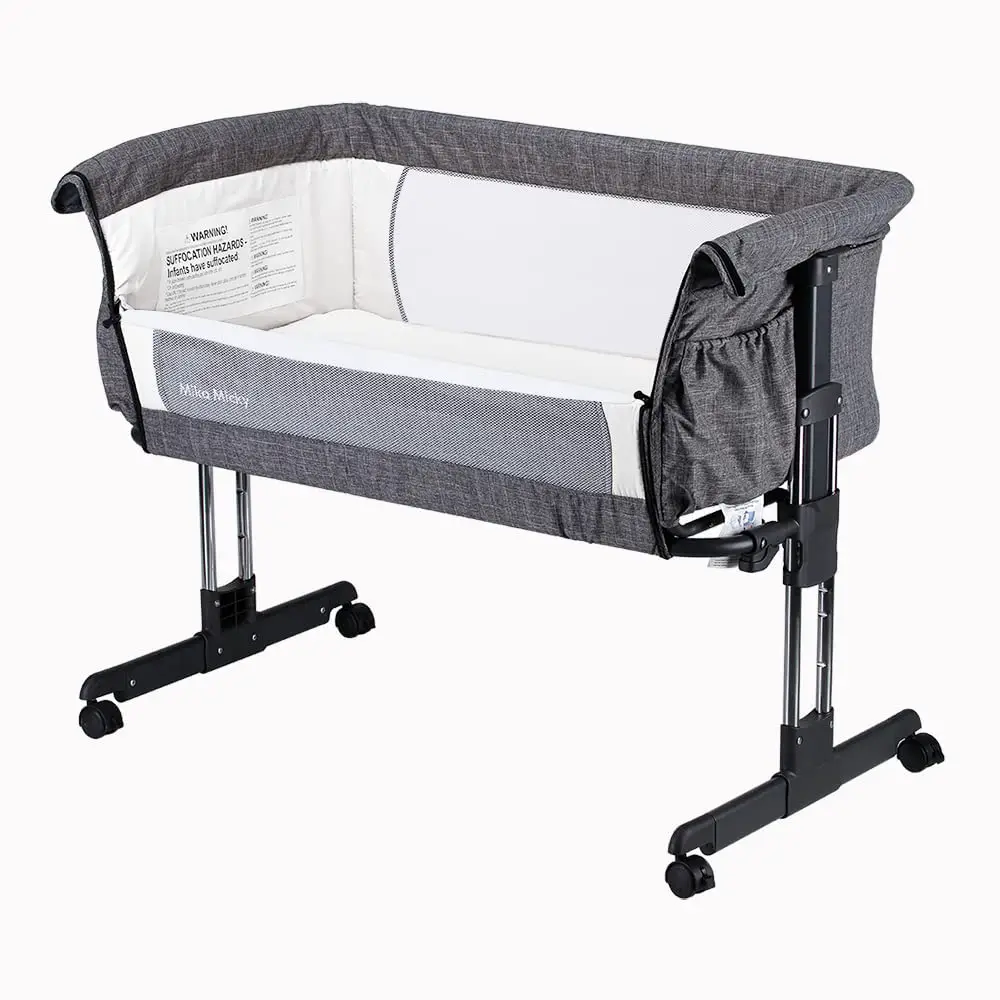 Main Features:
It is portable.
It is large.
It has adjustable height.
Ease to assemble and disassemble.
The Mika Micky Bedside Sleeper is a multi-functional baby bassinet. It makes a mother's life easier and saves space.
It functions either as a co-sleeping or free-standing bassinet.
To convert it to a co-sleeper, you will zip it down on one side and then attach it to your bed using the straps.
The side down drops using the zipper found on both sides. It can drop as low as you want.
The bedside sleeper will attach to your mattress by using adjustable straps. That makes the bassinet snug up against your bed.
It has seven adjustable height options, which makes it fit with many beds. This feature makes it a great option for breastfeeding mothers.
It makes it easy to feed the baby during the night. It is also suitable for C-sections moms that need a few days of recovery in their bed.
It is also essential to ensure you position the bassinet well. It helps avoid pillows or blankets flopping off your bed into the bassinet.
Moreover, the bassinet's mattress is comfortable and not thin like many bassinets. The whole Mike Micky bassinet is easy to fold and has a carrying case.
It is heavy though portable has dimensions of 36 by 22 by 32.7 inches and supports a weight limit of 33 pounds.
It has small pockets pouches on both sides for holding sheets, pacifiers, and blankets. The mesh sides are breathable for visibility and airflow.
It has scooting wheels that make it easy to move around within the bedroom. Especially on Berber carpet and hardwood floors).
#7 Pick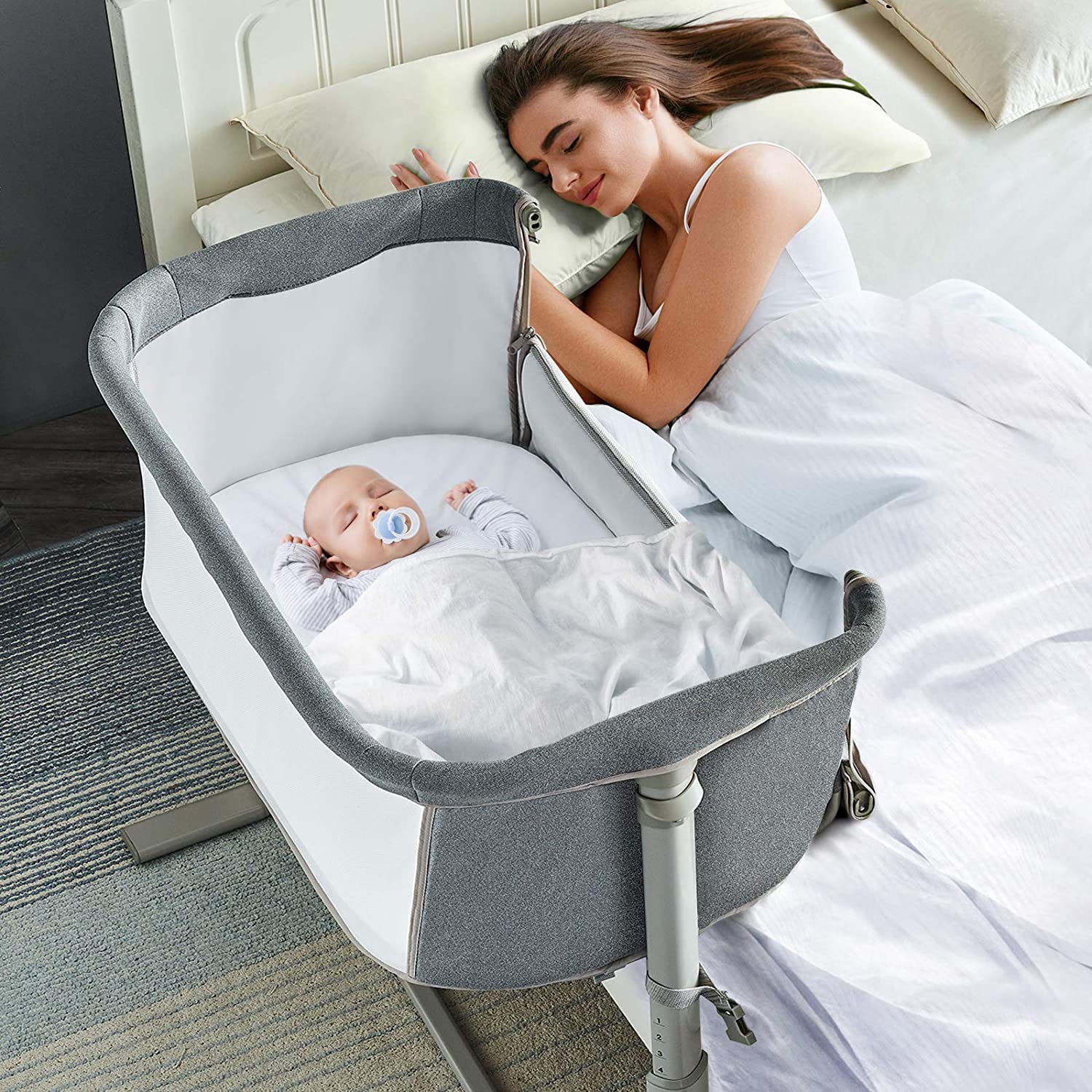 Main Features:
It is portable.
It is easy to assemble and disassemble.
It has a removable mattress cover.
It has an adjustable height.
It has an adjustable height and feet. This bassinet adjusts to the same height as your bed and has adjustable retractable feet.
It ensures you create a good eye level with your baby for easy caring and monitoring. It has a 9 inches adjustable height, ideal for various sofas and beds.
The RONEBEI baby bassinet has a high degree of craftsmanship and Microfiber. It gives your baby's skin a gentle and light touch.
The fiber's softness ensures your baby is comfortable and causes no skin irritation.
The bassinet has soothing sounds, lullabies, relaxing sounds, and music. It also has hanging toys for the baby to feel and grab the toys. These features help to soothe the baby to sleep and have fun when awake with the toys.
The bassinet supports a weight limit of 20 pounds. It is also easy to install; you only need to pull up the rails and push the leg frames and it will be ready for use.
It is portable and easy to fold, making it excellent for picnics and homes with minimal space.
The mattress cover is easy to remove and clean, saving your time and energy. The mesh sides have breathable fabric that promotes airflow.
It also gives the baby a comfortable and cool space to rest.
Final Thoughts
In conclusion, the above bassinets are the best in the market. But, the best bassinet will depend on your needs and what you feel will make the baby more comfortable.
You might want a smart bassinet, a co-sleeper, or a portable and ease-to-use bassinet.
You need to keep in mind there is no perfect bassinet. Each bassinet has its advantages and disadvantages.
Moreover, you can use this article as a guide to help you select the best bassinet that serves your needs.