5 Best Probiotics During Pregnancy According To Research [2022]
Vomiting and nausea impact 90% of pregnancies and can impact the mom's quality of life significantly. Once vomiting and nausea progress during pregnancy, they can become difficult to control.
The best probiotic strains for pregnant women include:
Lactobacillus acidophilus.
Bifidobacterium bifidum.
Saccharomyces boulardii.
These strains help to maintain a healthy gut flora, which is important for pregnant women because it can help to prevent complications like gestational diabetes and preeclampsia.
Lactobacillus acidophilus helps to break down lactose in the gut and helps to prevent common symptoms like bloating and gas.
Bifidobacterium bifidum can help to prevent UTIs, which are common complications in pregnancy.
And finally, Saccharomyces boulardii is a probiotic yeast that helps to boost the immune system and can also help to prevent diarrhea, another common complication in pregnancy.
A 2020 study found that a multi-strain probiotic increases gut bacteria in pregnant women. When they do so, the probiotics alleviate constipation, vomiting, and nausea.
Want to improve your digestive health, immune system, and brain health? We studied the best probiotic supplements on the market.
Here are the five best probiotic supplements for pregnancy…
✪ Editor's Choice For Best Probiotics For Pregnancy
✪ BEST OVERALL
---
Organic Probiotics
Improves digestion
Helps with bloating
Improves brain health
Easy to take
MOST AFFORDABLE
---
Dairy-free
Gluten-free
Soy-free
No refrigeration required
Non-GMO verified
---
5 Best Probiotics For Pregnancy Review Animated Video:
Top 5 Probiotics For Pregnancy Rankings: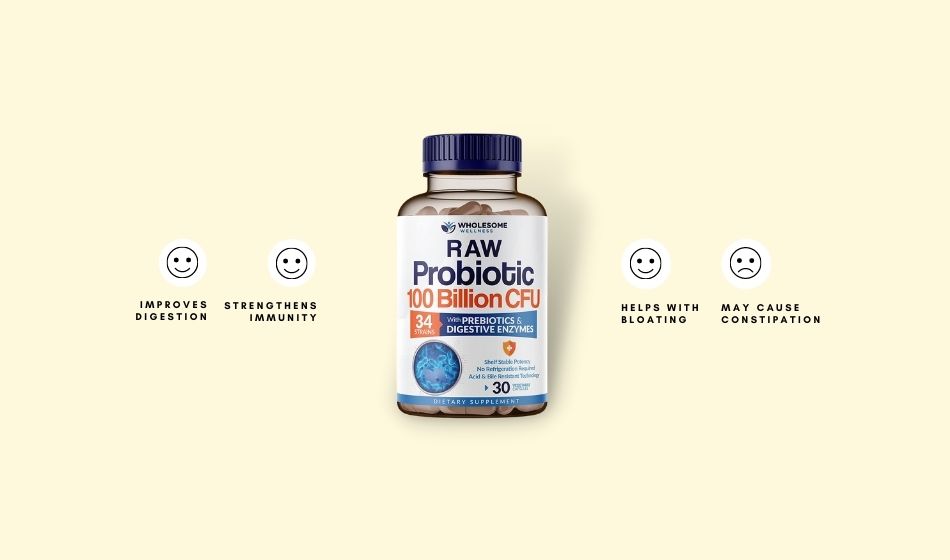 Experience happiness and wellness inside out with Wholesome Wellness – Dr. Formulated Probiotics. Effective for pregnant moms and developing babies, it contains 100% raw probiotics.
Per capsule, there are 34 strains of probiotics, 5 types of prebiotics, and 9 types of digestive enzymes. Proudly formulated in the US, the probiotic keeps the balance of microorganisms in our guts.
This means that when our probiotic levels are high, the good gut bacteria bring the levels of bad bacteria down. This prevents digestive problems.
Prebiotics are plant fibers that promote the growth of good gut bacteria. They are common in fruits, vegetables, and whole grains.
By taking Wholesome Wellness – Dr. Formulated Probiotics, not only do you increase prebiotic levels in your body, but you improve your immunity, digestive health, brain health, and more.
There are 100 billion CFU and 3 trillion CFU per bottle. The probiotics contain NO gluten, soy, wheat, eggs, peanuts, additives, preservatives, and shellfish. As such, you won't suffer any allergic reactions.
The digestive enzymes in the probiotics help to break down the proteins, carbs, and fats. They help your body absorb vital nutrients into your bloodstream fast.
Pros
✅ Strengthens immunity
✅ Improves digestion
✅ Helps with bloating
✅ Improves brain health
✅ Easy to take
Cons
❌ Higher Price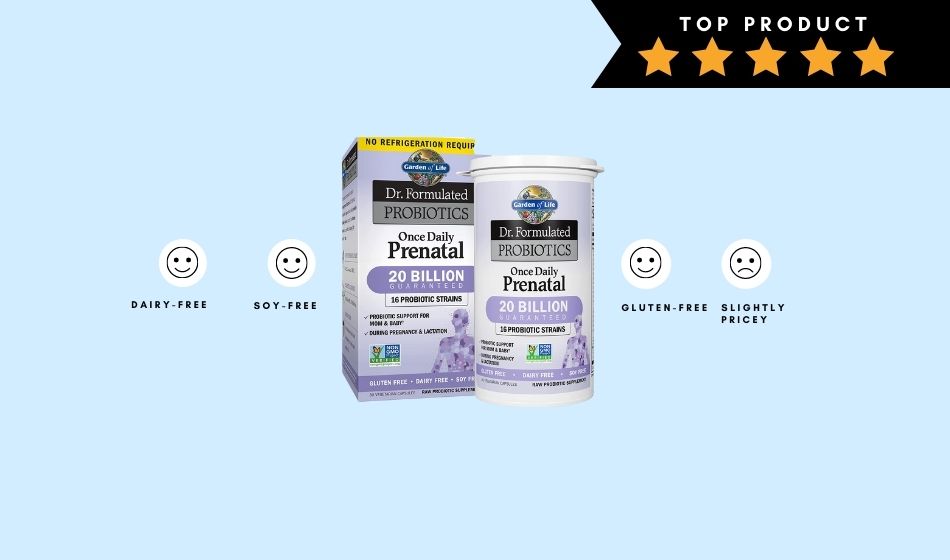 Cultivate a healthy bacteria gut throughout your pregnancy with Garden of Life probiotics. This 50 billion probiotic is dairy-free, soy-free, and gluten-free.
Ideal for vegans and vegetarians, it contains 115 mg of organic Acacia fiber. This helps gut bacteria to thrive.
Each bottle contains a 30-day supply of capsules. Created with a unique formula, these premium prenatal multivitamins contain folate.
Folate or Vitamin B-9 is crucial for red blood cell formation. It's also vital for healthy cell growth and helps to reduce the risk of birth defects in the spine and brain.
Naturally, we can get probiotics by consuming fruits, vegetables, yogurt, cheeses, and pickled food.
However, these foods do not have enough probiotics to provide the immediate results needed by a pregnant mom and developing baby.
It contains 16 strains including L.rhamnosus HN001 which supports the immune systems of the mom and developing baby. With a strong immune system, the mom can fight bacteria and viruses.
To enjoy the benefits above and more, take one capsule per day. The bottle of probiotics requires no refrigeration. So, you can take them with you in your purse or gym bag.
Pros
✅ Dairy-free
✅ Gluten-free
✅ Soy-free
✅ No refrigeration required
✅ Non-GMO verified
Cons
❌ Not Organic
---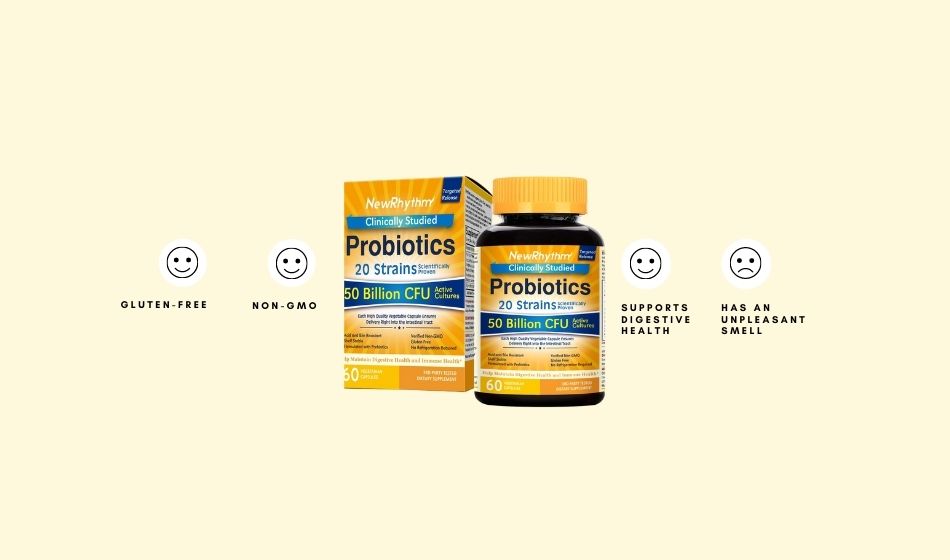 With 50 billion CFU, NewRhythm Probiotics is clinically proven and scientifically backed. Featuring targeted release technology, the probiotics can survive stomach acids and reach their target – your gut.
Pure and potent, the NewRhythm Probiotics maintain favorable intestinal bacteria. This promotes healthy digestion and helps to balance your intestinal ecology.
Non-GMO and gluten-free, NewRhythm Probiotics is usually formulated with 100% natural ingredients. Each high-quality capsule delivers 50 billion CFU right into your intestinal tract.
Not only that. The probiotics are gluten, fish, sugar, soy, yeast, egg, corn, and peanut-free. It also does not contain artificial fillers, ingredients, preservatives, or binders.
To improve your immune system and promote a healthy gut for you and your developing baby, take 2 vegetarian capsules. You can take the capsules with or without food.
You may experience stomach aches or constipation after consuming the capsules. This is normal and a positive sign that the probiotics are removing toxic substances and waste from your body.
We recommend starting with less dosage and increasing the dosage depending on your experience.
Pros
✅ 100% natural
✅ Non-GMO
✅ Gluten-free
✅ Delivers 20 different strains of probiotics per serving
✅ Supports digestive health
Cons
❌ Has an unpleasant smell
---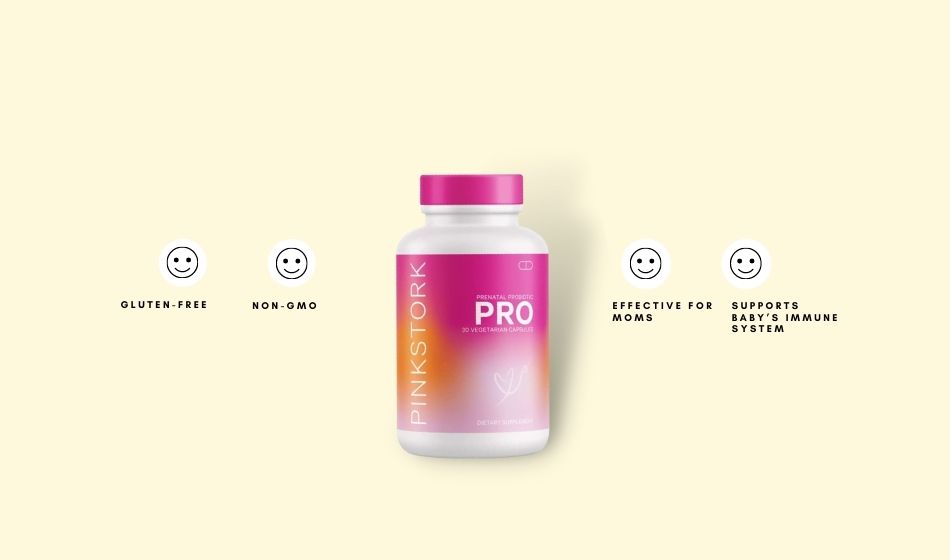 Effective for moms and developing babes, the product contains stable probiotic strains. Formulated with natural ingredients, they are rich in multivitamins, and herbs that support your health.
The probiotics contain both probiotics and prebiotics. Per serving, there are 6.2 million CFU. They support gut health, improve the immune system, promote brain health, and more.
Each tablet contains seven different strains of bacteria, such as Bifidobacterium spp. Proven to support your baby's immune system, they also aid moms during and after pregnancy.
The probiotics are always formulated without gluten, wheat, soy, dairy, GMOs, and more. These allergens can prime your immune system and trigger an allergic reaction.
Besides supporting your immune system, the probiotics provide relief from morning sickness. All you need is to take one capsule per day.
The bottle comes with 30 vegetarian capsules. To help your probiotics smell sensational, an all-natural heart-shaped insert is always included.
Pros
✅ Formulated with trusted ingredients
✅ Gluten-free
✅ Non-GMO
✅ Effective for moms
✅ Supports baby's immune system
Cons
❌ Newer less trusted brand
---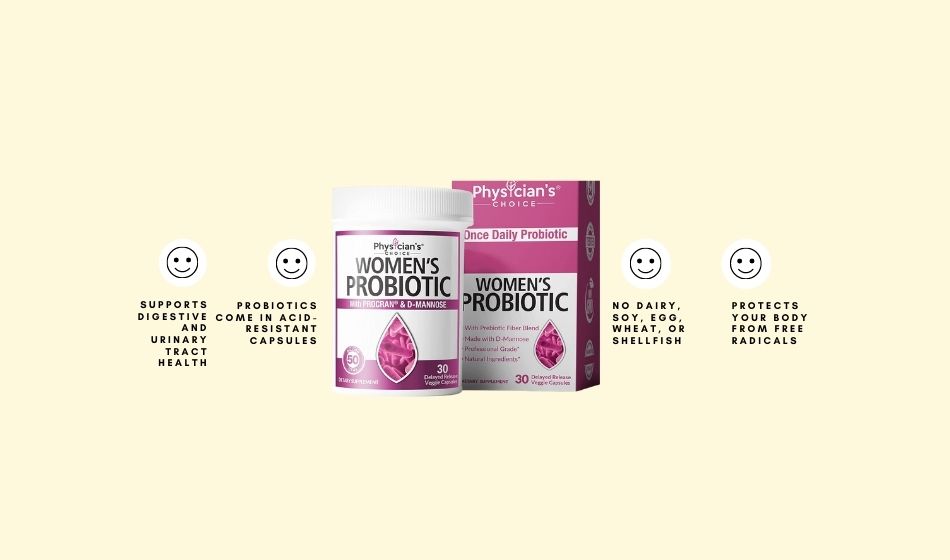 Made with procran, the Physicians' Choice Prebiotics & Probiotics is a shelf-stable vegan probiotic. The natural cranberry extract is rich in powerful antioxidants that fight free radicals in the body.
Free radicals are compounds in our bodies that cause inflammation if their levels become too high.
They're linked to multiple illnesses, including cancer and diabetes. If you want to keep these diseases and more at bay, we recommend Physicians' Choice Prebiotics & Probiotics.
Formulated with natural ingredients, it contains 50 billion CFUs per serving. These probiotics find their way to your gut where they promote healthy digestion.
They come in delayed-release capsules. This ensures that they can survive the stomach acid and reach your intestinal tract.
The capsules come in a patented shelf-stable vial. It has an active-polymer sleeve that acts as an impenetrable barrier against light, oxygen, and moisture.
Yes, when you first take the capsules, you might feel constipated. This is normal as the probiotics are cleaning toxic substances from your body. After a while, you should feel fine.
From there onwards, the six probiotic strains will improve your immune system, support brain health, and much more. By improving your immune system, you can fight off diseases.
Pros
✅ Supports digestive and urinary tract health
✅ Probiotics come in acid-resistant capsules
✅ No dairy, soy, egg, wheat, or shellfish
✅ Protects your body from free radicals
✅ Non-GMO
Cons
❌ Amazon review might have been manipulated
---
Final Words
Probiotics are safe for moms and developing babies. Several studies prove that probiotics alleviate digestive upset and morning sickness during pregnancy. They do so by keeping your gut healthy.
They are particularly effective when it comes to constipation. In pregnant women, constipation can cause bloating, and discomfort.
To facilitate digestive balance, and boost your immune system and that of your developing baby, take probiotics.
Our best choice is Garden of Life – Dr. Formulated Probiotics. It contains 115 mg of organic Acacia fiber and 50 billion CFUs that boost your immune system, digestive health, and cell growth.
We highly recommend the probiotics reviewed above.