Children Learning Reading Review From A Teacher/Mom [2023]
Children Learning Reading Review
Summary And

Discount Code
Overall Rating: ⭐⭐⭐⭐⭐ 4.7/5
The Children Learning Reading is a phonics-based reading program. They learn how combinations of letters sound.
It is designed to help children ages 3 to 8 learn how to read.

Developed by an experienced reading specialist and teacher. This program has helped over 78,539 children learn to read as early as 2.5 years old.

The program begins with the basics. Things like learning the alphabet and sound recognition. Once your child has mastered these skills, they move on to concepts like phonics.

The course provides a variety of materials, including videos, workbooks, and flashcards. Parents can use these resources to help their children learn to read.

It also has a section that covers tips and tricks for helping children who are struggling with reading.

For a reasonable price, you get a step-by-step system that can get your child reading proficiently in less than 30 days. It is the best program for reading I have reviewed so far.

Price Update: They now have an offer where you get the full Children Learning Reading program for a 69% discount by using this special link.
👍 Children Learning Reading – Pros
The program has over 78,539 thousand students and has been around for many years.
My students had fun going through this program. It feels more like a game than ashore.
This reading program is easy to follow and well-structured.
The program is effective even for children as young as 2 years old.
Comes with a full 60-day guarantee, so we can return it if it doesn't work for our kids.
Very affordable compared to other programs and does not have a subscription.
👎 Children Learning Reading – Cons
It requires some guidance from an adult when getting started.
Need a connection to the internet to use the program (Phone, Tablet, or computer).
It does not have an app you can use. All the training is based on videos and guides.
Some materials/worksheets need to be printed.
Who is the Children's Learning Reading program for?
The Children Learning Reading program is best for parents with kids from 2 to 8 years old. I saw great results with my preschool students as young as 2 years old.
Many of my kids were reading as early as two weeks into the program.

Note: I do not recommend the program for older children (8 years old or more) because they might not enjoy the teaching style as much.
Is there a coupon for the Children's Learning Reading Program?
We reached out to the creators of the program and now all BestCaseParenting.com readers (you) can get the program today at a 69% discount by using this special link. 
Keep reading for my full detailed personal Children Learning Reading review…
According to studies, children who can fluently read before first grade are considered intellectually gifted and have a higher probability of academic success.
But if a child does not read well by the third grade, they are four times more likely to drop out of school.
As a teacher, I am always excited to find new ways to teach my 3 to 8-year-old students to master reading. One of those tools I use is the Children's Reading Program.
I purchased the program and have been using it with my students and kids (Jason, Jessica, and Jordan).
In this Children Learning Reading Review, I will share my experience using the program and explain the pros and cons I found after using this program.
I'll also talk about two things you MUST use to have success with any reading program as well as a the coupon code I used to get a discount for the program.
This site may contain affiliate links.
What You'll Discover In This Article:
The secret to teaching your child to read effortlessly and efficiently with a proven program.
How to jumpstart your child's reading journey and watch them blossom into confident readers.
How to get a 69% discount for the program and how to try it for 30 days without risk to you.
The benefits of using a multi-sensory approach to learning and how it leads to faster and longer-lasting results.
Learn how this program can be tailored to your child's individual needs and how it can accelerate their progress.
How you can easily track your child's progress and adjust the program accordingly to ensure they reach their full potential.
The reasons why Children Learning Reading has helped thousands of children become successful readers and how it can do the same for your child.
How to empower your child with the gift of reading and watch them soar to new heights in their education and beyond.
and more!
Children Learning Reading Review Animated:
If you prefer to watch and listen, here is a summary of this review in an animated video we created just for you.
Who Am I, And Why Should You Care About My Review?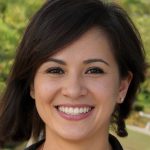 I have been an early childhood teacher for well over 20 years now and I specialize in teaching young children to read.
I have taught students from ages 3 to 10 throughout my career.
I have also gone through the Children Learning Reading Program with my students more times than I can remember.
This has helped me understand the quality of the entire program and I'm writing this review to help you determine if this program is best for your child.
What Is The Child Learning Reading Program?
Children Learning Reading is a reading program for kids designed by teachers Jim Yang and his wife Elena.
They went through a process of extensive research when ​getting their children to read, and created this program based on their years of research.
This product should allow your child to pick up reading in a fun and seamless way.
The Children Learning Reading program is suitable for any child from the ages of two through to eight years old.
Pretty much any child who has started speaking can be taught with this program.
To back this up, Jim has videos of his children reading when they were toddlers.
I wanted to do a Children Learning Reading review because until now, the number one question I get from parents is related to their child's reading ability.
One thing I found interesting about this reading program is that Jim Yang (the main founder and creator of this reading system) is not some famous children's educational guru or well-known figure on daytime TV.
Jim is a school teacher with 4 children with a real passion for teaching and reading.
I was impressed by the level of research he has put into his reading program. You can feel his passion coming through in each video
It is not just a thrown-together reading system, but one developed with a clear scientific-based approach.
The Children Learning Reading system follows a system known as synthetic phonics.
It focuses more on building a phonics foundation through learning phonemes and using blending fun exercises to achieve fluent reading.
The power of phonetics is a tried and true method used by many teachers from the top-performing school programs in the world.
I use this system myself in my classroom every day.
Most parents I see feel stuck teaching alphabet letter names (rather than the more important letter sounds).
If you follow this system, you will be giving your child a more balanced phonetic-based approach.
Who Is The Children Learning Reading Program For?
The Children Learning Reading learning program is perfect for any parent or teacher that wants to improve their child's reading ability without the use of an expensive reading tutor.
Even if you are 100% new to teaching reading lessons to small children, you will find great use of the easy-to-follow step-by-step lessons aimed at young kids.
I think you can already tell that I like this product! The fact it is even being mentioned on Best Case Parenting should be a sign of that already!
Most products don't get too far along if I find out they are inferior or not suitable in some way.
As a preschool teacher, when I started using this product, I could quickly tell that it would be a lifeline for any parent struggling with teaching reading.
Nurturing a fluent reader should NOT be stressful for you as a parent! Having a system like this makes the whole thing a lot simpler and easier to understand.
What Do You Get With This Reading Program?
32 Video Lessons of Reading Fun!​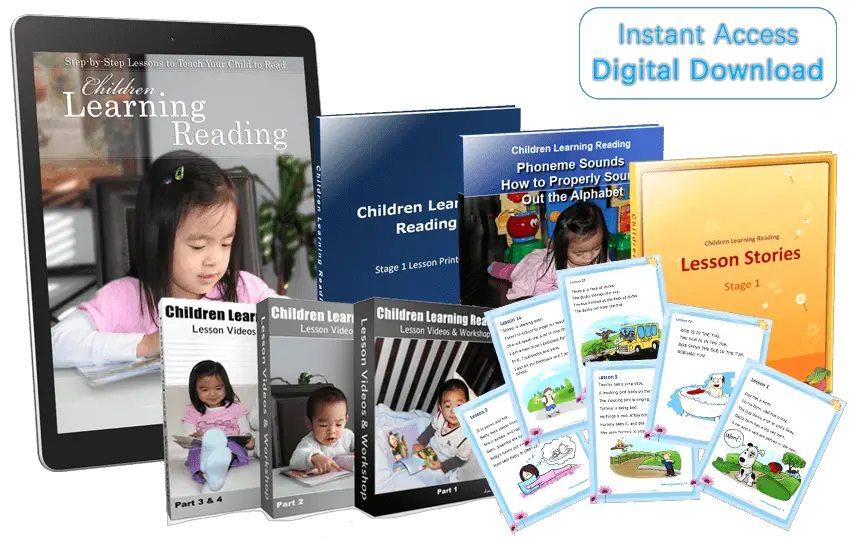 The structure of the course is broken up into two sections.
The first sections act as a solid grounding, preparing your child for some more complex aspects that will be covered in section two.
Section two is of a similar length.
This course aims to teach your child the phonic knowledge they need to start reading.
With this phonic knowledge, words can be broken down and understood in their components.
In simple terms, a CVC word such as "dog" is broken down into the three phonic sounds "d-o-g".
As we discussed above, each stage is accompanied by a detailed and well-written guidebook.
This guidebook lays out everything you need to know when it comes to teaching your child to read.
If you buy the slightly more expensive "premium" version, the first stage of lessons is backed up by full video demonstrations.
These videos show Jim going through the lessons with one of his young children.
This shows you exactly what you should do.
Not only are these videos fun, but they act as a core hands-on resource for parents.
It is daunting for some parents when thinking about how to teach reading! This program spells everything out and leaves no stone unturned.
The majority of parents will have no problems following Jim's reading lessons. Teaching reading skills to your children will become second nature in no time!
When you start a new job (that you have never done before), you don't just get thrown in at the deep end and start working.
You are given some training from someone else doing the same job!
These videos provide the same thing! If you are new to teaching phonics and are nervous about the whole thing, this is the perfect program for you.
Some adults have short attention spans, too, so these videos are great for those that don't always want to read lengthy PDF documents.
Although, I would say that you should at least read some guides, as they often provide a much more in-depth explanation.
Jim offers a sort of quick start guide of articles that the busy parent can read to get up and running. So, if you do buy this course, you can get started straight away!
Testimonials From Other Parents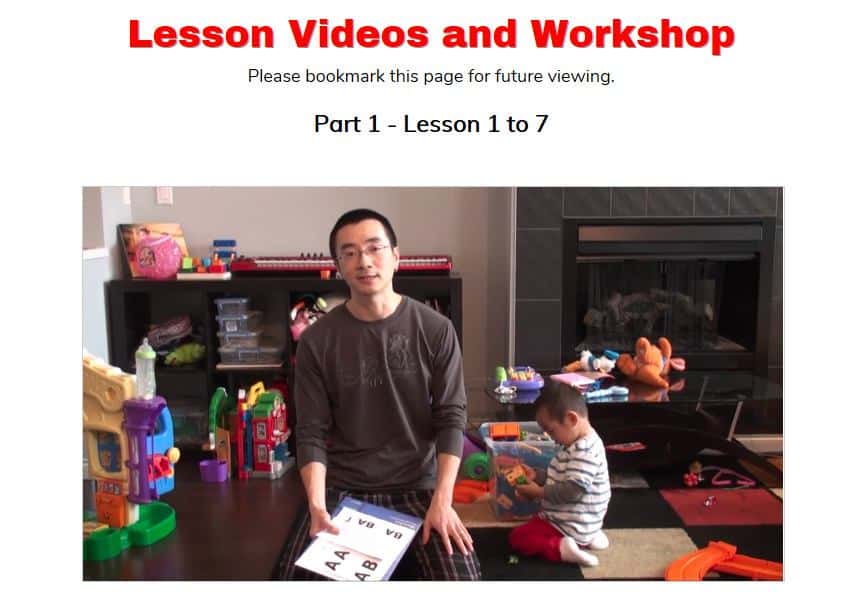 Children Learning Reading Offline Reading Program
I want to clear something up first when it comes to this particular reading review. This is not really an online reading program.
Yes, you access it using the wonders of the internet, but this is a learning program that you (the parent) will need to manually teach your child.
So, if you are looking for a more hands-off online reading program or system, then Children Learning Reading is not for you.
Hands-on Learning Style
Hand-on games are a much better way to teach children how to read than staring at screens.
I found that online interactive activities were helpful in practicing reading, but they didn't go into detail about the whole process.
Certain aspects such as memory work or hands-on interaction are critical when designing these types of programs.
Kids can become bored quickly with repetitive tasks if there isn't enough variety included within them
The fact of the matter is, most young children learn best from hands-on and practical lessons, not worksheets or sitting in front of a computer program.
This is where Children Learning Reading gets it right. These are short lessons, but they have hands-on activities within them.
Full Guidance for Parents
This program offers a complete package. It is not just a set of lessons to follow with no explanation.
It will also guide you in the reasons and theories behind their teaching approach.
This gives us, as parents, a full understanding of what they are doing and the proven research that backs it up.
It is much easier to follow through with something you understand, rather than being asked to blindly follow!
Short Sharp Inputs
As a teacher, I have mentioned on this site before the importance of short but sharp inputs when teaching a young child anything.
This product follows this principle perfectly.

You get lesson formats that can be taught in as little as 5 minutes at a time.
Teaching reading should be fun, not something you are forcing your child to endure from an early age. Therefore, this short and sharp format is essential.
In fact, when I train other colleagues to teach phonics, the first thing I usually say is to do short activities, but often.
When thinking about how children learn to read, the most important thing is to not frustrate or bore them with long and tedious lessons!
We are trying to show our children that reading can be fun, not bore them to tears!
Mixing this hands-on approach to learning with the short and sharp nature of the lessons makes this ideal even for children with a short attention span.
Guidance On What to Do if Your Child Loses Interest
Jim also does an impressive job in the guides, talking about "how to get your child to cooperate".
Every child is different and some may require a different approach.
He makes sure to highlight the fact that the teaching should be fun and to stop when any frustration (from child OR parent) begins.
How Much Does The Children Reading Program Cost?
Of course, an important factor for many people will be the price. In my opinion, price shouldn't be a roadblock for this particular phonic/reading program.
​The program used to sell for $49 a while back, but the price has increased recently to $129.
After digging around and reaching out to the founders, we found a link that lowers the price of the product to only $39 dollars, which is a 69% discount.
For such a full and complete reading program of a step-by-step nature, this price is a steal to me.
I wouldn't imagine the price would be an issue for many parents looking at this product!
Before we move on to the next section, the next thing to consider is that this product is being offered through Click Bank.
Ever heard of Click Bank?
Well, they are one of the early pioneers of digital marketplaces, and therefore can be trusted to look after you when you buy through them.
You are buying from a big and well-established company, not some fly-by-night operation.
Click Bank will always give you a refund (within the stated terms of the product) if you are unhappy with your purchase.
So, if you do decide to buy Children Learning Reading, that is one less thing you need to worry about!
Well, as you have probably worked out, I really like this product a lot and feel that it can be incredibly beneficial for parents.
The way that everything is explained and even backed up with video demonstrations helps us understand what we should be doing as parents and why.
It is one of the best programs I have seen for teaching young children how to read.
However, there are two key areas that I would point out as negatives for the program.
For me, they are not what I would call "dealbreakers", but they should be pointed out.
The first area is regarding the somewhat mechanical nature of the program.
Everything is explained and demonstrated well, and this is definitely the best way to teach a child reading.
However, I am a big believer in developing a "love" of reading, rather than ​just breaking it down into a mechanical process. ​
Therefore, if you do use this program, make sure to also read a lot of bright and vibrant children's storybooks to your child.
For example, you can read a storybook to your child every time just before bedtime.
Build up a bank of great storybooks for your child to interact with daily.
You can also try incorporating playtime activities into each lesson to make it even more fun for your child.
For example, you can hide the phonic sounds around your house and ask your child to find them.
When they do, they will say that phonic sound. Another idea would be to play a memory game.
Have two sets of phonic cards face down. The child turns over two cards and tries to find a matching pair.
You can search online for more similar fun phonic games like this.
If you find your child really enjoys a certain game, you could also use this as a reward if they can get through one of Jim's lessons.
The second area is regarding the delivery of the teaching and reference materials. Upon completing the purchase, you are sent to a download area.
You can either view the materials or download them.
To me, this area felt dated and slightly clumsy. In the modern digital age we live in, I think they should implement a slicker way to present this information.
However, the content of the materials contained within is so good, that I would urge you to push through this slight problem!
It seems Jim and Elena have become experts on how children learn to read and how to teach phonics.
But not so much how to present a modern-looking course in a world which is ever more demanding when it comes to this! Personally, I can forgive them for this!
Children Learning Reading Review – Closing Thoughts
To wrap up this Children Learning Reading program review… This product makes an excellent resource for any parent wanting to teach their child to improve their phonetic decoding skills and become fluent readers.
Or maybe you are a parent who already started and is getting mixed results. This is a great reading program that is very likely to help you get back on the right track.
As I previously stated, I have worked as a preschool teacher for many years, and I feel that following this program will give your child a better foundation in reading than I have seen from many professional teachers.
It acts as a fast track on how to teach phonics and how children learn to read!
I have adapted the program to be used in our school classrooms and the results are night and day.
Jim Yang and his wife Elena have really done an excellent job putting this product together, and they clearly have a passion to help others better teach their children to read.
A well-put-together set of reading lessons like this should be a must for any parent.
I have reviewed many free reading systems or programs on this site, and almost all come across as confusing and muddled to anyone who is not familiar with how to teach reading.
That is not the case with this learning program!
This product is clearly a labor of love that was born from their experience, not just an excuse to make a quick buck.
Thanks to Jim Yang, we have a top reading system designed especially for parents.
Jim even offers his email address and encourages parents to contact him for further guidance and affirmation that the process they are going through is working!
I just wish they would update their content delivery to give the end user a smoother and more modern experience! Perhaps using an app.
Anyway, nothing is perfect in life…right.
The final thing I want to remind you about is the price.
You can get this course for as little as $39, which is cheaper than some of the textbooks I had to buy as a trainee teacher.
Jim and Elena have done an impressive job to make their product cost-effective.
You can also explore this product further by clicking HERE and looking at their official website. The site has a full video presentation to explain the product further.
Do you have experience with reading strategies for struggling readers? How to teach reading or phonics to a young child or toddler?
Or understanding how children learn to read? Have you developed a reading system for teaching reading at home?
We would love to hear all about it in the comments section below!
Or if you have any personal experience with this particular reading program, we would love to hear from you too!
Is Children Learning Reading a Scam?
Is Children Learning Reading legitimate or a scam? I can wholeheartedly say that Children Learning Reading is not a scam.
This is a well-put-together and thought-out reading program that has, for whatever reason, chosen to use the ClickBank ecosystem.
As stated above, ClickBank is a good thing in my mind, as it guarantees you can get a refund if you are not happy.
Their money-back guarantee is bulletproof and not operated by the product creator themselves.
If you are still in doubt, go read the thousands of amazing testimonials on their Facebook page from real users.
Is Children's Learning Reading Program Worth It?
Children Learning Reading program is a must-have for every parent.
This program will give your child the foundation they need to learn and expand their knowledge of literacy, making them well-rounded adults who can succeed throughout life,
I recommend you try the program for a few days and if you do not think it's right for you, use the money-back guarantee they offer on the site to get a refund.
Is This a Good Reading Program For Struggling Readers?
Yes, this program is great for struggling readers. It is designed for struggling readers who require extra help with their reading skills.
One of the main reasons children struggle with reading is the way they are taught to read.
Children Learning Reading will teach your child a different scientific-based approach. It does this by playing games that curb their instincts to give them the best chance of success.
The other main reason is they get bored and frustrated when we force them to read.
The Children Learning Reading program helps your child better understand reading through lessons that are fun and engaging.
It's also a fun and interactive way of learning, and it allows your child to feel like they are playing a game with you.
At What Age Can Your Child Start The Children Learning Reading Program?
Children are like sponges, they are always learning and growing. And just like sponges, the sooner you start them on the road to knowledge, the better!
The "Children Learning Reading" program is designed for children aged 3-8, but it can be started at any age.
The program uses a variety of techniques, including phonics, to help children learn to read.
Phonics is a method of teaching reading that emphasizes the relationship between sounds and letters.
By starting the program early, you can give your child a head start on reading.
And by starting at 3 or 4 years old, you can help your child avoid any potential "reading struggles" later on in life.
What Is The Average Age Children Learn To Read?
It's never too early to start reading to your kids!
The average age for a child to learn how to read is around six years old, but younger children can also benefit from being read to.
Reading helps to develop language skills, expand vocabulary, and improve literacy skills. It can also be a fun and bonding experience for both parent and child.
There are tons of great books out there for kids of all ages, so start exploring and find some that your little ones will love.
Who knows, you might even end up enjoying them yourself!
What's The Best Method To Teach A Child To Learn To Read?
The best way for a child to learn to read is through a combination of phonics and whole-language instruction.
Phonics teaches children the relationship between letters and sounds, while whole-language instruction focuses on helping children understand the meaning of words and text.
By using both approaches, children can develop an in-depth understanding of reading that will serve them well in school and in life.
So if you're looking for the best way to help your child learn to read, make sure you combine phonics with whole-language instruction.
What Are Some Alternative Reading Programs?
If you're seeking an alternative reading program to the Children Learning Reading program, there are a few options available.
One option is the Reading Eggs program, which uses a variety of games and activities to teach children how to read.
Another option is the Teach Your Monster to Read program, which uses a combination of books, CDs, and online resources to help children learn to read.
Whichever program you choose, make sure to take the time to find one that will fit your child's learning style and needs.
With a little bit of research, you should be able to find a perfect alternative reading program for your child.
Is There A Discount Or Coupon For Children Learning Reading?
The only known discount for the program is by using their secret link.
You can get a special 69% discount when you purchase using this link.
There are no other known coupon codes aside from this discount at the moment.