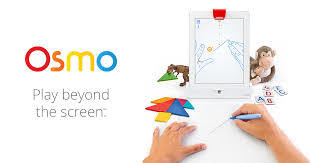 Welcome to our Osmo Genius Kit review. I am lucky enough to get access to these products at my place of work, so it was only natural to follow the Creative Kit review with this one! Educational apps for kids are changing, and Osmo seem to be a big part of that right now.
It will be very interesting to take a look at the Genius Kit and see how it stacks up to the Creative kit in terms of value and usefulness to the typical parent!
I need to begin this Osmo Creative Kit Review with a note for parents.
This item requires your child to access an Ipad. Therefore, I would like to point your attention to the prescribed screen time for your child.
This data can be explored further on the web. For instance, The Canadian paediatric society has an extraordinary page on screen time for kids, which would be a great starting point.
With appropriate guidance from adults, new technologies such as this can be a great learning tool!

Who are Osmo?
The Osmo company was co-founded by Pramod Sharma and Jerome Scholler.
Pramod Sharma has been in the tech industry for quite a while. Notably working for Nvidia as a system architect and rising to be a senior product manager in Google.
Jerome Scholler also has a tech background, but coming more from a gaming background. He worked for the likes of Ubisoft, LucasArts and finally Google.
So it seems these Google guys have gotten together and decided to tackle the educational apps for kids arena! ​
Osmo has already been winning awards and gathering momentum as an innovative newcomer to this sector. Let's hope the Osmo Genius Kit reflects this!
For me, personally, I like the idea of bringing together educational apps with actual physical play.
This brings new benefits that simply interacting with a screen can't offer.
What is Osmo Genius Kit?
The Osmo Genius kit includes:
Five Osmo Games: Numbers, Tangram, Words, Newton and Masterpiece.
The Osmo IPad Base and Red Reflector: The base is the most important part, as you can't play the apps without it. This is where I have seen some parents going wrong. They have bought a set which doesn't include the base. So, buyer beware, check exactly what comes in the item you order beforehand! The red reflector goes on the top of your IPad and redirects the camera to enable you to play the Osmo games.
Number Tiles: These are specifically to play the Numbers Osmo game included in the pack.
Word Tiles: Again, provided to use with the Words game in the pack.
Tangram Pieces: I bet you can't guess what these are for? Yes, for the Tangram game provided!
The areas of learning covered, according to Osmo, are:
Number sense and math confidence
Spatial sense and visual acuity
Reading and vocabulary
Creativity and problem solving
Hand-eye coordination and self expression
What age group is the Osmo Genius kit intended for
?
The Osmo games provided are supposed to adapt to a skill level appropriate for children aged between 5-12.
This is quite a wide ranging group of children, so it will be interesting to see how this works out.
What do the five Osmo Games entail
?
Good question. There are two educational games we have seen before……
Masterpiece
Masterpiece is an Osmo game aimed at drawing. Your child can choose from a wide variety of objects to draw. When they have chosen, they are guided to trace these objects in front of the Osmo Ipad base. One nice touch, is that the app will allow you to see a time lapse video of how you did the drawing at the end. You can use your IPad to take pictures too, and convert into a traceable object. Although, most of the time, the resulting picture might be hard for a young child to trace.
As this set doesn't come with a creative board, your only choice is to use paper. It doesn't seem to change the gameplay in any way we noticed. You could even use your own whiteboard and marker set if you preferred (although we didn't try this option).
Newton
Newton is a problem solving Osmo game for your child. They solve problems by interacting with the game via marks made on paper. For example, balls might be falling down and your child could stop these by drawing a curved line to catch them. The only take away from using paper for this, is it seems to use this paper rather quickly. To help the environment, some kind of whiteboard and marker pens should be used.
This brings us to the 3 other Osmo games, that we didn't have the pleasure of covering in our Osmo Creative Kit Review:
Tangram​
The Tangram pieces mentioned earlier are used for this game. A puzzle picture will appear on the screen and your child needs to arrange the tangram pieces so that their picture looks the same as on the Ipad screen. This is quite a traditional game, which I have seen played using cards instead of the IPad. The benefit here, is that there are over 500 puzzle cards in this game and, unlike paper ones, they won't get lost or bent!
Numbers
Children use the physical tiles given in this set, to make numbers and complete levels. These levels are presented on the IPad screen. There are elements of number recognition, counting, adding, subtracting and multiplying here. The idea is to make these math problems interactive and fun.
Words
This game takes the form of a word puzzle. A picture will appear on screen, and the child needs to slide the letters they think are in that word in front of the OSMO IPad base. If that letter is in the word, it will pop up on the screen. For this particular game, I feel like they should have contacted some teachers here. As a teacher myself, I think they should have given us both upper and lower case letters. When a young child is first learning phonic sounds, they usually get used to lower case first. Therefore, it can be slightly confusing for them to deal with only upper case. Some letters have very different looking formations between upper and lower case.
An interesting addition to this game is through the myOsmo section of the game. Here, you can use your own pictures to make a custom  word puzzle game set. These can then be shared online for others to try.
To sum up this section, I would like to make an important point. These educational apps are quite revolutionary in nature. They detect physical work done by your child, and integrate that into the Osmo games.
With this, you would have expected bugs and glitches in the system. As far as I can see, this was never the case. I am actually quite amazed at the high quality and seamless nature of these apps.
The Google software engineering of the Osmo co-founders seems to be shining through here!
What do I like and dislike about the Osmo Genius Kit
?
Generally, this kit seems to be more focused on academics than the previously reviewed Creative kit.
This kit replaces the monster game from that kit for the Words, Numbers and Tangrams games described above.
Therefore, if you want something to help your child with number and phonics/spelling work, this would seem to be a better fit.
In the Osmo Creative Kit review, I did talk about whether the creative board and marker pens from that set were really needed. As Osmo have given you two games in this pack (Newton and Masterpiece), which were in the Creative Kit and used the creative board. It suggests to me that this board and special marker pens are not really needed. I certainly have not seen a difference using these games with or without the creative board.​
In my opinion, this set would offer a better value for a lot of parents. All you have to do is add your own materials, buy the Monster game yourself separately, and you have the same experience included in this kit as what you would get with the Creative Kit.​
The three new games in this pack (Words, Numbers and Tangrams) are not really revolutionary games.
All three can be done with printed cards and paper to a similar level. Probably only the Newton game is hard to replicate in a traditional pen and paper scenario.
What the Osmo game and Ipad base system does offer, is a slightly higher level of interaction. Also, the amount of game variations available within these Osmo Games can't really be easily recreated with paper cards. You would literally need to have thousands of them around your house, which would be quite a mess.​
Another plus point, is the ease of use of the OSMO Genius Kit. Most young children seem to get the hang of it pretty quickly, requiring very little to no adult support.
From my experience, young children do enjoy using technology such as IPads. If you are finding your child is not interested in practising phonic and number skills, for example, you might find a tool like this a good way in for them.
The only other thing I would say, is the setting I have seen these Osmo systems used in relate to young children of preschool and kindergarten age. I have no way of testing these games on older children, as Osmo states they can be used.
If you do intend to use the Osmo Genius Kit with older children (7-12 years old), I would recommend you seek out a review specifically tailored to that age group.
OSMO GENIUS KIT REVIEW CONCLUSION
The games themselves are not exactly revolutionary in nature, but the method of delivery IS! The Osmo Genius Kit offers children a fun and interactive way of learning. 4.5/5
The Good Stuff:
Excellent way to integrate physical play into educational apps for kids.
High Quality & Seamless
Easy for a child to use independently.
Better balanced kit contents.
The Bad Stuff:
Not exactly revolutionary games.
Slight problem with only uppercase letter cards.
To wrap up, if you have any of your own experiences with Osmo educational products, we would love to hear all about them in the comments section below.