Osmo Genius Starter Kit Review From A Teacher/Mom [2022]
Welcome to our Osmo Creative kit review. On Best Case Parenting, we are always on the look out for innovative new products to make learning fun for young children.
As soon as I saw this particular product, I could see it would make a good candidate for coverage on the site. I have seen a lot of Educational apps for kids over the years, and this seems one of the better ones. 
I want to start off this Osmo Creative kit review with a slight warning to parents.
This product does require your child to use an Ipad. Therefore, it is important that you understand the recommended screen time. 
This information can be found online. For example, The Canadian Paediatric Society has a great page on screen time for children here.
I believe that, with proper guidance from adults, these technologies can hold great learning potential for our young children.
Who are Osmo?
On their website, they say…..
"Tangible Play Inc. — the business behind the Osmo brand — was founded in 2013 by Pramod Sharma and Jerome Scholler, who set out to create "something awesome that inspires the youngest generation," while at the same time addressing a concern of many parents about how to have their children interact with technology without losing the value of hands-on play."
They have ex Google employees among their team (apparently) and, back in 2014, got 12 million dollars in funding for these Ipad based learning products and their associated educational apps for kids.​

​I am really excited by the idea of "interacting with technology without losing the value of hands-on play". A lot of the apps I have seen in this arena lack imagination and don't really push the envelope of what this technology can offer.
The same cannot be said of these Osmo products. The idea to integrate physical play with Ipad apps is ingenious. They seem to be taking educational apps for kids to a whole new level. You may have seen many Ipad bases too, but this Osmo Ipad base is something very different. 
What is Osmo Creative Kit? 
With this kit, your child can play three different types of Osmo games. These are interactive games, often involving drawing or making marks on a whiteboard. 
​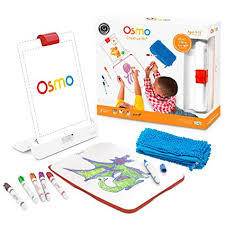 Within this kit, you will get:
Three Osmo games: Monster, Masterpiece and Newton.
Osmo Ipad base and red reflector
This is the main part of the Osmo creative kit. Without it, the Osmo games can't be played.
Be careful, when ordering Osmo products. They have two versions of these packages. Sets, which don't include the base, and Kits which do. I found this slightly confusing at first and think Osmo should come up with a way to make it clear whether a package includes the Osmo Ipad base or not!
This base is where your Ipad is placed to play the Osmo games. It also comes with a red reflector. This is a piece that fits over the top of your Ipad, to cover and redirect your Ipad camera.
The compatible Ipads are as follows:
iPad 2, iPad (3rd Generation), iPad (4th Generation), iPad (5th Generation), iPad Mini, iPad Mini 2, iPad Mini 3, iPad Mini 4, iPad Air, iPad Air 2, the 9.7-inch and 10.5-inch iPad Pro.
You might want to double-check this before ordering, as it may have changed since this article was written.
Creative Board and a set of dry-erase markers
Fairly self explanatory, this is a white board type product and is used to interact with many of the Osmo games. You place this in front of the Osmo Ipad base, so that the camera is positioned over it. It comes with a set of Dry-erase marker pens.
Fuzzy Blue Pouch and Erasing Cloth.
The fuzzy blue pouch would act as a good place to store your dry-erase marker pens. From the look and feel of it, you could also use it as an eraser. I would imagine, over time, this would make the pouch look rather dirty. As they also include an erasing cloth, it would seem this is the intended item for erasing. The slight problem I see, is that a young child would likely use the Fuzzy Blue Pouch to erase things, whether it be intentional or not 🙂
This thing might need several runs through the wash during its lifetime.
What age group is the Osmo Creative Kit intended for?
Osmo indicates that it can be used for ages 6-12 years old.
What exactly do these 3 Osmo games entail?
Monster
This Osmo game is centred around a monster character called "Mo". Mo will invite your child into his world. They will help him with tasks. For example, to create objects for a magic show. These objects are drawn on the creative board, as per Mo's instructions. The great thing about this, is that there is a lot of flexibility within the drawing system. No matter what the drawing skill of your child, their work will be incorporated into the Osmo game all the same. Also, there were never any errors after drawings had been made. This indicates to me a top level of integration between the physical drawing and the app.
Mo is also a great character and very well voiced. He will guide your child in a fun and positive way.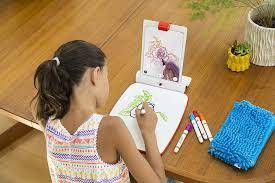 Masterpiece
Masterpiece is a drawing Osmo game. Your child can choose from a wide variety of objects to draw. When they have chosen, they are guided to trace this object onto the creative board in front of the Osmo Ipad base. If you wish to keep the drawing, paper can be used instead of the creative board. Interestingly, you can take a photo of a real object and convert it into something traceable. Be warned, this object often have a lot of lines and might be too fine to trace for some children.
You can save your work and share it too if you want!
Newton
Newton is a problem solving Osmo game for your child. They solve problems by interacting with the game via the creative board. Again, paper can be used if preferred. For example, balls might be falling down and your child could stop this by drawing a curved line to catch them.
What do I like and dislike about the Osmo Creative Kit?
This Osmo Creative kit review has been a lot of talk about what the Osmo Creative Kit is. Now lets get into what I like or don't like about this set of educational apps for kids.
Overall, as I have talked about in this article, giving activities meaning is a sure fire way to engage your child. A large majority of children will find these Osmo games a big draw, and will be motivated to continue without much encouragement. This is a far better way for a child to learn, rather than being forced to do boring drills with no meaning.
OK, with that out of the way, lets get on with the Pro's and Con's
Here are the Pro's:
Here are the Con's:
Conclusion
I would say that I am suitably impressed with this attempt to bring Educational apps for kids to life. By combining physical objects with the Osmo Ipad Games, it brings a whole new fun dimension. One which many children will enjoy. I was also impressed by the fact that all of these is done in a seamless and high quality way. It is quite rare that a system like this is backed up by such a well funded company.
It's also great seeing that Osmo are still updating their games. For example, at first the Monster Osmo game only had the option for a magic show. They now added the option to go on an adventure.
It sure isn't perfect though. I wish that OSMO would simplify their packages for the Osmo Ipad Base and Osmo games, to make it clearer what is and isn't included. We seem to have many disappointed parents that buy one of these, only to find out it didn't have what they expected inside. This suggests to me that clarification is needed.
It is also debatable whether the creative board and dry erase markers are actually needed. Osmo state on their website that these items are needed for the optimal Osmo games experience. However, a regular whiteboard and pen set seem to work equally as well. As do a regular set of pen and paper.
In this particular pack, the problem is not so bad, as there are other items in the Osmo Creative Kit that make it worthwhile. But some of the other sets Osmo offers, have these items as one of the main components. In these situations, I feel quite a few customers won't be happy with this in terms of value for money.
This product is an excellent one. I highly recommend it for your child, and it is a great way to build creative drawing (with some thinking) skills.
Just be careful with what you order. Explore the available packs on Amazon and decide what you really value. You can then tailor your order to those needs. Just make sure that the Osmo Ipad base is included somewhere along the way 🙂
Click HERE to check out the Osmo Creative Kit on Amazon.
If you have already bought this product, I would love to hear about your views in the comments below.
Thank you for reading my Osmo Creative kit review! Rest assured, more is one the way!
​If you would like to check out our Osmo Genius Kit Review,
please CLICK HERE!