Osmo Genius Starter Kit Review From A Teacher/Mom [2023]
I know what you're thinking…it must be easy to be a mom when you're a teacher too. Right?
You'd be surprised.
Children all learn differently and at their own pace. But recently, I discovered something that was an absolute game-changer for my students and for my own kids.
When I first saw it though, I thought, "Oh great. More screen time. Like kids aren't always glued to their screens!"
Don't let Osmo fool you though. It is without a doubt the most integrative way to bring technology, learning, and fun together for kids ages 6 to 10.
What Is the Osmo Genius Starter Kit?

The Osmo Genius Starter Kit is a pretty genius invention itself. It helps kids relate to learning with hands-on games linked to objects they interact with in the real world.
Compatible with iPad or Fire tablets, you connect your device to a base and a reflector that turns these screens into amazing learning machines.
With games that kids actually want to play, they learn through the principles of embodied learning.
There are coding games that make things fun. It uses physical coding blocks and engaging math games that simulate real-world occurrences.
It relates to kids through pizza, tangrams to learn spatial relations by building complex shapes out of smaller ones, geography with a detective theme, plus much more.
Every game they play digs deeper than that too, helping kids learn how to problem-solve, persevere, and get creative to find the right answer.
It's a teacher's dream come true, and a mom's too. That's why I had to investigate further to see if it lived up to the hype.
What's Included?
After reading up on the Osmo Genius Starter Kit, I decided for both my profession and for my kids, that I needed to order this thing.
You have to select the kind of device you own so they'll send you a compatible base and reflector.
If you're not sure about compatibility, Osmo's website is very user-friendly and made it easy to check that out.
I loved that it wouldn't let me proceed with my order until I made sure to select my device from the options. It made me feel more confident that I'd get the right one.
Along with that base and reflector, I also received number tiles, tangram pieces, stackable storage, and word tiles.
Before I would give it to my kids though, I wanted to test it out myself.
How Does The Osmo Genious Starter Kit Work?
The thing that really piqued my curiosity about Osmo is that it combined the real world with the digital world.
As a teacher, I know all too well that kids learn by doing. Traditional games get boring though and guess what? They get tired of those digital games too.
But with a fusion of these 2 realms, it really is different. They get to use that physical activity with the Osmo that they don't get with other games.
And since these things are fun and as it's been said that fun is good, isn't that a better way?
Is Osmo Worth It?
When I first opened the package, I was impressed. Teaching forces you to be organized even in the chaos of the job. And so too does being a mom. The way this was presented and organized was like it was meant for me.
I couldn't wait for my kids to see it.
But I had to be patient. I needed to know that it lived up to its glowing reviews.
Part of the reason I'd decided to dive into ordering Osmo is that it is actively used in well over 50,000 schools.
I first decided to try the tangrams. I see so many students struggling with these and I wondered if it could be helpful for them.
As I finished solving the puzzle, I noticed it recognized my completed design. It uses your tablet's camera to interact with you and that's incredible, in my opinion.
It was like that with the other games too, and right then, I knew. I knew this was the best thing I'd ever gotten for my kids.
I also knew I had to try to convince the school district to see about getting these in the classroom.
"Kids! Get in here! You've GOT to see this!"
Osmo became love at first sight for this family. It has enriched our lives, and it is definitely worth it.
Reasons Why You'll Love Osmo
My kids love playing with the Osmo because they have fun. I love that they play with it because they learn.
I get to take a little break from teaching at home to let them learn in a way that doesn't feel forced.
Plus, when children feel like a lesson is fun or relatable, they'll never forget it.
When the parents of my students ask me about it, I always tell them why I think the Osmo is such a valuable learning tool.
Osmo Makes Learning Fun
I remember when I was a kid how much more I learned when I was having fun during the lesson.
Years and years later, those things I learned stayed with me. When I became a teacher, I vowed to find ways to make learning fun.
Osmo makes it so easy to make learning fun. Yes, even with more difficult concepts.
The games you'll find here are more intuitive than anything else. They help ease kids into problem-solving, allowing them to figure things out for themselves.
There is nothing more rewarding than seeing that spark of recognition in their eyes when they realize they got it.
It Continually Progresses
Osmo always stays challenging for your child, helping them learn and grow. I loved that they could each take their time progressing, learning, and moving through the games in an organic way.
It's empowering for your kids, letting them pop when they're ready like little kernels of popcorn.
Osmo Is Screen Time You Can Feel Good About
Every single parent I've ever spoken to has the same concern – screen time. We're all so worried about how our kids are constantly clinging to technology.
However, the Osmo is the best way to use technology to your advantage. Plus, kids today are much more excited about learning through a game on a device than hefting through a big textbook.
Osmo is the healthy way to do screen time because your kids are learning rather than zoning out on trending videos that may lead to a mess in your kitchen or a weird new haircut.
👉 Click here to find the current price for the Osmo Genius Starter Kit.
It Motivates Your Kids to Learn
Now here is the absolute best part of the Osmo. This truly makes it a genius invention for modern times.
Not only does it have parental controls and ways to monitor the progress of each of your children but it also makes for a fantastic reward.
Think of it in the same way as having kids that get excited about fruit served for dessert.
It's good for them. It's good for you. It's good for the family!
Since my kids loved the Osmo so much, I started allowing them to earn rewards with it.
For example, I'd tell them they couldn't play with Osmo until they finished their homework.
I also have a list of chores they have to complete each day first. I've never seen either of my boys hustle to tidy up the house!
And yes, I make them play in the yard too because even though Osmo is a wonderful learning experience that brings the real world and the screen world together, we all need that fresh air.
If you do these things too, Osmo is going to be the perfect addition to your family.
It Helps Them Be Creative
One of the nicest things about Osmo is that it encourages quiet behavior. This was alarming when my kids were toddlers. But at age 8, the silence is a blessing.
I poked my head in to see why they were so quiet. They were drawing with Osmo while it interacted with them, revealing their creation in real-time. "Wow! This is so cool!"
Osmo Is Customizable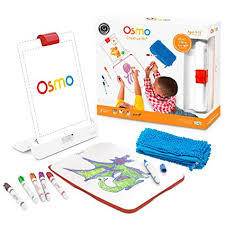 Learning games are always a great choice, but sometimes they feel a bit limited. They don't interact with you and they're all very cookie-cutter.
You can customize Osmo to fit their interests!
So there are coding, math, drawing, spelling, physics fundamentals, geography, and spatial relational skills.
With the Osmo Genius Starter Kit, you can buy additional games as gifts for birthdays and holidays…or even to mark special achievements from school.
You get a few games to start within the kit though, making it a worthy tool that grows with you and your family.
👉 Click here to find the current price for the Osmo Genius Starter Kit.
Osmo Is the Perfect No-Guilt Break for Parents and Teachers
Have you ever tried to cook dinner while your kids are tearing apart the house? Oh, who am I kidding?!? We have ALL been there, haven't we?
I really don't like to let my boys just sit and watch TV when I should be interacting with them. Or playing mindless video games and other junk.
With Osmo, I can feel good about leaving them to their own devices, literally.
Now I can cook dinner, do chores, and simply put my feet up after a long day while they have fun learning on the Osmo.
It's the best thing I've bought in a long time. And at this price, it's an absolute bargain.
There are kits for younger children too, so if you're wondering how it can help the younger set, believe me, it can.
Oh! I almost forgot the best part!
I brought Osmo in with me to show the principal. He was so amazed by it that we decided to create fundraising events to get these devices for the school.
So far, we raised enough money to get one per classroom and the feedback from the students and parents has been overwhelmingly positive.
Because the Osmo is such a fantastic educational tool, it's becoming in high demand.
This educational suite of games really puts the fun back into learning, even for those subjects your children may have found too difficult or boring before.
I love that they learn new things, cultivate interests, and get to be curious while boosting confidence.
👉 Click here to find the current price for the Osmo Genius Starter Kit.
What age group is the Osmo Creative Kit intended for?
Osmo indicates that it can be used for ages 6-12 years old.
What exactly do these 3 Osmo games entail?
Monster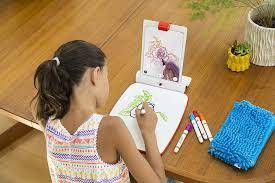 This Osmo game is centered around a monster character called "Mo". Mo will invite your child into his world.
They will help him with tasks. For example, to create objects for a magic show. These objects are drawn on the creative board, as per Mo's instructions.
The great thing about this is that there is a lot of flexibility within the drawing system.
No matter what the drawing skill of your child, their work will be incorporated into the Osmo game all the same.
Also, there were never any errors after the drawings had been made.
This indicates to me a top level of integration between the physical drawing and the app.
Mo is also a great character and very well-voiced. He will guide your child in a fun and positive way.
Masterpiece
Masterpiece is a drawing Osmo game. Your child can choose from a wide variety of objects to draw.
When they have chosen, they are guided to trace this object onto the creative board in front of the Osmo Ipad base.
If you wish to keep the drawing, paper can be used instead of the creative board.
Interestingly, you can take a photo of a real object and convert it into something traceable.
Be warned, this object often has a lot of lines and might be too fine to trace for some children. You can save your work and share it too if you want!
Newton
Newton is a problem-solving Osmo game for your child. They solve problems by interacting with the game via the creative board.
Again, paper can be used if preferred. For example, balls might be falling down and your child could stop this by drawing a curved line to catch them.
What do I like and dislike about the Osmo Creative Kit?
This Osmo Creative kit review has been a lot of talk about what the Osmo Creative Kit is. Now let's get into what I like or don't like about this set of educational apps for kids.
Overall, as I have talked about in this article, giving activities meaning is a surefire way to engage your child.
A large majority of children will find these Osmo games a big draw and will be motivated to continue without much encouragement.
This is a far better way for a child to learn, rather than being forced to do boring drills with no meaning.
OK, with that out of the way, let's get on with the Pros and Cons
Here are the Pros of the Osmo Genious Starter Kit:
easy for your child to set up .
of a
.
.
.
Here are the Cons of the Osmo Genious Starter Kit:
Click here to find the current price for the Osmo Genius Starter Kit.