Positive Parenting Solutions Review – A positive parenting toolbox for Families!
by Best Case Expert- Updated January 3, 2022
​Here at Best Case Parenting, our whole aim is to give busy parents tips and support that will make parenting easier and more manageable. In my professional life, I have seen many parents that struggle to find solutions to many parenting problems.
The problem is, this website only has snippets of information. These snippets are (hopefully) helpful, but you would have to start putting all these snippets together to begin getting a bigger picture.
What if there was a place where you could get a mass of help in one place? Well, when I found the Positive Parenting Solutions course, I had a feeling it could offer exactly this.
I want to make this clear! This is a real review from someone who has actually taken an in-depth look into the content! In fact, I have had access to the Positive Parenting Solutions course for several weeks now, and have been itching to write this review.
I have seen so many more generic reviews out there, and we want to offer some real thoughts and advice on this service for parents instead!
Before we take a deep dive into this course, I want to offer my quick review for parents too busy to want to read a few thousand words!!
FREE CLASS: Discover how to get kids to listen without yelling, nagging, or losing control.
In this 60-minute online class, you'll discover:
★ How to get kids to listen without nagging, yelling, or losing control…
★ How to prevent arguments and misbehavior…
★ How to fill your child's attention and power buckets positively…
★ Amy's proven 5-step process to implementing consequences…

Is Positive Parenting Solutions any good?
In my opinion, this is one of the best parenting courses I have ever seen. Yes, some parents might consider this course expensive. But, for me, it is an excellent investment to learn one of the best parenting styles out there (again, in my opinion), positive parenting.
The course is structured and delivered professionally. You will literally have hundreds of hours' worth of content to digest!
With that out of the way, let's get on with the detailed review!!
WHAT IS POSITIVE PARENTING SOLUTIONS?
Their tagline is "The leader in online training for parents of toddlers and teens."
Doesn't exactly roll off the tongue, but hopefully, this bold claim will come true.
They were founded by Amy McCready, who has built up quite a following as a parenting guru, author, and speaker on the subject.
Amy has been featured on some popular TV shows in America and has written two very well-received books. Currently, one has 4.5 and the other has 5 stars on Amazon!
See for yourself! Click the images to view on Amazon:
These days, a lot of people don't have the time or patience to read courses in book form. So, it's great that Amy McCready has decided to turn her attention to making an online course too. 
​So, straight off the bat, this gives Positive Parenting Solutions a great start. Being founded by a well-known expert in parenting leads me to believe that the content of this course will be good. They have also been around for over a decade, so are a well-established company in parenting education.
Positive Parenting Solutions is aiming to be an all-in-one resource for parents wanting to learn more about the positive parenting style and what it entails. If you are interested in positive parenting as a style, this could be the resource for you…
WHY WOULD YOU NEED THIS PARENTING COURSE?
I have seen some people online saying such things as "every child is different", "you should just pick up your own style of parenting as you go along".
Their overall idea is that how can one prescriptive course tell parents how to parent a child when they don't know a child's background or that of their family.
In this case, I strongly want to disagree. Parenting is such a hard and complex thing to get right. Yes, it is possible for some people to pick up a successful parenting style as they go along, I won't dispute this.
However, I have seen many parents that have struggled with parenting. If no one tells you how to parent your child well, and you are just piecing together your style. There is a strong possibility that you will get more things wrong than right.
Most parents don't have a point of reference about how to be a good parent. Courses such as this can give you such a reference.
I have seen people from all walks of life struggling with parenting. From successful business professionals to stay-at-home moms!
The positive parenting style was not just something dreamed up overnight! It is a well-practiced and researched parenting style, that has been honed over many years. This is actually one of my personal favorite parenting styles, too!
If you want to work out if positive parenting is for you, maybe you can go over and read my article on positive parenting first. This will give you an idea of whether you want to follow this style or not. 
If you do decide you like this style, then this positive parenting solutions service is offering itself as a complete resource you could use to help you improve and hone your positive parenting skills. 
If you are a new parent unsure of how you should effectively parent your child, this could be a lifesaver for you. Also, if you are an experienced parent who has not been happy with what your parenting style has become, this course could be worth a look!
The fact of the matter is, this course comes with a solid 30-day money-back guarantee. If the idea of positive parenting appeals to you, why not try out this course for 30 days. You really have nothing to lose. If you don't try, you will never know! 
WHAT DO YOU GET WITH POSITIVE PARENTING SOLUTIONS?
COURSE DELIVERY?
I have to say, when I first logged into this course I was suitably impressed. Everything is professionally designed and well presented in a website form.
The course is a mixture of PDF documents you can download, videos, and even webinars thrown in.
You can really feel that this is a quality product from the first time you log into the course.
The other thing that got me excited, was the fact that they have a Positive Parenting Solutions app for smartphones, which makes it a breeze to consume this course on the go.
I used this app on the Android platform and had a smooth and trouble-free experience. This app is not available on the lowest Bronze level of the course, so be aware of this if it is a feature you want.
I have been critical of some other paid courses in the parenting niche, as some simply don't seem to know how to present themselves well. Even though the course content is often good, many people will be put off by old-fashioned course delivery or design.
You have no such worries with Positive Parenting Solutions, who have clearly invested a lot of time and money into their offering!
No one would ever be lost on their website, they offer an introductory webinar and a navigation tutorial for example. All of these options are clearly available on the left hand side menu on the website.
COURSE CONTENT?
Another thing that impressed me when first logging into Positive Parenting Solutions, was the sheer amount of information that was held within.
We will talk more about the price later in the review, but some may think this course is a little bit pricey. However, when you see the course content, you will realize that you are simply investing in your future as a parent.
Behavioral management (in a positive parenting style) is the key skill taught in their course, but they do cover pretty much every key topic that parents would want help with!
As stated earlier in the review, I am really enjoying this course's design and layout. This helps the user seamlessly go through the course with ​a few hitches.
They clearly mark the main course content, the main seven sessions they call "The toolbox". Lessons are backed up with supporting PDF documents and videos so that you get a clear understanding of what is being taught.
The workbooks have some great exercises you can go through to get a more profound understanding of the concepts within the course. They even have a frequently asked questions and summary section at the end of each session or group of lessons.
It feels like everything has been well thought out and refined over the ten years (and counting) the course has been around.
After going through the core content in the main seven sessions of "The toolbox", I like what I have seen. Again, they have thought about the delivery and take parents through the learning step by step.
They start by giving the lowdown on why a parenting course such as this one is needed. Talking about why children misbehave and the psychology behind it.
You will then get walked through the key solutions and techniques used to promote positive parenting in your family. I have done a few positive parenting articles on this website, but I really enjoyed the in-depth and complete method of teaching within this course.
If this was not already enough, everyone will also get access to what they call "Specialty Modules" and the "Expert Series". This is the point where I start seeing the value proposition behind Positive Parenting Solutions.
Having been bowled over by the positive parenting main toolbox, this bonus content really adds great value to any parent!
The specialty modules include subjects such as "Morning Mania", "Technology Battles" and "Bedtime Blues." These are based on past member webinar sessions but are not just videos thrown up on the website.
Actually, the videos are often over an hour-long and are recorded as high-quality presentations. They are usually accompanied by a short write-up and supporting documents.
For example, one session was about having a smooth and productive Summer with your kids. They had included a summer chore contract as part of this, which, I thought, was great!
When talking about course content, I am STILL not done! The "Expert" section is also made up of past webinars, but these are webinars that bring in outside experts to collaborate with Amy McCready (who normally does the on-site content).
As with the specialty modules, these videos are backed up by other relevant resources and a small write-up. The subjects covered are varied, but there are some topics that will be very valuable to parents. They include things as diverse as bullying and potty training!
This rounds up what most members will see, but there are still some additions if you buy the top-tier Gold level of this course.
Then you will get access to the "Ask Amy Coaching Support" section and the Gold member's Facebook page. Of course, the Facebook page is a great place for parents to come together and share. There are currently over 18000 members, and it is active.
The Ask Amy sessions are recorded calls of group coaching sessions. These sessions are held weekly and give an opportunity for parents on the course to submit their own questions about parenting. As a Gold member, you can also get on these live calls if you would like.
For me, the value of this section is the past recordings of these calls. There are around three years of these calls recorded, all answering different burning questions from parents. This offers a massive resource to gain knowledge and connect better with the founder of this course, Amy McCready.
This is where I have my only gripe so far with the course! With three years of recordings, there are a lot of calls to discover, usually around an hour long each. However, it is not easy to discover the content of these calls. They do have detailed descriptions, but you basically have to read through each one until you find a topic that interests you.
It would be great if they could offer a search function so that parents can find what they want faster. Furthermore, timestamps for when each topic is talked about in the recording would make it simpler for parents to skip to the part that they are most interested in.
Nothing in life is perfect and, although I have been highly impressed with Positive Parenting Solutions, this is one area I hope they can refine for Gold members.
How much does positive parenting solutions cost?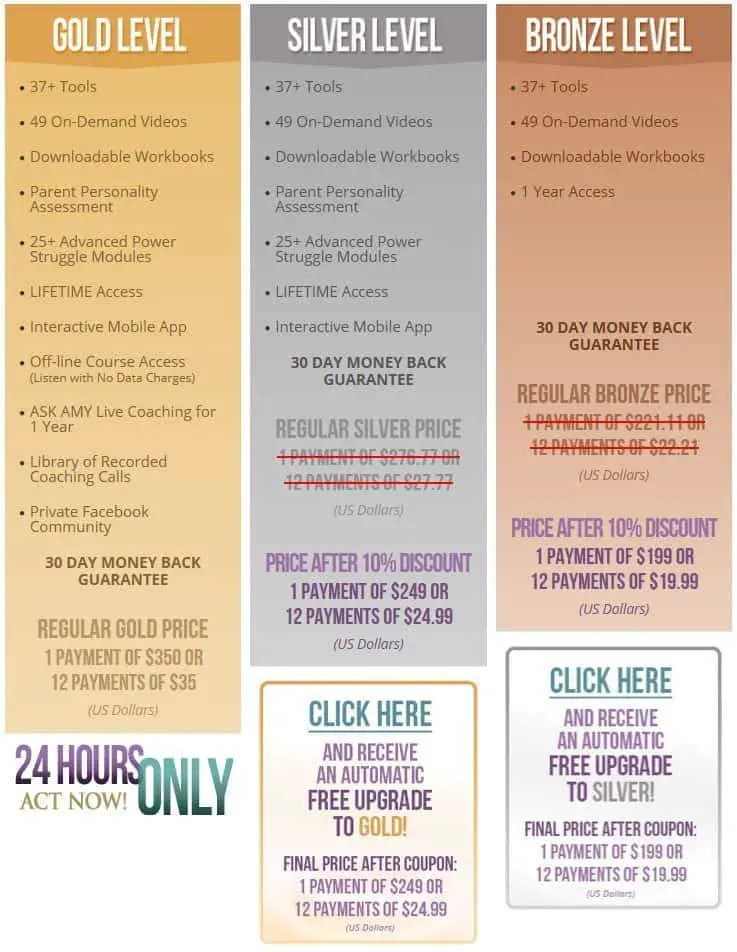 I think you can already work out that I like this course a lot, from all the gushing I have been doing! This course is, to me, the best all-in-one parenting package that you can buy online.
The big question is, then, how much does it cost?
Positive Parenting Solutions has a three-tier pricing structure, which is named Gold, Silver, and Bronze.
The Bronze level is priced at a yearly price of $221.11 or $22.21 a month. For this, you get access to the core content described in this review, for a year-long period. Remember also that the smartphone app is not available at this tier.
Next up we have the Silver level, which gives you lifetime access to the core content for $276.77 a year, or $27.77 a month (for 12 months). It also includes access to the smartphone app.
Finally, you get access to Amy's coaching calls for a year with the Gold level. They say that after the year you need to pay a nominal fee to retain access to them. The smartphone app is included along with access to the Gold member's Facebook group.
This level is $350 or 12 monthly payments of $35. The Gold level also allows you to download the course content so that you can use it on your smartphone without data charges.
All of these plans come with a 30-day money-back guarantee, so you can rest assured you can get a refund if you are not satisfied. 
Having such a guarantee shows us that Amy McCready has confidence in her course. Confidence, that after trying it you will be unlikely to ask for a refund! 
SO, IS IT WORTH IT?
What you will get with Positive Parenting Solutions:
A full and complete guide to positive parenting
An excellent parenting mentor in Amy Mcready
Excellent course structure and delivery method
Many hours of high quality parenting advice and content
30 day money back guarantee
An established resource that has been around for over ten years
I have to admit, I have been blown away by this course. The level of quality and polish that has gone into it is the best I have ever seen for a parenting course.
If you want to better yourself as a parent, I would see this course as an investment. In return, you will get many, many hours of content of a high-quality and informative nature.
Especially if you are not confident in your parenting style, this course could really help you get your parenting mojo back!
The other thing I love about this course is the fact that it covers parenting advice all the way from toddlers up to teenagers. This means Positive Parenting Solutions can be your long-term resource for parenting tips and advice.
This course has been founded by a relatively high-profile guru in the parenting education sector, and this is reflected in the quality of advice given. I get the impression that this course has been a labor of love for Amy McCready!
She could have just stopped at the core content, but she continued adding value by recording high-quality training webinars too.
It would have been so easy for her to churn out a low-quality product, expecting it to do well because of her name and reputation. In fact, this is the opposite of what she did. Throughout her course, you actually see her teaching and discussing positive parenting.
It's quite rare that you see anyone else, actually.
Amy McCready is clearly deeply invested in her subject matter, not just churning out content for a quick buck!
The other important factor is the longevity of this course. It is not some fly-by-night operation. They have been around for over ten years, and have helped many parents along the way. When investing in this course, you will know you are investing in something that has already stood the test of time.
Amy McCready, I salute you! You have made (in my opinion) the top parenting course that I have ever set my eyes on!
I highly recommend this course, which manages to offer such value for a course priced at the several hundred dollar marks.
The smartphone app for Positive Parenting Solutions is also a great plus point. Never have I seen a parenting resource with such a high-quality and smooth app. Many parents are busy these days, so to be able to consume this course on the move is a massive and worthwhile addition.
I would be surprised if any parent would come away feeling unhappy about this course! If you are on the fence, why not give it a try. You will understand my perspective! And, if not, there is always the 30-day money-back guarantee to fall back on. It's a win-win situation.
My only real problem with this course was the muddled presentation of the coaching calls. Hopefully, they can work out a way to organize these calls better.
The content within them is still excellent, but the problem comes when you try to find specific content within the hundreds of calls that now exist on the website.
To back up this review, I recently did a content review of Positive Parenting Solutions. An updated review of some content available in the course and how it worked out for me. You can read this update HERE.
If you have any experience with Positive Parenting Solutions, I would love to hear all about it in the comments section below. It is great when we get feedback from real parents that have hands-on with the products we have looked at!
To get additional information on this course, simply click HERE to go to their official website. You will be able to watch a full video presentation to explain what Positive Parenting solutions are all about!
READER COMMENTS: