Progressive Phonics Review. Its Free but is it Worth it?
Welcome back to Best Case Parenting. Today, we will be taking a look at another free phonic program for kids that is called Progressive Phonics. This is a resource that I have used in the past as a teacher of young children, and wanted to take a look at it from the standpoint of a parent wanting to teach their child phonics.
Here on Best Case Parenting, we have taken a look at some interesting free and paid phonic/reading programs. It will be interesting to see how this one stacks up.
What is Progressive Phonics?
As stated in the intro, Progressive Phonics is an entirely free resource. As you can see from the image below, this program will work with children all the way from preschool to elementary age. This is a good amount of coverage for a free program.

Progressive phonics is following a synthetic phonics approach, by teaching the letter sounds (not names) in groups. These are then used to practice reading decodable words. In addition to this, they use a sight word system based on the Dolch sight word list. This is important, as this helps cover the non-decodable words, of which their are quite a few in the English language (oh, if only the English language was a perfect system!!).
Who is behind Progressive Phonics?
This project has been going for quite some time, as it was started in 2006. We don't know much about the author/illustrator of this program, except that she goes by the online name of Miz Katz N Ratz. In their 'About Us' section they say they are currently bankrolled by a sponsor which allows the program to be free. I am not sure how current this information is, as the copyright on the website itself only goes up to 2016.

Even though I am not sure how active the program is, I have been using the website for several years and it is still up. Although not as safe as being owned by an official organisation or charity, it does appear this program should be up for the foreseeable future. If you like the program, you might want to download the resources to your computer just in case it does suddenly go down.
What does it offer?
For a free reading program, there are some good attempts at offering structure and explanations along the way, something that is essential for many parents to be able to follow. Although, this structure is not always clear across all the resources on the site.
Some parents may be confused by the two different phonic/reading courses. If you look at the menu bar from the website below, you will see there is an 'Alphabet' and a 'Phonics' course tab. By going and look at the frequently asked questions section of the website, you will see the appropriate age ranges for each book course as shown above.'Alphabet' is the starting course for children that don't know any phonic sounds, whereas 'Phonics' is for children that already know their basic sounds and are looking to improve their reading speed and accuracy.

Actually, this is where the confusion starts, as there is a message at the top of the Alphabet course quick start guide saying "At this time, I recommend the Alphabetti books only for older children. (4.5 years old and older)". So this totally throws off the age range shown in the FAQ section of 3-6 years old. Miz Katz n Ratz does go on to explain why, and that she is reworking the books, but unless you are familiar with how reading programs work, you will probably start to feel confused!
When you look at the Alphabet course section (where the Alphabetti books are), you will see there are already old and new Alphabetti books. I don't know if this message is only for the old books or all books….so some clarification is needed here!
I would say treat each course as a separate standalone product. Go through each, and see which one you like the most. If your child is attending school, see which course best matches up with the phonics they are learning there.
What is inside each reading course?
So, there are two main reading courses Alphabet and Phonics, but what will you actually find inside them?
Lets start with the Alphabet course first, which includes the Alphabetti books.
Each course does start with a quick start guide, which is helpful. Except the quick start guide for this course doesn't really explain the whole picture. As you can see from the clip below, they start by telling you to read the books. However, you should really get your child familiar with the phonic sounds used in the book first before asking them to read any words in books. Even though there are some phonic activities in the books themselves, this would not be enough for most children to be able to read the words in the book. When teaching a child to read, it is all about building their confidence with ability appropriate activities.
Actually, there is also a section within the Alphabet course named 'Lowercase Alphabet Cards'. Here, they provide flashcards and even an extensive how to section on how these cards could be used to teach your child the phonic sounds. So why wasn't this included as the first step in the quick start guide?
The Alphabet course comes with the following resources:
Reading Books (Alphabetti books)
The Alphabetti reading books are quite sizeable, often being around 60-70 pages long. As well as including a story, they also have some worksheet style phonic activities or games to help your child learn the key sounds in the book. There is more focus on these phonic activities in the earlier books in the Alphabetti series.
The idea of the books, is that the adult reads the black words in the reader, whilst the child helps with the red words. Each book explains in the description exactly which phonic sounds are taught within that book.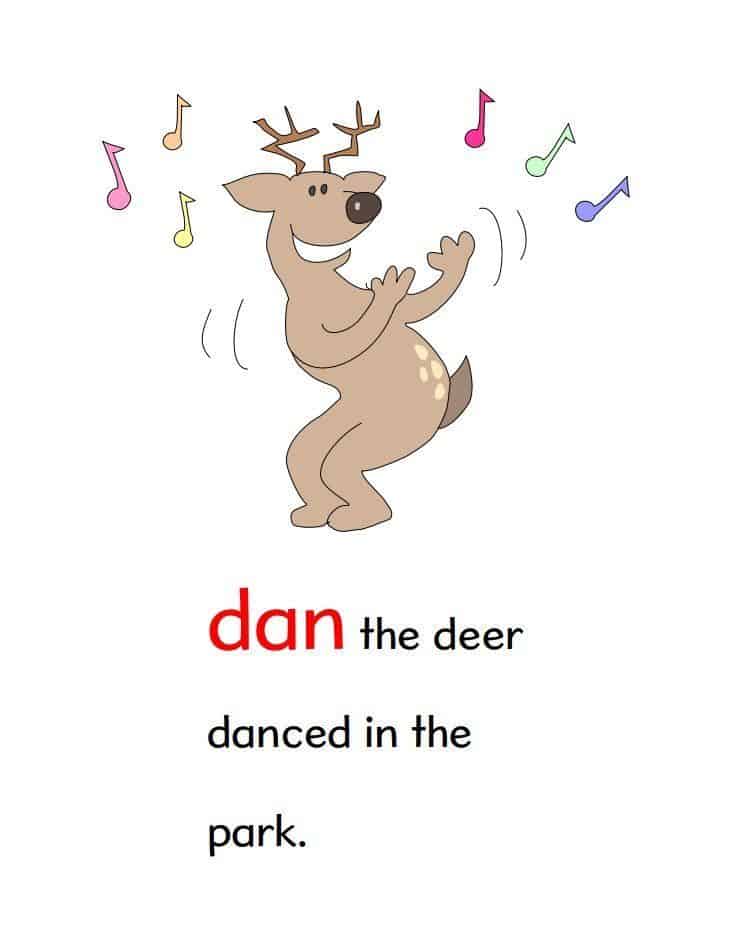 Each book has a regular version and an 'easier' version, making it easier to tailor to your child's needs.
Activity worksheets
A lot of the books come with related activity booklets. These are simply a series of worksheets related to the story you have just read, with the aim of helping your child remember and use those phonic sounds in the book. Essentially, a pretty bog standard set of related worksheets.
Now let's move onto the 'Phonics' course.
This course is divided up into three sections: beginner, intermediate and advanced.
It follows a similar format to the above Alphabet course, having both readers and activity workbooks in the same style as described above. Even the quick start guide is the same.
The only difference is each of these readers will be broken up into different sound blends, and will have a different story based around words that contain those blends. Look at the screen shot below of the first 3 books in the series, to get a better idea of this.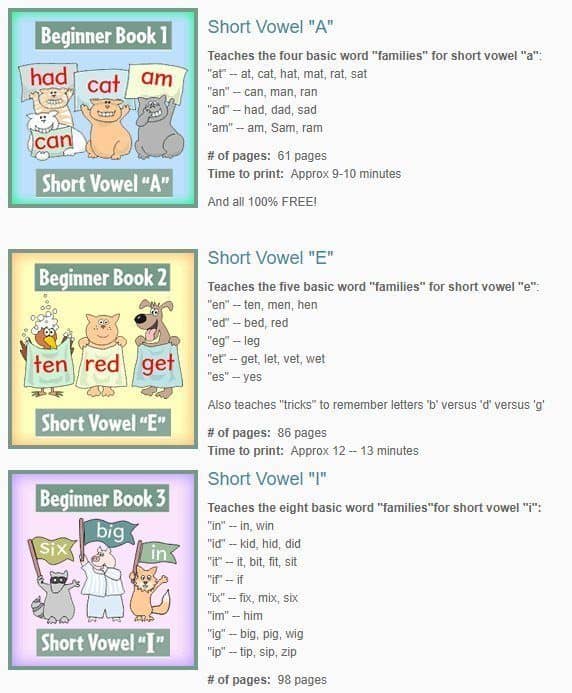 The major difference with this course, is that they also include lesson plans for each of the reading books. The word lesson plan is a little over ambitious in my opinion, as they will simply tell you the sounds and words learned in each lesson within the book, as well as which activity pages correspond. See a sample below.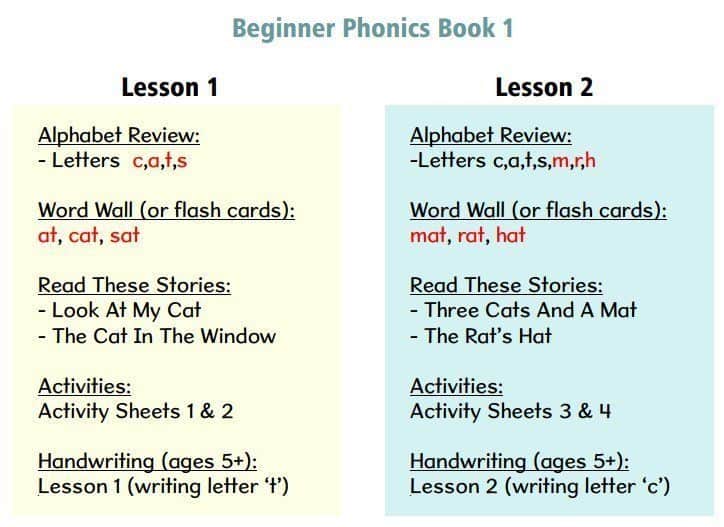 Having these lesson plans does lay things out a little clearer in this course, although it fails to go into any details. For example, it will say 'Alphabet Review' but give no ideas how to do this.
Is it any good?
So, the burning question after saying all of this is…..is Progressive Phonics any good?
What I Like
Of course, I like the fact that this whole reading/ phonics program is free. What is there not to like about that.
I also really like the method they have for their readers. By asking adults to read the black words and the child to read the red, you are gradually building up the new readers skill in a fun and confidence building way. Most other reading programs start with very word sparse and even boring storylines for their very early readers! Not here. They will get to be involved in longer and more fun stories that they can enjoy.
What I don't like
The approach to this reading program is a bit muddled. It seems that courses and resources were gradually added to this website over time, each with their own instructions etc. But no-one really thought to bring them all together in a coherent way. This is fine if you know what you are looking for, but it you need an idiot proof reading program, this is not it! The focus is more on the reading books, and there is little mention of how to teach the phonic sounds (ideally in a fun way) before even picking the reader up.
Although I like the method the author is going for with her readers, some of the story lines leave a lot to be desired. Most children will probably still enjoy them, but to me a lot of them seemed quirky and a little out of left field! Of course, this is a matter of personal taste, so I would suggest you go read them yourself before deciding whether to use them with your child.
Also, some of the stories are very long and seem to drag on at times. I found that I had to try and break these longer stories up myself, but sometimes found it hard to find a logical place to stop at the end of a reading session. Early readers should only be reading for 5-10 minutes a session at the start, so please don't try to finish whole stories in one sitting!
Finally, I am not a big fan of worksheets for teaching young children to read. They can be done from time to time, but I wouldn't make them a focus. Instead of this, I would turn the ideas from these worksheets into a fun and hands on game instead. For example, print out the words from a book and play a simple match game. Much more exciting than a worksheet! Actually, I have a whole article HERE about how you can spice up content found in worksheets for young children.
What's My Final Conclusion?
As you can see, there is certainly a good amount of content available for a free reading course, something that can't be knocked. I can see that Miz Catz N Ratz (whoever that really is) has her heart in the right place and has made a commendable effort to offer this resource for free.
There is a lot of good information here, but it is often not presented in an easy way for parents to understand. The fact that some of the statements on the website go against themselves will certainly make this even more confusing for parents.
If you are a seasoned reading teacher or a parent with a good knowledge of the theory behind reading, you will be able to pick out some excellent resources. But for others, this reading program is not step by step in it's approach. Although those steps mostly do exist within the program, they are not always clearly stated and mapped out. I fear that some parents trying to follow this program would do some activities in the wrong order or try to do activities that are not appropriate for their child's level.
For those parents, I would recommend something that is more user friendly in its approach. My current favourite would be Children Learning Reading, as it is a course that is specifically designed for parents and will explain things very clearly. Yes, it is a paid course, but I am yet to find this level of parent friendliness in any free resources I have reviewed so far. Teach Your Monster to Read is another good free resource to teach reading, but is more of a supplementary reading resource than a full on standalone course.
If you have had any of your own experiences with Progressive Phonics, we would love to hear all about it in the comments section below.
---
Progressive Phonics Review
The Best Case Parenting Verdict
Pros
Yes, it is free.
There is a lot of content.
Good method for Early Readers to still experience full stories.
Cons
Confusing layout and makeup of courses.
Stories used might not be to everyone's tastes.
Some stories seem to drag on for too long.
A bit too worksheet based.
Conclusion
If you know about the theory and method behind teaching a young child to read, then go ahead and use the resources within this course. Otherwise, choose something more step by step and user friendly.