PurAmino vs. Neocate: Which One Is Best? [2022]
As new parents, there are a lot of decisions that need to be made when it comes to your baby.
There's no doubt that you want to give them the absolute best things in life, from the nicest strollers and toys to even necessities like formula.
For babies with food sensitivities or sensitive stomaches, two popular powdered milk options are PurAmino Vs Neocate.
Before you commit to one, let's take a look at how these two formulas stand against one another, and which one would be better worth the buy during your next milk run.
Note: Make sure to also read my new study where I compare Nutramigen Vs Puramino.
✪ RECOMMENDED PRODUCT
Baby Sleep Trainer
✔ Teach your children when It's fine to go to sleep and wake up.
✔ Sleep trainer, alarm clock, sleep sounds machine, night light, and timer.
✔ Encourages better sleep: Create the ideal sleep environment for your child.
CHECK AMAZON PRICE
Puramino vs. Neocate – How We'll Compare Them
While similar, these two formulas have particular nuances that make it easy for us to see where one may fall short in comparison.
We'll break each of these categories down, and give each formula a score out of 10. Here are the factors we thought were most valuable for you to learn about:
Sensitivity-friendly
Allergy-friendly
Nutritional Content
Affordability
PurAmino vs. Neocate – Sensitivity-Friendly Comparison
PurAmino
PurAmino is a milk brand revered for creating a product specifically formulated for babies with severe dairy milk allergies, also known as CMA.
This formula is non-irritating to the bowels and can ease other diet-applicable conditions your baby may have, like short-bowel syndrome.
It is amino-acid based and iron-fortified, as well.
This brand has placed considerable importance on making a formula for babies with lactose intolerance but doesn't detail how much of a commitment they make to finding reasonably sourced ingredients. For that, we give them a 6/10.
Neocate
Made in a 100% dairy-free facility, Neocate is also known for its lactose-intolerant-friendly formula.
They source their ingredients from suppliers committed to the same cause, so parents can rest assured that there's zero chance for cross-contamination.
This formula can be fed orally or via a feeding tube and is amino-acid based. It's also the only hypoallergenic baby formula that contains nucleotides (healthy acids that further enrich the formula, making up for the lack of dairy-based protein).
Due to their unprecedented commitment to ensuring an absolute lactose-free milk alternative, and because they add nucleotides, we give Neocate a 10/10 on being sensitivity friendly.
How They Compare
PurAmino and Neocate are both noteworthy replacements for babies with intense lactose allergies.
They're amino-acid-based formulas, so they contain equally protein-rich ingredient lists.
Neocate formula has the counted benefit of nucleotides and is the only brand of baby formula with that addition.
PurAmino vs. Neocate – Allergy-friendly Comparison
PurAmino
A vast majority of the ingredients found in PurAmino powder are vitamins, minerals, and other forms of nutrition for your baby.
Unfortunately, the filler ingredients that are included in the formula could be potential allergens.
The oil percentage found in PurAmino is made of soy oil and sunflower oil- both of which are common allergens.
The formula also includes tapioca starch, a possible irritant for a lot of developing babies. Of course, the only way to test for these sensitivities is through careful trial and error.
However, risking a potentially serious allergic reaction is something most parents would not want to do.
For the additions of possible allergens as filler products, we give PurAmino a 4/10.
Neocate
We mentioned how Neocate is made on lactose-free grounds, but we didn't bring up how their factories are also devoid of all the major allergen groups: eggs, soy, and peanuts.
This means that their formula doesn't contain soy oil. However, it does contain coconut oil- which could be a potential trigger for those with severe tree nut allergies.
Regrettably, sunflower oil is also on their ingredient list and could cause adverse reactions to those with severe nut allergies.
Despite that, Neocate makes filtering potential allergens a high priority, earning them a 9/10 for being allergy-friendly.
How They Compare
Though labeled as hypoallergenic formulas, Neocate and PurAmino both have low percentages of sunflower oil (a potential nut allergy trigger) in their ingredient lists.
However, Neocate takes distinct measures to avoid cross-contamination and contact from major allergens in their factories.
PurAmino vs. Neocate – Nutritional Content Comparison
PurAmino
Per 5 fl. oz. of formula, PurAmino contains 2.8 grams of protein, 5.3g of fat, and 10.6g of carbs.
When it comes to vitamin and mineral content, this formula knocks it out of the park with 300IU of Vitamin A, 60IU of Vitamin D, and 2IU of Vitamin E!
Of course, milk substitutes need to be rich in calcium, and PurAmino comes in with 116mg of it.
For being lactose-free and hypoallergenic, we are sincerely impressed with how nutrient-packed this formula is.
As a parent, you can rest easy knowing that your baby is receiving high nutritional content every time they eat. We give them a 10/10.
Neocate
Also per 5 fl. oz. of formula, Neocate weighs in with 2.8g of protein, 5.1g of fat, and 10.8g of carbohydrates.
As for vitamin and mineral content, this milk substitute contains 280IU of Vitamin A, 72.9IU of Vitamin D, and 1.4IU of Vitamin E. Similar to PurAmino, Neocate contains 116mg of calcium.
The amount of goodness in Neocate is admirable, especially with the number of ingredients they have to admit to keeping their formula allergen-free. For this reason, we give Neocate a 9/10.
How They Compare
Both PurAmino and Neocate contain similar levels of vitamins, minerals, and other nutritional information.
Despite that, Neocate does yield slightly lower quantities of vitamin content.
PurAmino vs. Neocate – Affordability Comparison
PurAmino
A 14.1oz tub of PurAmino formula can range between $47-$50. This is the normal range for formulas, so we give them a 10/10.
Neocate
When ordered through the Neocate website, you can get four 14.1oz tubs of formula for $167.50 (coming out to about $41 per tub).
When bought singularly, each tub is $81, so buying it from the website will give you the best deal. That price point is quite steep, so we give them a 5/10 for affordability.
How They Compare
When priced per tub, both types of formulas are priced in the $40-$50 range. However, you can purchase singular tubs of PurAmino at a much more accessible price than you are with Neocate.
For parents who prefer to have backup formula at the ready, Neocate offers a discount per tub when you buy in bulk.
PurAmino vs. Neocate – Final Breakdown
It's clear that in spite of their similarities, both formulas have very distinct differences! For a clear overview of how PurAmino and Neocate rank against one another, take a look at this table:
The Winner – Neocate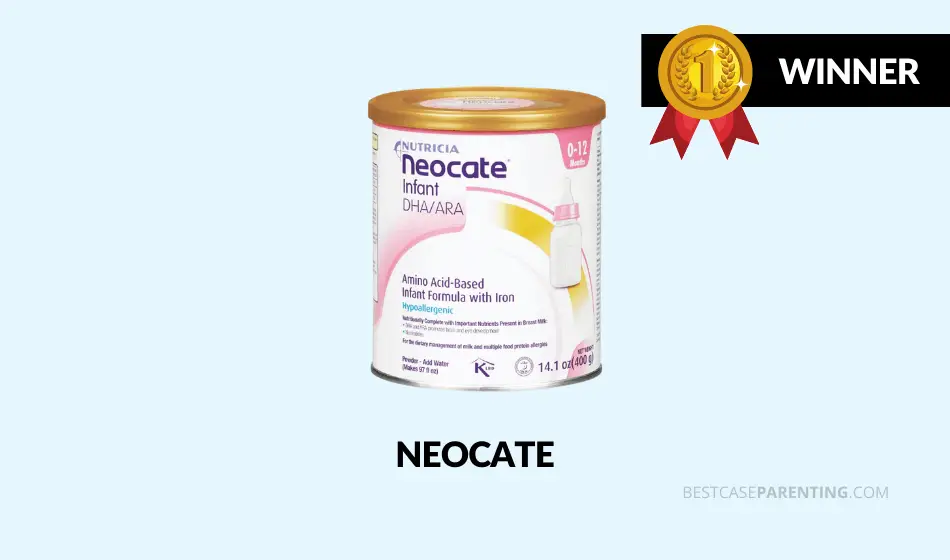 They come in extremely close comparison, but the formula that takes the win, leading by only 3 points, is Neocate.
Despite its heftier price point, the brand places significant importance on the things that matter when it comes to feeding your baby: having a gentle formula, being hypoallergenic, and being rich in nutrition.
Though ranking leaders, it's important to keep the individual needs of your child in mind.
For babies that have mild allergies and gastrointestinal issues, PurAmino could work just as well as Neocate.
Be sure to instill the help of your child's pediatrician and your paternal instincts to choose the best formula for your baby.
Meta Description
Discover how baby formulas PurAmino and Neocate compare against one another in this helpful guide.