Qustodio Review; Best Parental Control App?
Welcome back to Best Case Parenting. We have reviewed a lot of top parenting products and programs here. Today, we have another one!
I recently wrote an article titled "Parenting in a Digital World – Cyber Safety for Parents!".
I wanted to follow on from this, by looking more closely at an application I briefly mentioned in that article called Qustodio. So here is our Qustodio Review:
To get the brief Qustodio review, is this a good parental control app? Yes, it is. It is the most complete parenting control application I can find that helps keep your kid safe online. It is also wrapped in an excellent and easy to use user interface. However, you have to pay a slight premium for this privilege. What Qustodio is not good at, is monitoring any social media platforms outside of Facebook. And some people have complained their kids (especially teenagers) easily disabled this application on their phone. You might want to test out the free version first, to rule this out before investing in the full product!
Now we have gotten the brief review out of the way, if you are still here let's get dug into all the nitty gritty details!! Our unbiased Qustodio review!
Actually, before we do this I will preface the whole review. Before you decide whether you want to get involved in parenting control apps, I would go read my article HERE. I go into some details about cyber security for parents in general, and whether these type of parental control apps are a good idea or not.
You might want to make an overall decision on where you stand on these apps before you take the plunge!! Do you want to be like your child's over arching big brother while they are using the internet, or do you want to take a more subtle approach? This is a key thought process you need to go through!
What is this product?
That application is called Qustodio. What is Qustodio? Well, that is an excellent question! I don't know why they called it Qustodio, because it doesn't seem to give any indication about the purpose of the product. It's also quite annoying to spell!
Anyway, I am sure a marketing team somewhere has a valid reason!
Qustodio is a parental control application. It allows you to monitor your children's online usage. The reason I decided to look at Qustodio, is that it seems to be mentioned several times as the "best parental control app." Therefore, I wanted to test it out and see what all the hype was about.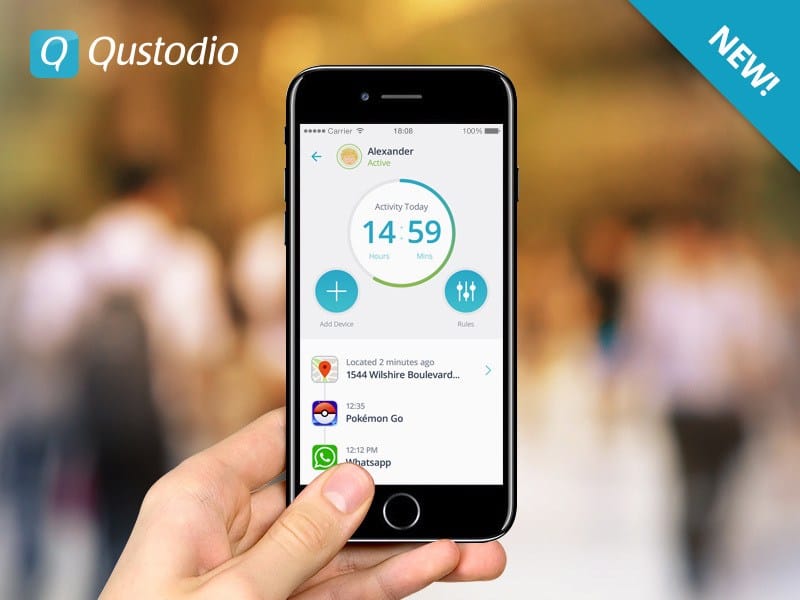 Why do parents need Qustodio?
This is a valid question, as maybe some of you are thinking why you would need such an application with a funny name!
If you think about it, the world is becoming more and more digital. Devices such as tablets, smart phones and computers are becoming more and more entrenched in our everyday lives!
I can remember as a 9 year old kid getting my first computer at home. My sister and I were amazed at the blocky graphics and spent many hours playing on it. I vividly remember spending literally hours typing a code into this computer (from the manual) that animated a stick man to walk across the screen! I was so excited!
Now, we live in a world were everyone has a mini computer in their pockets. This article over at The Telegraph talks about how the average person in the UK spends the equivalent of one whole day a week on connected and active online. These numbers are crazy, and only going to increase (in my opinion).
What does this mean for children? Good question, right!
Well, kids are using technology at an unprecedented level too. I have worked with 4 year old kids in recent years that already know how to operate a tablet well. They can start and close apps on tablets with ease, as well as being able to manipulate the game that they want to play within those apps. Things have come a long way!
This article from CNN talks about a report that discovered children under nine using screens for up to two hours a day!
In this product review I don't want to talk about whether it is right or wrong to allow children to use technology so much. But the fact remains that a lot of children are growing up much more tech savvy.
What does this mean for parents? Well, this means that your child will be browsing the internet a lot sooner than you might expect.
A parental control app such as Qustodio allows you to track in detail what your kids are doing online. 
This can act as a safety net and a way to get piece of mind for many parents thinking about the issue of their children being online.
This is the whole reason that these parent control apps exist and have become more popular in recent years. Actually, in 2017 Qustodio managed to get past the 1 million mark in terms of userbase. So, you can see how much these type of applications are growing!
Yes, there are primitive ways to check your kids search or browser history. However, these would be cumbersome and time consuming for many time poor parents.
A parental control application offers all of these features in one easy to use package.
How does Qustodio work?
​You need to set up and install Qustodio first. Installing Qustodio is actually really simple. Simply download Qustodio as a executable program on computers and an application in the Android and IOS stores.
When installing Qustodio, you will be asked whether you want to install as a parent or child device.
The parent's device is used to control and monitor Qustodio, whereas the child's device is the one that is monitored and limited as needed.

​Qustodio Features
Platforms
This Qustodio parental control app can be used on a good variety of platforms as follows:
​Windows PC. Anything from Windows XP onwards
Macintosh Computers. OS X 10.9 onwards
​Android Phones running Android 4.0+
IOS Phones running IOS 7+
​Amazon Kindle running Android 4.0+
That is an impressive list of platforms that Qustodio covers. They also work on some pretty old operating systems too, which means it will work even on older technology. This means, that pretty much any tablet or smart phone your child wants to use is covered!
Calls and SMS monitoring
With Qustodio, you can view all of the calls and sms information from your kids phone. This application also enables you to read text messages.
​Contact Blocking
You can use Qustodio to set a blacklist of restricted contacts. These people won't be able to c​all or send text messages to your child.

​Smart Filters
These smart filters will enable you to block inappropriate content. According to them, this even works in private browing mode (known as incognito mode on Chrome).
These filters can be adjusted as you see fit, changing what is and isn't blocked.
Games and App blocking
​Qustodio allows you to block applications that you don't want your child using. You can also set time limits for different applications and games too.
Monitor Social Networks
​You can monitor the time spent on most major social networks, such as Facebook, Twitter and Instagram. If you have a paid account (more on this later), you can also do advanced monitoring on Facebook. This allows you to see your child's activity on Facebook. The only thing it can't ​do is read messages sent through Facebook Messenger.
Time Controls
​As well as being able to control the amount of time your child has on certain applications, you can also control the total screen time across all devices your child is using.
Location Tracking
When using this application to monitor mobile phones, you can track that phone using it's GPS. This seems like a great way for parents to have piece of mind about where their children are.
​Panic Button
When Qustodio is used on a mobile phone, you can set up your child to have a panic button built in. When this button is activated, it will alert four contacts preselected by you.
How's the price?
With Qustodio there is a free tier that allows you to protect one device. This is a great way to get started with the application, but doesn't include some of the more advanced features such as location and SMS tracking.
​The paid premium plans vary in price depending on the number of devices you wish to protect.
$54.95 a year for 5 devices
$96.95 a year for 10 devices
​$137.95 a year for 15 devices
​Assuming that a typical child has a phone, tablet and a personal computer to protect, most families would be fine with the first or second paid tier.
It seems like a reasonable price for the amount of features the app has.
Is it easy to use?
​Please note, for the hands on section of this Qustodio review, we used the Android and Windows versions of the Qustodio parental control app.

We have talked about the price and features of Qustodio, but now we will discuss one of the most important parts of any application. How easy is it to use? How user friendly is the interface?
You access the parental controls through the Qustodio website or a parental login on the phone app.
​My testing was done on computer, so this review will represent that side of the parental controls.
When you first log in to Qustodio, you will be invited to set up profiles for your children and the devices they use.​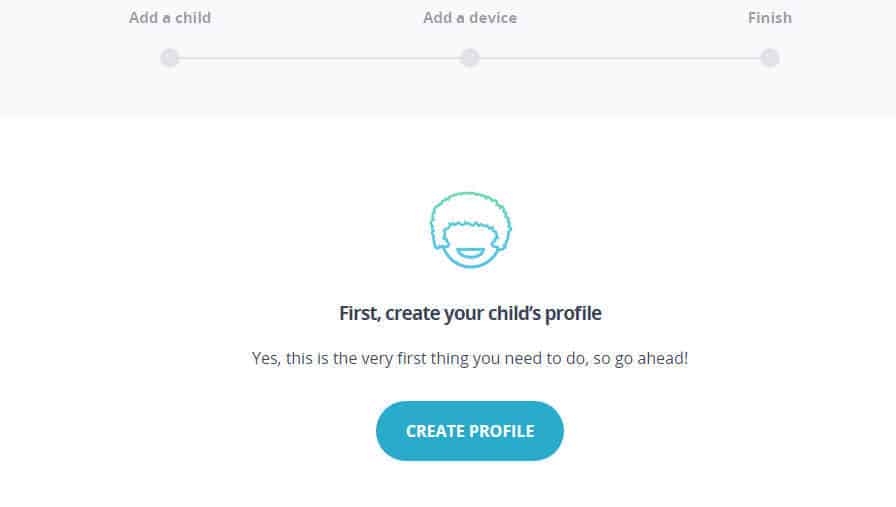 ​This is a very simple and easy to follow process, with a step by step wizard making sure you don't miss anything.
You will then be greeted with an overview of your kids activity.
As well as seeing this activity here, Qustodio also send you regular emails about this.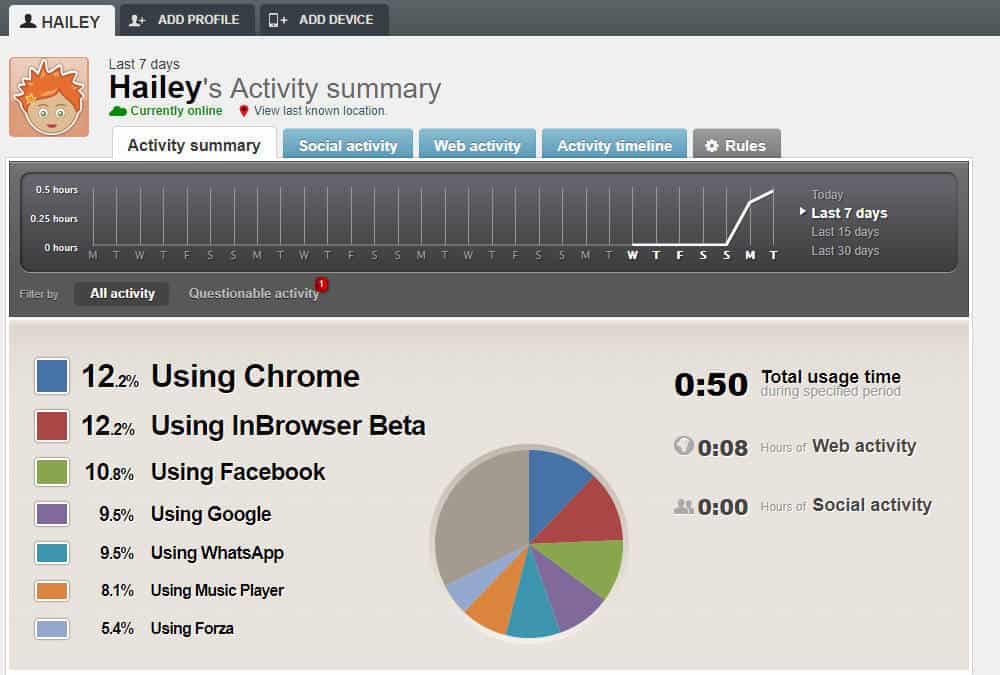 ​The first page is presented in a very easy to read way, mainly consisting of a pie chart of your child's activities.
​My particular favourite part is when you go to the web activity page. The webpages your child has visited are listed, along with a screenshot of the homepage of that site. This really allows you to have an idea of what the content is, even if you don't recognise the website name.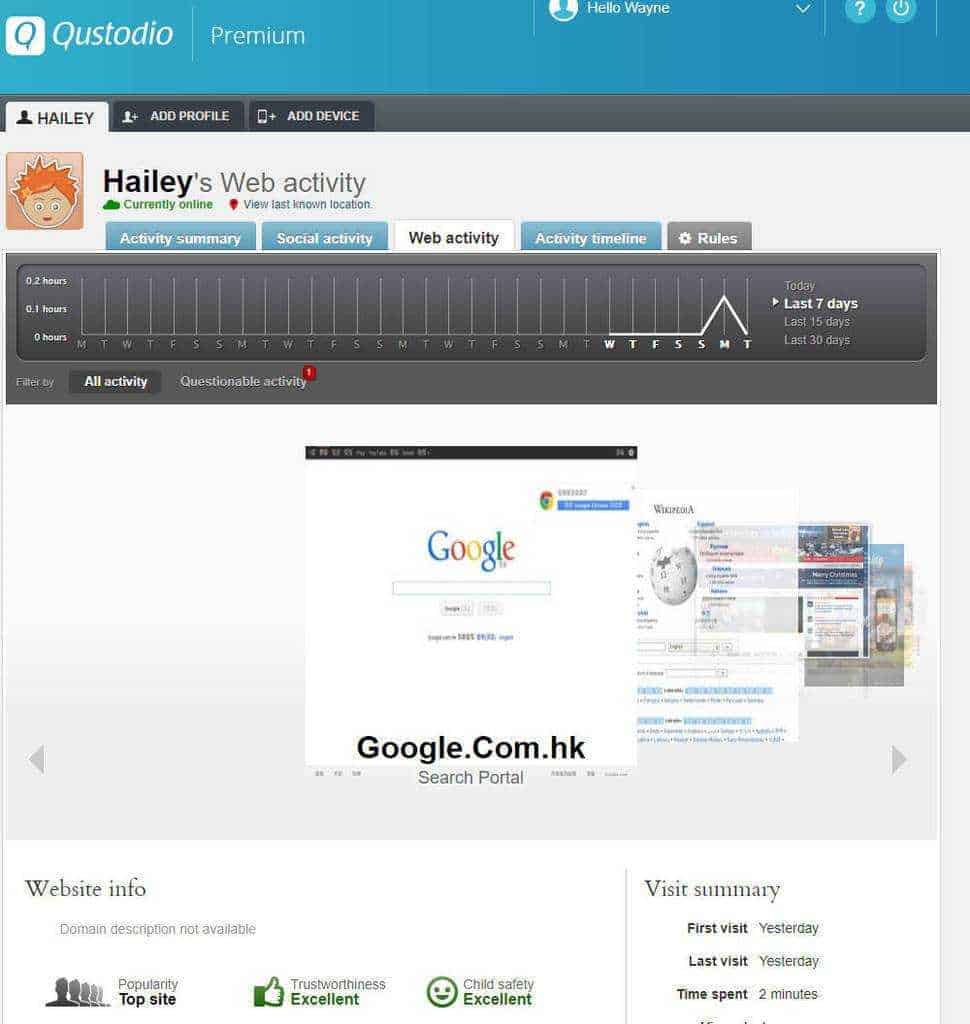 ​At a glance you can see all webites visited and all applications used. It even shows you the highlights of recent search activity.
All in all, I really like the Qustodio user interface. It should be very easy for any parent to setup and use with minimal fuss.
Changing and updating the rules for your child's devices is also done when logged into Qustodio as a parent.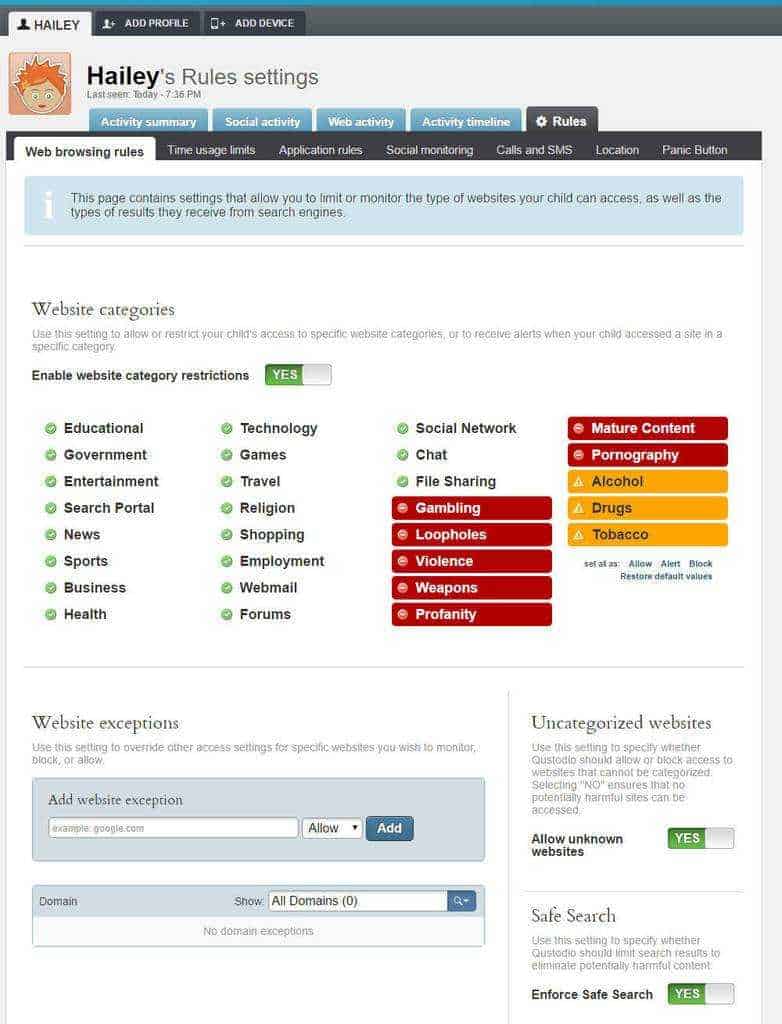 All of these rule settings are clearly set out and it is obvious how you can change and adapt them. I like how the website categories are predefined, only leaving you to decide how to deal with each one. I also like the ability to be able to not only block content, but be emailed when certain subject matters are accessed on your child's device.
Another key feature is the time limits on a device. This can be configured with great detail, including changing allowances for each day of the week. You can also choose what happens when a device limit is reached. The phone can be locked, limited or an email sent to the parent.
Pretty much any feature you would want in a parental safety application seems to be included. Not only that, the whole installation, setup and usage is very simple and easy to use. Kudos Qustodio.
What do I like?
As talked about previously, I really like the user friendly nature of the product. I have seen some of the competitors, and a lot of them seem to have a design choices that are stuck in the 1990's. Not Qustodio. Most people will enjoy the modern and simple design of the user interface.
The feature set in the paid versions of Qustodio is impressive. You can control and monitor a wide range of things on your child's devices, even adding things such as location tracking and panic buttons. It is also very customisable, so can be as strict or ​lenient as you wish.
Even the free version has a pretty decent set of features, allowing you to get a handle on the product without having to purchase a paid plan straight away.
In my view, the price of Qustodio is also a plus point. Even though it is in the higher price range for parental apps, you will struggle to find something this fully featured, customisable and robust. If you are in the market for a paid parental control app, then you should be willing to pay a little more to make sure that no features are missed out.
Qustodio is also getting regular updates and improvements, which is great to see. As well as the fact that the app works on a wide range of platforms.It just adds to the flexibility.
What don't I like?
I really don't like the name, but that's not really a valid complaint is it! To me, the name doesn't convey any real meaning and most prospective customers will struggle to spell it! In the modern world, companies seem to like having fancy sounded but meaningless names. I am really not a fan of this particular one! Are you? Is it just me?
It was also frustrating to have to painstakingly check all my spellings of Qustodio in this review! I probably still missed a few!
​During my testing, the only real issue I had were some issues with how to bypass the ​Qustodio systems on Android.
​There are certain browsers available on Android that are branded as "privacy browsers".
​I tried accessing inappropriate material on two of these browsers, Firefox Focus and InBrowser. This material could be fully accessed on these browsers, not being picked up by Qustodio. However, the name of the applications was tracked. This means, that if you see your child using these apps, you can at least be aware and do something about it. If you ever see app names that you don't know, always do research to find out their function.
​Qustodio does allow you to block the use of the App store, so if these types of apps are not already on the device there is no way to add them.

​Other than this issue, all of the other content blocking and monitoring services worked fine.
And, to be fair, most children probably work out this bypass method until they get a lot older (in most cases anyway).
​The only other issue was concerning how to enable the advanced Facebook monitoring on your child's device.
​You have to log onto the parent's device first and choose the advanced Facebook monitoring option. You then need to log in to Facebook on your child's account using a Qustodio protected computer, for it to start working.
​This seems quite a cumbersome method to implement this, and they should look into a better way to do it. In their defense, maybe Facebook do something on their end to make this process so complex.
Finally, I am not a big fan of the fact that Qustodio only monitors Facebook. I feel like a lot of young teenagers are starting to move over to some more hip and cool alternative social networks (not that I know anything about being hip and cool!). Instagram, for example is very popular. It would be great in the future if they add the ability to monitor a wider variety of social networks.
What do other customers think?
As well as taking into account reviewers like myself, it is also interesting to take a look at what other people have said about the app. This may give us an insight into how it performs over a longer time period. In my review, I was only able to try the app for a relatively short amount of time.
However, I would say take these reviews with a pinch of salt. It is hard to know the background they have with the product. Did they give the app a fair crack of the whip or did they just give up quickly? Did they experience problems due to their own tech ability or things they did wrong with the app? When reading a one paragraph review from a random person online, we do need to consider this context.
With all the warnings out of the way, I used the Trustpilot platform to take a look at the customer communities feedback. Although, another thing to bear in mind is that Trustpilot has no way to verify that these reviews are from verified purchasers of the product (final warning, I promise!).
The vibe I get from these reviews, is that Qustodio could underperform and have more problems on the Apple iOS platform. This is good to know, because I was not able to test this product on that platform. The problems reported by these reviewers included things such as false activity detections wrongly using up their child's daily usage limit and the VPN on that version using data allowance.
Other problems noted overall by reviewers have been such things as any changes to the profile not being updated until the device is rebooted (or at least in a very slow timescale). Also, slow customer service that always asks you to re-install the app and only answers after a few days.
You can head over there yourself and take a look. However, it might be better to test the free version of the app out first, to see if these claims are in fact accurate.
Are there alternatives?
As I mentioned near the start of this review, the parental control app space has been growing alot in recent years, along with the growth of the internet and technology itself. A lot of people want to look at Qustodio vs similar programs.
So, of course there are other options out there for this type of product.
I think, though, you will struggle finding a product with all of the features that Qustodio has. If you don't need those features it is all well and good. But if you are looking for the complete package, Qustodio seems to be the closest to that.
For example, there is an alternative called Mobicip (why do all these parental control apps have such weird names!!). Yes, it is marginally cheaper than Qustodio in terms of the yearly fee. However, they don't have the panic button feature. In fact, they have made a separate application which you have to pay extra for, in order to get this feature.
There is another competitor that has been around a very long time, called Net Nanny. This one also has a good set of features. However, compared with Qustodio it doesn't include any kind of location tracking.
To give one final example, we can look at Family Time, yet another alternative option when it comes to parental control apps. It does look promising, but quickly you will see that it is limited to Android and Apple iOS devices. It has no option to be installed on to a regular personal computer or Mac computer.
Hopefully, you can see what I mean now about the feature set of Qustodio! When looking at Qustodio vs the competition, it often comes out well.
If you don't need all of the features, then maybe you can choose one of the other providers, who are often (but not always) cheaper. But, if you are looking for a complete solution, Qustodio seems to offer the most.
Like any time you buy any product, you should do your own research. See which product best suits the needs of your family situation.
In Conclusion
​I like Qustodio a lot, it provides an excellent way to safeguard and monitor your child's online activities. It is up there as one of the top ways to help keep your kids safe online!
It is user friendly and feature complete. Qustodio overcomes a lot of parents complications when monitoring their kids online. I would recommend most people to try out the free version first. This will give you a feel for the app and how it works. Then, if you like it you can upgrade to a paid plan. For me, if you like this type of application you should pay to get a good one. Qustodio fits the bill for me!
Another reason to try the free version of this product first, is simply to test it out on your child. If you find that your child quickly works out how to disable it, then you know not to invest in the full paid version. I have heard horror stories of some customers buying the paid version and then finding this out later. So, be smart about it and try the free version before you commit fully.
Of course, if you have a younger child these aren't really issues you would need to worry about.
Qustodio really has you covered with the different platforms it is available on. It means that, even if your child wants to suddenly change platforms, you are still fully covered and haven't wasted your money.
If your child is using a lot of other social networks not covered by this app, maybe you want to look elsewhere. Although, it is hard for one of these apps to monitor every possible variable.
The big question will be, is it a good idea to monitor and limit your child's usage in this way? This could be a separate article in itself, so I don't want to go into it here. You can check out our latest article on internet safety for parents to get some more help with that.
​For those of you that have decided to go down this route, you couldn't wish for a more complete solution than Qustodio.
All that is left is to thank you for reading our review. We would love to hear all about any of your own experiences or ideas with this product below in the comments section.
To check out Qustodio for yourself, click HERE to go to their official website.
With the main review out of the way, we will finish up with some……..
Frequently Asked Questions (FAQ)
We have reviewed a lot of programs, and we don't just want to do a run of the mill copy and paste review. We wanted to deliver a full resource and guide for parents on this product. This is why we want to include some frequently asked questions. We picked these questions from common Google searches. If you have your own questions about this product, please leave them in the comments section below and we will try to get back to you.
Does Qustodio work in InCognito Mode?
As well as the bypass options I talked about in this review, such as the Firefox Focus standalone privacy browser, there is also the option of using a InCognito page tab in Google Chrome. The whole idea of this mode is to stop your website activity being tracked.
So, does Qustodio still work when an InCognito mode is enabled? In fact after the 5.0 version of the Android OS (so pretty much any fairly new and updated phone), they were able to still monitor activity even in InCognito mode. Unfortunately, I was not able to test this on an Apple iOS device as I don't own one. Qustodio do claim it still works though.
My opinion on this whole incognito mode thing would be that if your child is still relatively young, they are unlikely to even have any idea what incognito mode is and how to use it. Therefore, the problem would potentially be possible with older teenagers. If they do try this option and it doesn't work, maybe this will discourage your child from trying other possible workarounds.
Does Qustodio use a VPN?
This is a great question, one which I honestly didn't check out whilst I had access to the product. I would encourage you to do your own research too, but from what I can gather online, Qustodio only uses a VPN for the Apple iOS version. I would imagine this is to get around some of Apple's restrictions on their platform, but that's just my own opinion. If you know more about this, we would love to hear from you.
Can you Hide Qustodio?
This is another great question the community are asking, and I can see why. Of course, if the application you are using to monitor your child is clear and visible to them, maybe they will simply moderate their behaviour when they know it is working in the background. Or maybe this will prompt them to try and work out how to disable it.
Actually, if you dive deep into Qustodio's settings (the device settings to be more exact), you will find an option to allow you to hide the app on your child's phone. Then, instead of your child being shown an obvious block screen, they will simply be directed back to their home or start page.
Personally, I wouldn't recommend using any type of parental control software that is hidden anyway. You need to build up trust with your children over time. You will not help this trust if they find out you are (sneakily) trying to monitor them! It will make them wonder what other things you are trying to hide from them!
If you do wish to use such parental control software, I would sit your child down and explain exactly why you are doing this. It would be a good time to also tell your children your expectations of them when they are online.
Can Qustodio be hacked?
I think what they mean by this is can the application be tricked by a glitch, rather than a full on hack per say. It is unlikely that a child would be able to actually come up with a programmable hack, but it is perfectly reasonable to expect a teenager to find a glitch to trick the Android system into giving them access to the admin rights of the application.
As previously stated, this type of problem is only an issue if you are using Qustudio with a teenager.
Ironically, the very thing that you might be trying to block your child from is the very thing that may potentially free them from its grasps. For example, there was this video below….
This video relied on taking advantage of the split screen or multi tasking feature of Android. Even when the user's allocated time was up, they would still be able to glitch the system to enable them to continue using their device.
Thankfully, this workaround was made obsolete when Qustodio blocked the use of the multi tasking or split screen function.
I think it is impossible to expect that there will never be any workarounds available for this app. However, it is good for it's users to see them react to them and fix the glitches that are shown to work.
Can Qustodio Monitor Youtube?
Yes, it can. They recently added a Youtube monitoring feature to the Qustodio parental control app. With this, Qustodio helps parents monitor videos and searches made by their kid. With a premium account, Qustodio helps parents to also limit the amount of time their kid spends on Youtube. You can find out more about this HERE.
Can Qustodio see text messages?
As stated briefly in this review above, Qustodio can in fact read full text SMS messages, as long as this feature is enabled in the settings. Although this only available with a premium account. Also, if you want this feature on Android, you will have to download and install the Qustodio app on your device directly from their website (not the Google Play Store).
This is a key question for many people when they are buying a paid product or service. Qustodio overcomes this problem, as they have a full 30 day money back guarantee, if you are not satisfied.
This money back guarantee is great, as it shows that they have confidence in their own product. It always feels shady if a company has a very limited or non existent refund policy, as it clearly shows that they think it is likely you would ask for a refund.