Starfall Reading App Review [FOR PARENTS]
Welcome back to Best Case Parenting, today we are reviewing another reading app called Starfall. We will review this app with parents in mind and let you know whether this particular service is worth your time. Welcome along for the ride!
Why should you listen to me? I have been an Early Childhood teacher for over 13 years at the time of writing, so have a good amount of experience teaching children to read. Not only this, the contact I have had with parents over the years has given me an insight into what parents need to teach their children reading at home.
I have also written many reviews on a variety of reading systems, from Progressive Phonics to The Free Reading Program. It will be interesting to see how this one stacks up!
What is Starfall?
Starfall started out as a free reading program in 2002, delivered mainly through their website Starfall.com. The organisation behind Starfall is called Starfall Education Foundation, which currently identifies as a non-profit organization.
The idea for Starfall came from Dr. Stephen Schutz, who had issues learning to read as a child (due to dyslexia) and wanted to create something to support others in reading.
More recently, Starfall added a Math element to its service. However, this review will be solely focused on the learning to read part of Starfall.
When you first enter the website and click on the 'Kindergarten' option, you can see the main guts of the reading program laid out. The ladder goes like this….
Learning ABC's
Learn to Read
It's Fun to Read
I'm Reading
It's just a shame that this is not highlighted more clearly for parents amongst the other activities available on this page. Look below, as a parent is it easy for you to find this flow?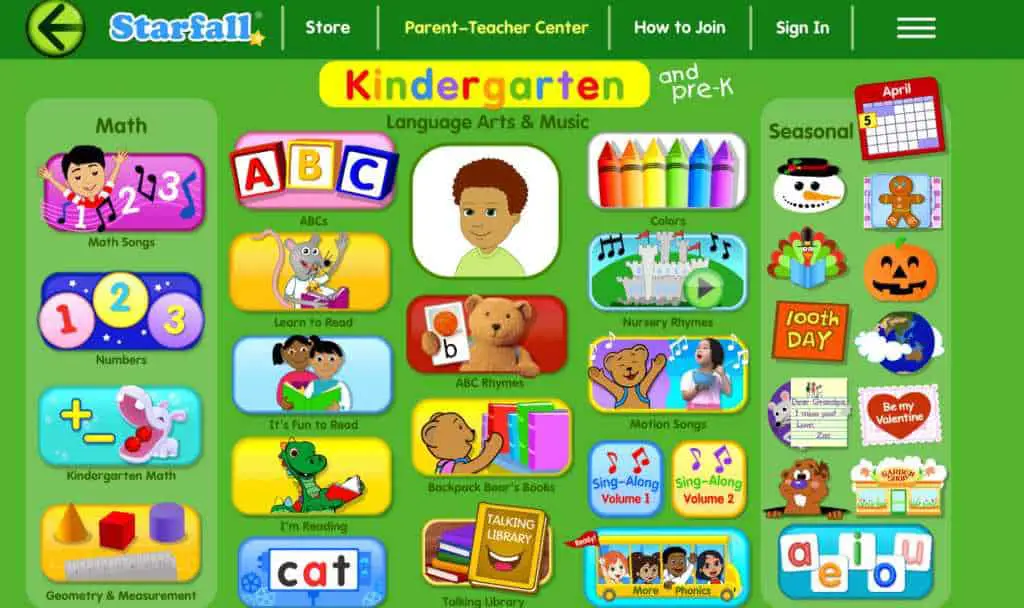 Also, they have a CVC word reading game at the bottom of this flow, whereas it should really be nearer the top after the child has learned single sounds.
How much is Starfall?
Starfall has a free tier, and a paid tier. The basic information you need to teach reading is offered in the free tier, you simply get more of this content when paying for the paid membership.
As Starfall is a non-profit organization, paying the membership fee is also a way to support them in creating more content for their service, and maintaining what they currently have.
As parents, you will only be concerned with the home membership, which is a single account for $35 a year.
What do we like about Starfall?
Price
Being a non profit organization, there is a decent amount of content available for free and, if you do decide to sign up for the membership, it's still a nominal fee compared to a lot of similar reading programs.
Good Amount of Content
The base content you get for free is decent, but with the $35 a year membership you will have all the reading materials you would ever need. Starfall has been around for a long time now (for online companies anyway), so they have been able to build up a lot of content over time.
You Don't Have to Pay
The main reading program is fully available in the free version of the Starfall app. It is totally feasible to teach your child using only the free option, and you won't feel forced into paying for the $35 a year membership.
Can Buy Physical Products
When teaching young children reading online, you are limited to around ten minutes a day. You don't want your child glued to a computer screen or tablet for any more than this realistically. So it is great that Starfall do offer a physical store where you can buy resources such as phonic readers to use with your child.
What don't we like about Starfall?
Not up to Modern Standards
There are elements of the Starfall phonic/ reading teaching that are quite outdated by modern standards. For example, they encourage you to learn all phonic sounds in traditional alphabetical order at the very start. That's a lot of phonic sounds to learn in a big clump! Most modern systems teach a smaller set of phonic sounds at a time, accompanied by some games to turn these phonic sounds into simple words.
This is not the only example, I don't agree with the order they teach quite a few elements at Starfall. Maybe twenty years ago people thought this was fine, but not any more.
Design of App
Frankly, the design of the Starfall app and its associated website is awful. The problem here is that a lot of adults have this idea that anything designed for children needs to be full of colors to stimulate and excite the child. However, research has shown that too many bright colors can be overstimulating for a child and come across as 'too busy' for their eyes to take in.
Unfortunately, Starfall is still following the old 'bright colors for children' rule and have implemented way too many garish bright colors, coupled with a design that has come straight out of the early 2000s when this website was first created. An update is desperately needed in this department, but I understand they may not have the resources as a non-profit organization.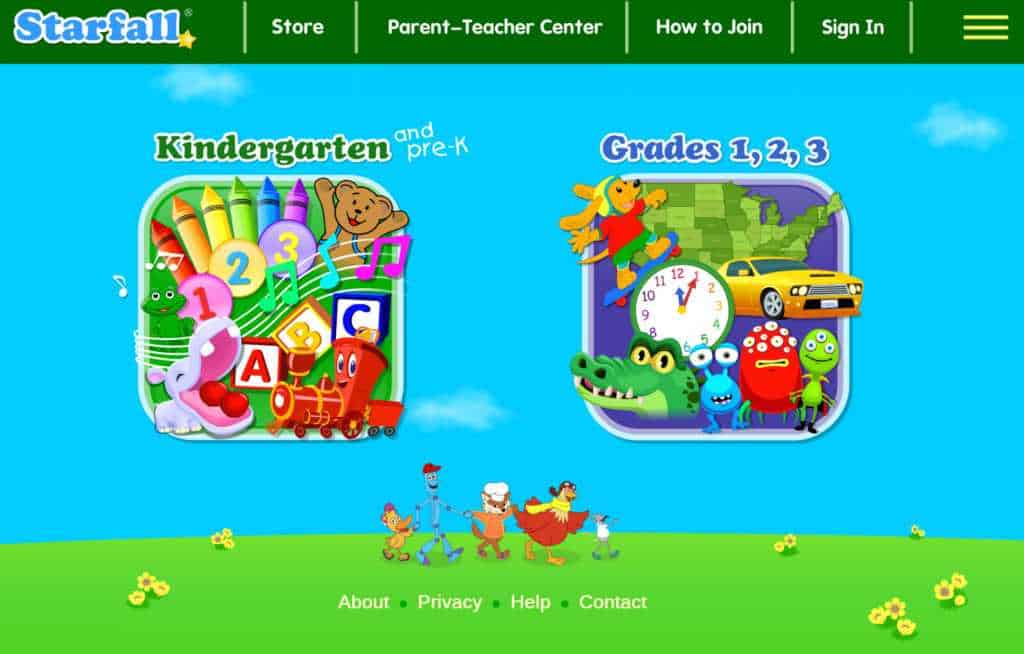 The design of the actual activities is also looking very old fashioned in internet terms. These activities clearly haven't been changed much since the start of Starfall in the early 2000s.
Let's give some examples. Most of the single phonic sounds are learned at the start of the program using songs where the child needs to click on the letter to hear the phonic sound and some words that start with this sound.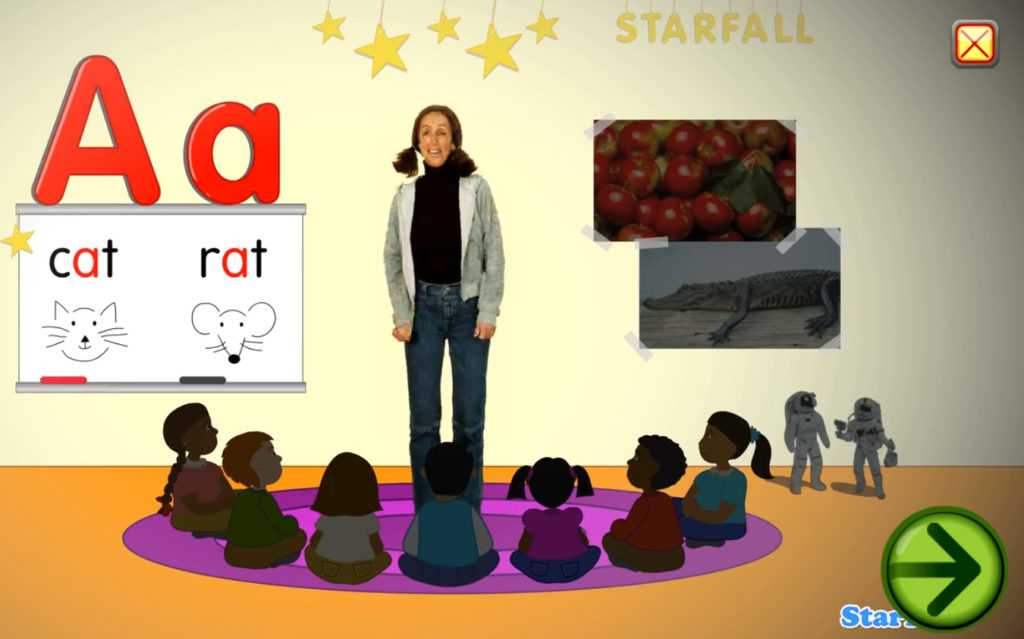 The reading sections of Starfall usually look like this:
See what I mean……old fashioned and lacking innovation for this day and age.
Lack of Variety
When you look at the Starfall reading program, it is made up of a lot of repeating activities with very little variation. When teaching reading, variety is key to keep a child's interest. We want our children to enjoy learning to read, through a set of fun and interactive games. They should be learning without even realizing. This is something hard to achieve if you only use Starfall. You can read my full article on how to teach a child to read to get more details on this approach.
Confusing Pricing
It took me a while to work out if I had to pay for the service or not, and exactly what is included. I saw the 'Join Now' button leading to paying for the $35 a year membership. But I also saw that I could access a lot of activities already if I just clicked on a level option on the homepage.
After a little digging, I did find out that it basically just adds more content to the online platform if you pay for the service, something that I feel should be explained more clearly upon first entering the website.
This is probably due to the fact it started as a free service, only adding the membership fee at a later date to help support the project. It's clear from all of this that Starfall isn't a commercial project with commercial level marketing. The paid tier feels more tacked on than anything else.
Resources more Teacher Focused
It is clear to me that this project was first setup to focus on teachers. You only have to read some of the teaching guides to find this out, as they use a style than many parents might find hard to follow.
If you dig around you will find a 'start with the basics' guide for parents, but even this isn't very detailed or clear for someone that is not used to teaching reading. For example, sight words are a vital element to teaching reading, and they are only briefly mentioned at the end. And this guide is mixed in with so many other guides or curriculum documents that are not parent friendly, I am sure a lot will end up confused.
Not a Clear Path for Parents
Overall, as a program, Starfall won't be suitable for most parents. When you look at the main activity page, it is not clearly marked the path children should take to learn to read. As a teacher I can see this flow quickly and can even pick or choose activities as I need them. This is because I have an understanding of the order a child should learn these things when learning to read. Most parents don't have this knowledge.
One glaring example here is regarding sight words. Sight words aren't introduced until about a third of the way through the first phonic/reading section. However, many of these sight words are already in the phonic readers used earlier. I am sure a lot of parents would be confused as to the parts they should expect their child to read, and might even try to get their child to read these sight words too early.
As stated above, all of the guides and curriculum documents are mixed in together. What they should do is have a totally different resource area for teachers and parents, which would allow parents to focus in on documents only relevant to them. At the moment, the resource area would be overwhelming for most parents.
Should you use Starfall to teach your child to read?
If you are a parent with little to no knowledge of how to teach reading, I would steer clear of this resource. I say this because the flow of teaching reading is simply not clear enough and you will probably end up teaching things in the wrong order. Teaching a child to read is a vital skill, and one you want to get right first time. If you don't have the knowledge of teaching reading, you need a step-by-step system with clear directions aimed at parents.
There is a reading program I recommend a lot on this website called 'Children Learning Reading'. This is what I would recommend for those parents. Yes, it is a paid course, but it enables anyone to teach reading to a child. I have a full review of Children Learning Reading on this website, or you can go straight over to look at the official website HERE.
If you do have knowledge of teaching reading (and can get over the awful design) you might find Starfall useful. Although, for a free program that is online based, Teach Your Monster to Read is way better. It uses a much more modern and natural way to teach children reading.
Like me, as a teacher, you might find yourself just coming back to Starfall to cherry pick activities to supplement whatever other phonic/reading program you are following. It's not really good enough to use as your main method of teaching reading (in my opinion). The whole website and its content needs updating and modernizing.
If you have used Starfall, we would love to know what you think to the program in the comments section below.