Teach Your Monster to Read Review! [FROM A TEACHER]
by Best Case Expert- Updated November 29, 2021
Actually have FUN with phonics! Welcome to my Teach Your Monster to Read review.
Many parents will turn to phonic worksheets to help their child practice phonics. This program is trying to change that!
I have to say, that this resource that I am going to talk about today continues to impress me. For a free phonic resource, it offers a great and engaging way to introduce and develop your young child's phonic skills. There aren't a lot of high-quality free phonic resources around, so this one is a welcome addition.
The service I am talking about is "Teach Your Monster to Read". Watch this video to see a short introduction to what it is about…..
What is Teach Your Monster to Read?
The idea is to offer a fun and engaging way for your child to practice and remember the key phonic sounds used in reading. It is entirely technology-based. You can use the computer version for free through their website. You can also purchase a version for IPad if this is a more useful way for you to present it to your child. Both versions are the same. 
Some people might be wondering why I still classify Teach Your Monster to Read as one of the free phonic resources?
Well, from what I can see, they added a very reasonable price to the apps offered, probably because of the development cost involved. They do state on their website the following:
"Our mission is to help as many children learn to read as possible. The computer version is 100% free and we put profits from the app back into the Usborne Foundation, to continue to create new and exciting ways for children to learn."
I am sure most people will agree that, clearly, they tried to keep the resource as free as possible. I have actually never used the Ipad or Android versions.
As long as you have a computer in your house, the phonic resources provided here ARE totally free.
The people behind this service are The Usbourne Foundation. In their own words they say:
"The Foundation is a charitable fund set up four years ago by Peter Usborne and his children, Nicola and Martin, to support initiatives to develop early literacy. Peter Usborne is the founder and Managing Director of Usborne Publishing, one of the world's leading children's book publishing companies. He was previously one of the founders of the magazine Private Eye, and was recently awarded an MBE for services to publishing."
How is it best used?
Well, in my experience, this free phonic tool works great when used with other Phonic or reading programs. I don't feel that it is enough to use as the sole way that your child will pick up phonics.
In most cases, for example, a young child will already be involved in learning Phonics whilst at school. Allowing them 5-10 minutes a day on this application will really help firm up their phonic knowledge. I would recommend, however, mentioning this to your child's teacher and making sure that the systems combine well and don't confuse your child.
What age group is this intended for?
On the website, they describe Teach Your Monster to Read as being suitable for any young children at the early stages of reading.
You can also click HERE to look at an overview of the program and the ages it is appropriate for. As you can see, it also suggests that the program should start when a child is around Reception age in the US (around 4 years old). 
The great thing about this programme, is that it is designed to take a child right the way through into reading full sentences.
How is this system unique?
Firstly, I have never come across such a high quality free phonic resource such as this. The voice acting, animation and overall quality simply blows away anything else at this cost level. This was one of the main motivating factors behind this Teach Your Monster to Read review. 
Most young children learn best through actually doing things, rather than just passively listening and taking in information. This application aims to engage your child in fun games that will, in effect, help them build phonic knowledge without realising. 
Phonic worksheets are also too abstract for some children. These types of phonic resources bring the same information to life in a more fun and engaging way!
In this previous article, I have talked about the importance of giving learning experiences a meaning or purpose. If you simply sit a child down with flashcards and ask them to practice phonic sounds, for example, they will likely not last long before telling you they are bored or such like. Teach Your Monster to Read makes an effort to give meaning to this process, using a series of iPad or computer games. Yes, fun with phonics IS possible!
The Space King Character from Teach Your Monster to Read.
The games in Teach Your Monster to Read all follow a story line, including some really fun characters along the way.
The idea is that, as well as your child enjoying the game, they will also become interested in the story and want to follow it through to the end.
From my experience, this does often happen, and it does turn out to be a real help when motivating a young child to practice phonics.
However, this can also have a reverse effect. Some children, if you would allow them, would sit and play these games for literally hours. This leads on to my next point……
Isn't it damaging for my child to stare at screens all day?
Well, in a word….YES!
We are well aware of the dangers of young children being over exposed to more traditional media such as TV. These things have been around for longer and we have had ample time to research them.
Tablets, however, have been around for considerably shorter. Research is gathering though, and a general consensus seems to be starting to build. As long as us adults limit young children appropriately, this technology is not all bad. Of course, this research is ongoing, and I invite you to keep an eye out for how this continues to develop.
My personal advice would be to limit your young child to no more than ten minutes a day on Teach Your Monster to Read. This would be more than enough for your child to build and improve their phonic knowledge, alongside whatever they are learning at school.
I would also recommend that you look online to get broader guidelines regarding technology use for young children. For example, here the Canadian Paediatric Society offer some great pointers. 
Are there any downsides to this phonic program?
Although I really do love Teach Your Monster to Read, there is one problem that I do have with it. 
The fact that it is entirely based around a series of games means that the the children who use it can actually "game" the system. This means that they can keep trying different options until they find the correct one that helps them progress.
I have actually had children using this application, that have been able to slither through the cracks.
They literally just play Teach Your Monster to Read like a game, and almost ignore the learning phonics idea! This is not good, as they are not really raising their phonic skill. The children that play this way don't learn nothing, but they don't pick up nearly enough to move forward in their phonics.
So if you are using this amazing program with your child, you my want to check their progress along the way.
In my view, they should have a more full proof way to check a child's phonic progress before they allow them to continue onto the next stage.
I am not going to complain too much though, as this is a 100% free application on a computer, and everything else about it is amazing!
Let's get technical
Before we finish up the review, I would like to give some technical guidance to those less tech savvy parents (I know you are out there!)
For you to play Teach Your Monster to Read, you will need an account. The best way to do this is to go to the official website.

Find the "sign up now" option and sign up for an account. This is the master account, not the player account. You will be greeted with the screen shown below. Simply fill in your details and you will then have an account you can use both on the website and on the Apple and Android apps (which you have to pay a small fee for).
As you can see, it is possible to sign up as a parent or a teacher. On the teacher account, you can get printable letters and certificates to motivate your child to continue their monster's journey!
I only have experience with the teacher version of the account, not the parent account. So, if you are sure you want those type of resources, I would sign up on the teacher account just to make sure you get them. I like them a lot because they give more value to the monster they are controlling in the games. 
After you sign up for your master account, then you need to create the player account that your child will use.
Again, with the teacher account you can track your child's progress through the program and see what they have covered. This is great if you are not always watching your child play. If you are sure you need this, I would sign up on the teacher account just to be sure you get access to these tools!
As you can see below, it is a pretty simple process to set up your child's player account.
The cool part is you can choose which level your child starts at. If they are new to phonics, you can just leave it on the default "first steps" starter level. If your child already knows some phonic sounds you can refer back to THIS page on their website which will detail what is covered in each level. Simply choose the level that is the best fit for your child's phonic level. 
Having said all of that, the games and the storyline are fun for most young children .They might still enjoy the earlier levels, even if they are a bit easy for them. Play it by ear, you can always skip your child forward if they seem bored!
The final step is to go and sign into your account and go to the bottom of the page. Download your child's password card, which should look something like this: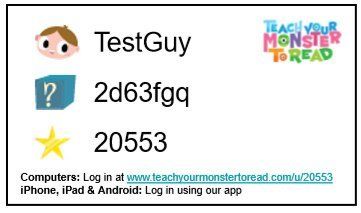 The important thing to note is the number by the star. This is the account number you need to use on the smart phone app version of Teach Your Monster to Read. When logging into the website, you just use the child's name and password as shown above.
I like how the icons next to the user name and password are also on the login area of the website. This means your child can log in themselves even if they can't read!
I hope that this section helped any parents that struggle with the tech side of this application!
My Conclusion!
Well, my Teach Your Monster to Read review is coming to an end, all that is left is to sum up my experience.
Teach your monster to read is a great free phonic resource for any parent looking to improve their child's phonic knowledge. On its own, I don't believe it would offer enough to completely teach your child phonics. However, as a practice tool, this service is worth it's weight in gold.
This is especially true due to the problem I mentioned above about children being able to "game" the progress system in this game.
I find it amazing that the computer version of this service is totally free. It is quite rare that you see something this detailed and professionally made for free.
As a teacher, I know the value of helping a child have fun with phonics. This resource is bringing this into the home, which is great to see!!
As you may have gathered, this is pretty much among my favourite free phonic resources!! If you have had any experience with Teach Your Monster to Read, I would love to hear from you in the comment section below. Equally, if you have come across any better free phonic resources, I would love to hear all about it!
Hopefully, we are helping to do away with the need for phonic worksheets!
To get started with Teach Your Monster to Read, simply head over to their official website.
READER COMMENTS: