Improve Your Parenting with these Top Parenting Podcasts!
Welcome back to Best Case Parenting. Today, we will take a look at some top podcasts that I would recommend for anyone wanting to find out more about parenting. Or just to be a part of an awesome parenting based community. Of course, everyone is different and you might not like the same things I like! So, please feel free to leave your own recommendations in the comments section below.
I would also say, before we start, that there is literally 'a sea' of parenting podcasts out there. So, as well as looking at my recommendations, you should go download a free podcast app on your smart-phone and start experimenting with podcasts yourself. Sometimes, choosing a podcast is quite a personal thing!
For what it is worth, here are our recommendations. This article will be a work in progress, and I will add to these recommendations as I find more parenting podcasts I like 🙂
Your Parenting Mojo
This podcast is one of the very few that focus on giving advice and tips that are backed up by solid research. In fact their tagline is 'research based ideas to help kids thrive'. So, if you are stickler for details. If you want to be sure that your parenting podcast is backed up by solid research, this is the one for you!
Who is behind this Parenting Mojo podcast? Well, on their official website, it seems it is a lady named Jen. As you might expect, she has been quite the master when it comes to researching the area of parenting. It sounds like she has read a LOT of books on the subject! And she is now willing to share that knowledge with all of us.
The website is well done and has some informative blog posts, certainly worth a read. Jen is clearly trying to build up a community over there, because they have a membership too.
The information on offer here is great, but being a very research based podcast it is rather heavy going at times. For me, I like easy-listening podcasts. This one, you have to really think about what you are listening to. Also, it was going very regularly for a long time. More recently, there have been some gaps happening in between some episodes. Not too bad, but worth noting.
Focus on the Family Podcast
When recommending podcasts, I wanted to make sure that I covered a variety of different types here, so that this article will be beneficial for a wider range of parents. Focus on the Family Podcast is unique in that it is a religious or Christian based parenting podcast. This means that they a lot of what they talk about is backed by their Christian faith.
Who are behind the Focus on the Family Podcast? Well if you hop over to their official website, you will see they describe themselves as a 'global Christian ministry dedicated to helping families thrive'. Actually, their website is really well done, so if you do like this pod-cast you should jump over and take a look.
This podcast is very well produced. The microphones used are clearly very high quality, so you will really feel like you are listening to a professional production. This podcast also talks to a wide variety of experts. In many episodes, there will be a guest author or some other expert to talk through the problem at hand.
From the episodes I listened to, I like the advice that they are giving. It seems pretty common sense and on point with what I would relate to as 'good parenting'. And they give a Christian slant to it all.
The only negative for me was the rather short nature of these podcast episodes, which often run around ten to twenty minutes. Personally, I would much rather have a longer podcast, so that I don't feel like I am jumping between different ones too fast. Longer topics are often split into three or four different episodes. Maybe this suits your pod-cast listening habits well, but for me not so much!
Parenting podcasts of this quality are heard to come by in general, so this is especially the case when you add in the Christian aspect.
This Glorious Mess
Another very different style of parenting podcast, This Glorious Mess is going for a more fun and light hearted vibe. They don't take themselves too seriously, and this results in a more easy listening style of podcast.
A lot of parents can feel under pressure to be the 'perfect parent' and can sometimes even feel peer pressure from others around them to be exactly that. The truth is, there is no such thing as the perfect parent and, if you are having issues with this, I would recommend listening to this podcast! It gives a more realistic view on parenting, whilst still offering valuable and insightful advice.
Who are behind This Glorious Mess? Well the hosts are Andrew and Holly, and the podcast is linked to the Mamamia website. This website is more of a viral news website than a parenting one, so it is interesting they have attached a parenting podcast to it 🙂 This gets even weirder when you go to the 'listen' tab and you see they have other parenting podcasts such as 'beyond the bump'. Anyone, content is king, as they say! So who cares!!
For exampIe, I just listened to an episode about taking children on aeroplanes, and their guest talked about setting up a little 'sorry we are ruining your journey' goody bag for the other passengers. So, don't be fooled by the fun nature here, there is some excellent advice to be had!
The episodes are pretty regular and a decent size, usually being around 20-30 minutes long.
Parentland
The Parentland podcast is a parenting podcast by one of the big traditional media outlets (certainly in the UK), the BBC. They started up this parenting podcast for it's first run recently, and hopefully more are on the way. Even if no more episodes materialise, this podcast is so good I would still recommend going and listening through the old ones.
They do have a Facebook group though, which tells me they do plan on making more episodes!
They are some really great features of this podcast, that put it ahead of a lot of others. They back up everything by referencing research and talking with some really solid experts. The difference they have over 'The Parenting Mojo' though, is they still manage to put this content in an easy to understand and listen format. You can casually listen and still learn a lot.
I particularly liked an episode they did on screen time, as I have a specific interest in this subject myself. They perfectly coupled research with excellent debate!
It goes without saying that this is a high quality and well produced podcast. It's a nice touch that they get viewers with questions to phone in and have a short chat with them about that question, before they then go into the answer.
Parenting Survival Podcast
The Parenting Survival Podcast is special because it has a focus on children with anxiety and OCD issues. This would be a great resource if you have children will a similar issue. However, this is not all they cover, you will also find general parenting advice here too.
Who is behind the Parenting Survival Podcast? Well, it comes from a website called Anxious Toddlers, which also has a lot of resources based on children with these special needs. There is even coaching products available if you are really struggling with this area. As you would imagine, the main person behind this podcast is a child therapist. Not only this, she also speaks from experience as a parent herself. Her name is Natasha Daniels and she seems busy online, as she also operates a Youtube channel for her website.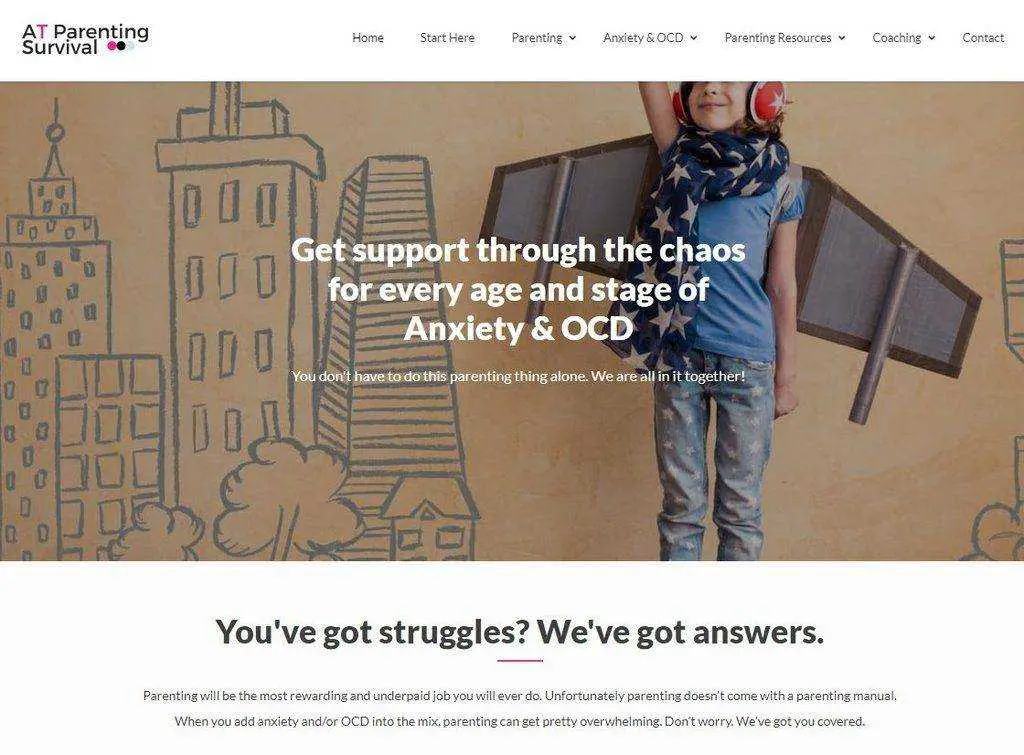 As with all the podcasts I am recommending, I really like the advice Natasha is giving away here. It would prove to be a great starting point for many parents, especially those with kids burdened by OCD and anxiety! It is not easy to deal with these issues as parents, so this podcast could be a valuable lifeline.
Her podcast is well made and each episode is usually at least thirty minutes. The only downside is you really need to like Natasha, as she is often the sole voice and personality you will hear on this podcast. She does have guests, but not that often. It would be nice to have someone regularly on the podcast with her to bounce ideas off of. But hey, maybe thats just me! So, give it a listen and see if you gel with her way of thinking.
Parenting on Moncrieff
I don't know if this Moncrieff guy is famous or something, but that's the impression I get from the way that this podcast is presented. The hosts in this podcast sound Irish, so maybe he is some kind of key figure over there! It doesn't really matter, I am just curious! They seem to be the main thing on the newstalk website shown below, which appears to be some kind of media hub app. Actually, it turns out to be a digital radio station. Although, in this day and age, a radio station can mean a lot of things!
If you look back at the Parenting on Moncrieff podcast, you will see they have been consistently uploading for a while now. I like this, because I like my podcasts to come out regularly. Nothing worse that when you really like a podcast and they have a hiatus for months 🙂
The thing that makes this podcast different is that each episode is a collection of questions asked by the community. You could say that this means they don't go super in depth, but I would say it helps parents to get a good overview of different parenting issues. Maybe some they have never thought of before. The only problem is that the episode description doesn't detail all of the subjects they deal with in each episode. I really like the advice this podcast gives, so when you listen you are getting some great parenting sound bytes.
The recording quality and quality is good, I was just finding that in some episodes when they laugh the sounds peaks a fair bit! Maybe, it is a problem on my side 🙂
Well, thats all we have for you right now! As I said above, if you have your own recommendations for Parenting Podcasts, we would love to hear all about them in the comments section below. Also, if you tried any of the podcasts I detailed here, I would love to hear your view on them too!