Upseat VS Bumbo – Discover The Best Option For Your Baby
Every new parent should think about investing in a floor seat for their baby. This is a portable seat that you can set up to support your baby wherever you go.
Two of the most popular brands of floor seats are Upseat vs Bumbo.
Upseat is a brand that makes floorseats that focus on the baby's posture. Bumbo floorseats focus on keeping the baby comfortable in an upright position.
Both of these floorseat brands are great options, however, the one you choose will depend on which features are most important for your baby.
Are you curious about which floorseat is the best choice for your baby?
Today, we're going to compare Upseat and Bumbo so you have a better idea of which one is the right choice for your baby. Keep reading to learn more.
Note: Make sure to also read my latest guide where we compare Graco TriRide vs SlimFit and find out which is the better car seat option for you.
Upseat vs Bumbo – How We'll Compare Them
There are specific features that parents should look at when choosing a floor seat for their babies.
Knowing what to expect with these features can help you choose the right floor seat. Today, we're going to compare the following features:
Safety Features
Comfort
Positioning
Sturdiness
Ease of Cleaning
Upseat vs Bumbo – Floorseat Safety Features
Before you commit to a floor seat, you will want to make sure it's safe for your baby. Always set up a floor seat according to the instructions to make sure it's put together safely.
Some floorseats are made safer than others. Let's take a look at how these two brands compare to each other.
Upseat Safety Features
These floorseats are equipped with a safety strap, which can be used similar to a seatbelt, to keep your baby secure in the floorseat.
Upseat floorseats also come with safety harnesses that allow parents to turn the seat into a booster seat when they want to feed their baby at the table.
Bumbo Safety Features
Many years ago, the Bumbo floorseat has a bad reputation for safety. The original models didn't feature a safety strap, which was dangerous for the baby.
After there were incidents reported that babies were falling out of the seat, they changed the model. Recent models now feature a safety strap to help keep the baby secure.
How They Compare
When looking at safety features alone, Upseat performs better. There isn't a history with the company of their seats posing a danger to babies.
While Bumbo has upgraded the floorseats to make them safer, they have not included some of the features that Upseat has.
Upseat vs Bumbo – Floorseat Comfort
You want your baby to be comfortable in their floorseat. This is why it's important to review the comfort of a floorseat before purchasing it.
Upseat Comfort
One of the things that make Upseat one of the most well-reviewed floorseats on the market is that it was designed by physical therapists.
It's a very ergonomic design that's great for an infant's posture. These seats have a padded material to ensure they are comfortable to sit in.
Bumbo Comfort
What makes Bumbo unique? These floorseats are made from a foam-based material that's very soft and comfortable.
The floorseat is contoured, which allows the baby to sit upright comfortably. It also reclines back for a more comfortable sitting position.
How They Compare
Bumbo outshines as the more comfortable floorseat. The materials used to make this seat are very soft, leading to a more comfortable seat for the baby.
Bumbo chairs also recline back, which is more comfortable for extended periods of time.
Upseat vs Bumbo – Floorseats Positioning
The reason parents are interested in floorseats is that they help a baby learn how to sit upright in the correct position.
Both of these floorseats are great for supporting a baby sitting upright. Let's take a look at how each floorseat ranks for positioning.
Upseat Positioning
It's never too early to think about your child's posture. Upseat was designed to support a baby's posture so they learn how to sit properly.
This floorseat is tilted forward because it strengthens the muscles that babies use to sit upright.
While it may not seem like posture is something a parent needs to worry about when they have a baby, the right seating position can help prevent back problems later on.
Bumbo Positioning
Bumbo floorseats are recommended for babies that are 3 months in age or older because babies under that age don't have control of their necks yet.
The Bumbo seat reclines back, which is a better design for babies that haven't learned to sit up on their own yet by this age. 
How They Compare
Both floorseats are great for their own reasons, but the position of Upseat makes it the better choice.
This is because the position of the Upseat floorseat is designed to strengthen the baby's posture. Bumbo, on the other hand, is designed to support a baby as it rests.
Upseat vs Bumbo – Floorseat Sturdiness
A lot of parents are concerned about how sturdy the floorseat they buy really is. Let's take a look at how these two popular models compare.
Upseat Sturdiness
There are many benefits to the Upseat floorseat, and the sturdiness is one of them. Upseat has a reputation for being long-lasting and durable.
Most parents need to use a floorseat an average of 850 times while their child is in the age range.
Upseat will stay strong and sturdy, so parents don't have to buy a new chair before their child grows out of it.
Bumbo Sturdiness
Bumbo receives a score of 8.5 out of 10 for sturdiness
The Bumbo floorseat is strong and durable. It can withstand wear and tear, while still remaining in great condition.
Parents can relax knowing their baby is in a sturdy floorseat that won't tip over.
How They Compare
When it comes to sturdiness, you can't go wrong with either Upseat or Bumbo. Both brands makes very sturdy floorseats for babies.
However, Upseat upstages Bumbo only because parents can set up the Upseat on the floor or a chair.
Upseat vs Bumbo – Floorseat Ease of Cleaning
Both Upseat and Bumbo come with trays that you can use on the floorseat, allowing your baby to enjoy food and a drink.
Since babies are messy eaters, you likely want to know how easy it is to clean these floorseats.
Upseat Ease of Cleaning
The Upseat floorseat is very easy to clean. You can use a wet wipe or a damp cloth to clean the floorseat when your baby makes a mess on it.
The safety straps are easily removable so you can give it a more thorough clean. Never submerge the Upseat directly in water or place it in the dishwasher, as this causes damage.
Bumbo Ease of Cleaning
One of the main selling features of Bumbo is how easy this floorseat is to clean. The foam-based material it's made for an easy cleanup.
You don't have to worry about spills leaving stains or being difficult to remove. As long as you have a wet cloth, you can make a Bumbo look new again.  
How They Compare
While both floorseats are easy to clean, Bumbo takes less effort to wipe clean. The material makes cleanup a breeze and you won't have to put in extra elbow work for a sanitized seat.
Upseat vs Bumbo – The Breakdown
We compared some important features of the Upseat and Bumbo floorseats. Let's take a look at how they compare to one another.
Upseat vs Bumbo – The Winner
While both Upseat and Bumbo scored very close to one another, Upseat has slightly outperformed Bumbo.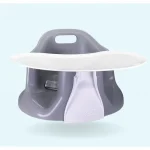 Keep in mind, every parent has different needs for a floorseat, so for some parents, the Bumbo may be the better choice.
Upseat is regularly rated as one of the best floorseats on the market.
This floorseat was designed by physical therapists because they believe that when a baby learns how to sit in the correct position, it can reduce the chances of experiencing back problems when they become children/ teenagers.
This is something that is never too early to consider.
The positioning of the Upseat floorseat is perfect for strengthening the baby's muscles to learn how to sit in the correct position.
However, the seat is also very comfortable so your baby won't mind spending time in it.
While Upseat is a floorseat, it also comes with extra straps so you can convert it into a booster seat to seat at the table for eating.