Hooked On Phonics Review 2022 [From A Teacher/Mom]
Every mom is different, but one thing I think we all have in common is that we want to give our kids the best start in life. And that includes the best start in school.
When our kids struggle, we wonder if we're doing something wrong. We internalize it, and all the while our kids can feel our worries.
It only makes things worse.
So, when my son Jordan turned 5 and was still struggling to read, I decided that I needed to do something to help him.
I'd heard about Hooked On Phonics but wasn't sure if it would be worth it. Would it even work?
Here's what I found!
First, What Is The Hooked On Phonics Program?
Hooked On Phonics is a program you can use at home that makes teaching critical reading skills simple and fun for kids ages 3 to 8, and parents too.
It was developed in 1987 by a dad who wanted to help his son overcome his struggles with reading.
With nothing else like it, he combined phonics and fun activities to help bridge the gap from what was taught in school to learn at home.
Since then, this program has worked to help over 5 million parents and teachers assist kids who have trouble reading.
Believe it or not, we are the first teachers our kids ever know.
And while we send them to school each day, when you count out the actual hours they're at school, it's far less than the amount of time we're home with us.
It only makes sense to have another tool under our belts to help our kids read well. And not only to read well but to actually love reading.
Because Hooked On Phonics was offering the first month for just $1 (each month thereafter at only $12.99 with the ability to cancel at any time), I decided to give it a try.
Ps. Make sure to read my Children Learning Reading reviews. It's the best reading program we've tested so far for children between 3 and 7.
What's Included With The Hooked On Phonics Program?
When I signed Jordan up for Hooked On Phonics, we received a bounty of things.
The subscription comes with unlimited access to the Hooked On Phonics app which includes the Hooked On Spelling for free, Learn to Read.
It also includes workbooks that correlate with the app.
You get 2 to 3 books that are specifically written to reinforce each lesson, plus discussion questions that help your child build upon reading comprehension.
There are tips and ideas on how to extend these types of learning at home and even while you're out and about. And of course, my son just loves the celebration stickers he gets to reward those reading milestones.
You'll also find a ton of freebies (like stickers and other fun rewards) that help build reading confidence, so kids can enjoy the program at home.
The best part is that we get a plan for me to do some hands-on teaching. This helps me bridge the gap between what my son is learning in school and what he needs to know at home. So far, it's working!
What Are The Benefits Of Using Hooked On Phonics?
I think there are plenty of benefits when using this program. They learn how much more important it is for them to be able to read.
My son can now read stories on his own (and he loves them!) as well as something as simple as looking up a word in the dictionary or reading directions for baking a cake!
He's already started making his own flashcards for his spelling and sound words when we're out shopping.
I'm so happy to have found this program and am hopeful it will help my son learn more at home without me having to spend time teaching him everything he needs to know about reading.
What Are The Cons Of Using Hooked On Phonics?
There isn't anything negative I could say about using this program because it has been such an easy transition for us.
My son feels comfortable with what he reads, which makes me feel comfortable that he's getting the right information.
I think it would be great for parents of kids who struggle with reading.
They can have confidence in their kids knowing how to read and understand what they're reading, which will help you further develop their knowledge of other subjects as well.
How Does It Work?
I have to admit, I was concerned whether Hooked On Phonics would help Jordan.
But with so many positive reviews out there and the fact that it's been around for 34 years, I put my concerns aside.
It starts with new concepts that are introduced through some really fun videos.
These have catchy songs that my son was singing even long after the lessons.
And since the lessons take no more than 20 minutes, there was no squirming or fidgeting, or any whining about being bored.
The videos also have interactive activities, and my son loved them.
So far, so good!
The program then moves on to practice.
There are digital puzzles and games to do and writing practice that you do in the Practice Packs which come with your subscription each month.
Then comes the reading. There are storybooks and e-books that are written in a way that draws on what your child has already learned.
They're full of colorful illustrations that bring to life what they're reading too. I was shocked – my son was reading all by himself without a problem.
And he was doing it within 30 days of starting Hooked On Phonics.
When your child gets it, you have a bunch of ways to celebrate too. There are rewards and digital toys in the app.
And there are star stickers to celebrate a good job in workbook lessons, plus certificates to fill out to mark their accomplishments.
We put them up on the fridge.
How To Use Hooked On Phonics App
In the app, you get to see all of your child's workbooks and lessons.
And it shows how much time has been spent on each lesson.
It also tells me exactly what my son is doing in each lesson, so I can easily go back and review or correct any mistakes he might be making.
The app is simple to use, all you do is open the app, and it shows you what is happening in a lesson.
You're also able to use the calendar feature to mark when your child started, completed, and passed each lesson.
It also tells you how much time has been spent on that particular lesson.
You can do all of this from your phone or tablet.
And if you want to make changes, just go into settings and there are plenty of options for where you want things set up too.
The Hooked On Phonics app is available for download at no cost from the iTunes store.
I love that the app allows for customization too.
I can adjust the type of reading program we want him to do – whether with a parent or just his own self-reading at home without an adult there (or even at school).
And if you have a friend who has kids, they can share their progress with you via Facebook Messenger, like Jordan did when he wanted to brag about how well he was doing!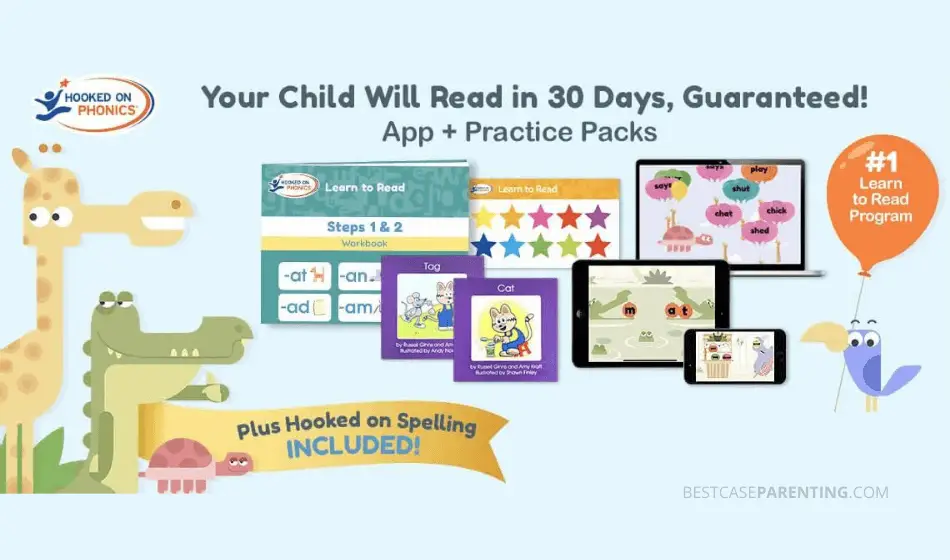 Is Hooked On Phonics Worth It?
In short, YES! My son has improved his reading astronomically. It really does work.
Plus, there are pre-reader packs that are perfect for kids that haven't yet learned to read.
My youngest is 3, and I've already started her on this after her big brother's big reading success, and she absolutely loves it.
I love that for both children, I never have to drag them into using this program.
In addition to helping my kids read, Hooked On Phonics has done something else. Jordan was having trouble at school because he struggled with reading.
My husband and I noticed he seemed unhappy and didn't want to go to school anymore around the time that they were starting to read.
Jordan is normally a confident and happy child who loves school.
We called the teacher to find out what was going on and through that conversation, we learned that our son told her he was scared of reading.
Apparently, this is a very normal reaction for many children. That's why Hooked On Phonics is such a wonderful program.
It takes that scariness away from reading lessons and helps them ease into it without them realizing it.
Once we started using this program, Jordan became confident again. And he was excited to go to school.
We got a call from the teacher praising his reading efforts.
She even made him a special certificate of his own for most improved reading. Hooked On Phonics has been absolutely remarkable.
For any mom with little ones, I can't urge you enough to get Hooked On Phonics. It's only $1 for the first month, and the following months are just $12.99.
That's a small investment to make in the success of your child's future.
Instead of playing games that waste time and don't teach anything, now I've got 2 children that love playing with the Hooked On Phonics learning lessons.
They have so much fun that they don't want to stop, even when I tell them dinner is ready.
Now it is obvious to me why it has been labeled the "Gold Standard in teaching children to read."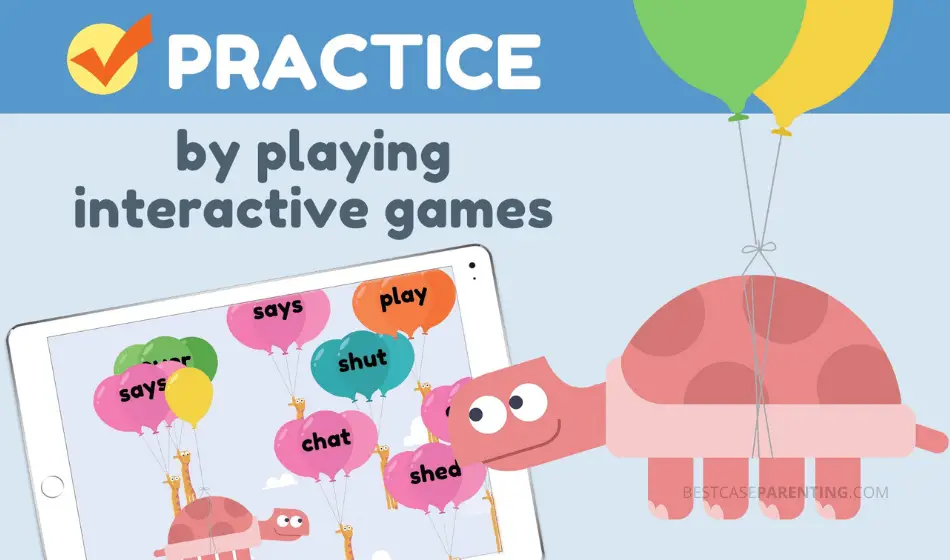 What Else to Know About Hooked On Phonics
I just want to cover a few more things in this Hooked On Phonics review to help clear up any mysteries.
– You can sign up for more than one child
Hooked On Phonics allows you to register up to 3 children at once. That means you can help all your kids get started on learning to read early, or improving reading for children up to the second grade.
– It syncs across all your devices
I know I'm guilty of forgetting all sorts of things, so one feature I truly appreciate about Hooked On Phonics is that it completely synchronizes with your tablets and phones.
That means you can use it anywhere and on any device.
– You don't need an internet connection
You can use Hooked On Phonics with or without being connected to the internet. When we went to visit Grandpa and Grandma, the kids were able to use the app on their devices without using up any data.
It was a peaceful and productive drive!
– Track progress with ease
While I definitely noticed Jordan's improvements and watched with glee as his little sister started with pre-reading, Hooked On Phonics provides a way to track the progress they make.
This is so important for building confidence.
Jordan could see how far he came, and it only made him want to keep on going and going.
All progress and rewards for each of your kids will be tracked individually, too, so everyone can be proud of all their hard work.
– It doesn't feel like learning
But they ARE learning while they're doing these activities. It's just incredible to see how Jordan has turned around with his reading, and so quickly too.
It was less than 30 days after I started him on Hooked On Phonics. He prefers these games and activities to other non-learning ones.
– You'll have full peace of mind
In addition to the special $1 offer for the first month's subscription to Hooked On Phonics, I found it comforting that it comes with a 30-day money-back guarantee.
The program guarantees that you will see either a grade-level increase in your child's ability to read or a significant improvement with a month of consistent use.
I had Jordan on this every day, and the lessons are no longer than 20 minutes, so they take no time to do.
And with just those 20 minutes each day, Jordan improved drastically in his reading. I didn't need that money-back guarantee, but it helped to know that it was available.
Hooked On Phonics is also responsive to any questions or concerns you may have, and I felt like they cared about making a difference in our lives.
Overall Grade for Hooked On Phonics: A-
Based on the number of activities, books, workbooks, and other items you get physically as well as access to via the app – and the free included Hooked On Spelling too.
I give Hooked On Phonics an overall grade of A-.
Jordan and now his little sister adore the books and activities. They will play with the app even without being asked.
And they're always excited to get the new month of subscription items to learn and play with.
It has truly been a godsend for our family, and I have been telling everyone about it because I'm thrilled with the results.
The images are fun in the books, games, and activities. The sticker rewards make the kids happy, and we're happy because we've found a way to help our kids succeed in school.
My only regret is that I didn't find it sooner to help my son.
But now that he's caught up, and I have my youngest on Hooked On Phonics, everything is going great.
If I could go back in time, I'd have started Jordan on this program when he was 3 years old.
Don't find yourself with regrets – sign up for your subscription for only $1 for the first month.
It is SO worth it. I'm including the link below so you can grab this special offer right away!
Get Hooked On Phonics for $1 for the 1st Month
Frequently Asked Questions:
Q: Should I get the Hooked on Phonics App?
A: The Hooked on Phonics app is an interactive language program that teaches you and your child how to read with this easy-to-use iPad app.
Your kids can learn phonics, vocabulary, spelling, and reading skills while they play!
Q: Can Kids Learn To Read With A Phonics App?
A: Yes! We are Hooked On Phonics, which is an app designed to teach children how to read.
Here's what one reviewer had to say about it: "I used this program for 2 1/2 years, and my daughter learning how to read was literally a breeze.
It is so easy that she learned her sounds before she knew the letters."